Overview
Chania is located on the north-east part of the its Prefecture. This specially designed walking tour around the old town and the Venetian port will reveal Chania' status as a cultural crossroads.
Highlights of the private shore excursion
2,5-hours walking tour of Cania town
Combines Crete' modern and historical sites
English-speaking guide
Pickup / drop off at Souda (Optional)
Description
Description of the cruise shore excursion in Chania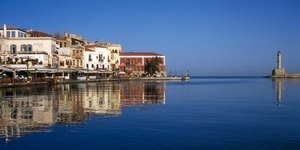 Walk through the ages, The city's rich history can be traced through historic buildings and monuments with Venetian, Turkish and Greek, witch continuously inhabited from Neolithic times-at least 5000 years, and this tour promises to help you gain an understanding of how the city's multilayer history has unfolded.
While it has been well researched and planned, it is designed to be informal and "loosely" organised to allow for flexibilities that can add to your pleasure.
So take your camera with and we'll bring our knowledge and fun with!

Details

Duration: 2,5 hrs