Overview
Experience the historical and famous sites of Istanbul. Explore the city that was first built in 7 century BC from Bizas called Byzantium city, then in the 3rd century AD called Constantinople, and today Istanbul.
Itinerary: Topkapi Palace, Hagia Sophia, Blue Mosque, Hippodrome, Grand Bazaar

Highlights of A Magnificent 7-hour Full-Day private tour of Istanbul
Visit the best of Istanbul in a 7-hour private tour
Enjoy the Topkapi, the residence of Ottoman Sultans
Visit Hagia Sophia one of the greatest marvels of architecture
Experience Grand Bazaar the biggest shopping center in the world
Specially designed for cruise ship visitors with Transfer from/to the Istanbul port
English-speaking tour guider
Description
Description of the tour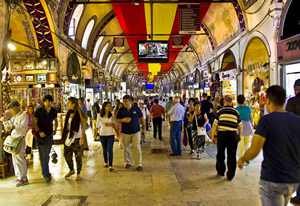 After we will welcome you at the port, your guide will take you directly to Sultanahmet district for our visit to the Topkapi museum with glittering mosaics of Biblical scenes in a vast, domed former Byzantine church and mosque.
Admire the Topkapi Palace exhibiting sacred Islamic relics, kitchen, Chinese Porcelain, weapons, Harem, and imperial treasury. One of the most important pieces is Spoonmaker's Diamond which is the 7th biggest diamond in the world.
Very close to Topkapi is Hagia Sophia. Your personal guide will lead you to the magnificent Byzantine church, which is one of the greatest marvels of architecture, constructed as a basilica in the 6th century by Byzantine emperor Justinian in Constantinople.
For thousands of years, Hagia Sophia has been the biggest church in the world and still is the 4th biggest church.
Contenting our private tour we will next visit the Blue Mosque facing Hagia Sophia. The Mosque was built in the name of Sultan Ahmet and is famous for its blue Iznik Tiles and the 6 minarets.
Visit the Hippodrome, the center of political activities and sportive events in the old city. The Hippodrome is famous for its decoration with Serpentine Column, Obelisk of Theodosius, and German Fountain of Wilhelm II.
Finally, your guide will lead you to the Grand Bazaar. Built-in 1461 AD the Grand Bazaar remains till today the biggest and most attractive shopping center " souk " in the world with more than 4000 shops selling all kinds of goods.

Details
Tour Includes;
Entrance fees
Professional English speaking guide licensed by the Ministry of Culture and Tourism
Non-Smoking, air-conditioned vehicle and professional driver
Parking Fees
Pick up and drop off
Tour Excludes;
Lunch
Any Drinks
Tip to Guide and Driver
Note :
If your group is less than 5 people, then for traffic security reasons and comfort we will use the tram in order to reach the main Square at the Sultanahmet district with all the monuments we will visit are there.
If you would like to visit the Harem Section inside of Topkapi Palace, it cost 20$ per person. The Harem was one the special part of the palace and dedicated to Sultan's family and closed to the outside world. The Harem exhibited all the various styles of Ottoman art and was one of the most magnificent complexes of the world.
Underground Cistern can be added to the program with 20$ extra per person
Topkapi Palace closed for the public on Tuesdays. Grand Bazaar closed on Sundays