Overview
Captivate Athens city tour with Acropolis Museum | Afternoon private tour; An afternoon sightseeing tour in Athens, Acropolis Museum and Ancient Agora
Itinerary: Plaka – Ancient Agora – Thiseio – Temple of Vulcan – Roman agora – Hadrian's Arch – Temple of Zeus – House of Parliament – Unknown Soldier – Change of the Guards – Panathenian Stadium – Ex-Royal House – New Acropolis museum – Lycabettus Hill
Visits:  Plaka – Ancient Agora – Temple of Zeus – Hadrian's Arch – the Parliament – Unknown Soldier – changing of the guards – Panathenian Stadium – the new Acropolis museum – Lycabettus Hill
Highlights of the Captivate Athens city tour with Acropolis Museum | Afternoon private tour
4 hours afternoon sightseeing private tour of Athens
Combines Athens modern and classical sites guided by our experts
Explore the wonders of the new Acropolis  Museum, the extension to the  trademark of Athens, the Acropolis
Highlights of modern Athens, including neighborhoods, Plaka, Constitution Square, Panathenian Stadium, Kolonaki-the high end of Athens, Lycabettus-the highest hill of Athens
The ancient agora, where most of the philosophers, artists, scientists, and Apostle Paul used to spent their hall-day
English-speaking driver, willing to answer your questions about Athens, its history and monuments
Pickup and drop off from your hotel in Athens or cruise terminal at the Port of Piraeus
Description
Tour description: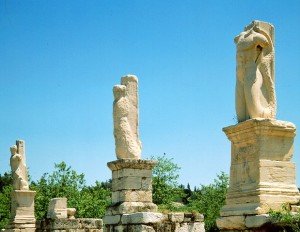 Start your private tour in Athens with the best museum in the world (voted by UK journalists): the impressive new museum of Acropolis.
Enjoy & admire the wonders of the classical era, the statues, and the incredible art samples which at last found their home. Continuing your private Athens sightseeing afternoon tour we approach Plaka (the neighborhood of the Gods) the old city of Athens.
Walking on its paved narrow streets you get the feeling that you are traveling back in time. We will go by the Lysikrates monument, the church of St. Nikolaos Rangavas (11th Century), the Roman market before reaching and visit the Greek Agora along with the amazing temple of Hephaistos (5th Cent. B.C.).
The ancient agora, which extends over the North – West slopes of the Acropolis, was the heart of Ancient Athens from the late 6th century B.C. onwards. It was a place for political gatherings and debate, for elections, religious occasions and trading activities, theatrical performances, and athletic competitions.
Notes:
Due to certain restrictions in the visiting hours of the new Acropolis museum, the order of the program can be changed. Alternatively, you can visit the Acropolis or any other museum that would be open.
If in any case the Ancient Agora is closed the Panathenaic Stadium, where the first Olympic Games of modern times were held in 1896, will be visited instead.
Finally enjoy the spectacular view having refreshments on Lecabetus with its Orthodox St. George church, the highest hill in town, and remember Athens & our Athens tours for the rest of your life.
Highly recommended for cruise passengers, visiting Athens for hours to enjoy this spectacular private cruise shore excursion
Details
Important notes
Tour Type
Shore Excursion - Private tour
Included in the tour
Car and Driver
A professional English-speaking driver or escort with good knowledge of the history and culture of Greece, to guide you till you enter archaeological sites and museums. Tour drivers are not licensed to companion you inside the archaeological sites and museums. If you'd like to have a licensed state tour guide to escort you inside the sites and museums, we can arrange it for you at an additional cost. Licensed by the state tour guides are freelance and it is subject to availability on bookings day!
Transport by air-conditioned Mercedes-Benz vehicle or similar appropriate for the size of your group
Accommodation is based according to availability (for multiple-day tours only)
Pick-up from and return to your hotel
Pick-up from the Port of Piraeus
Private tour, Road tolls and local taxes
Excluded from the tour
Additional info
Dress: religious and marmoreal sites: shoulders and knee must be covered
Confirmation will be received at the time of booking
A voucher will be emailed to you with our contact numbers and all necessary information for your tour.
This is your ticket and proof of purchase. On the day of the tour please present a paper voucher in order to redeem your tour/activity.
Persons with Disabilities
Due to uneven surfaces, certain sites are not recommended for persons with walking disabilities or using a wheelchair. Such sites are the Acropolis, the Temple of Poseidon at Sounion, Mycenae, Delphi and Meteora
In all cases, we recommend comfortable flat-solid walking shoes, sunglasses, and sunscreen.
Restrictions:
Please note that on this tour, your tour driver is not licensed to accompany you on your climb. If you want this service you may book a licensed by-state tour guide for an extra cost.
In case a group is followed by a licensed tour guide or an English speaking tour-escort the professional driver is not obliged to speak English!
Opening hours & Admission fees
Opening Hours:Summer April 1st to October 31st from 08:00 AM to 07:30 PM
Winter: November 1st to March 31st from 08:30 AM to 03:00 PM
Free admission fees: Children under 18 & Students from E.U.
Reduced admission fees: Citizens of the E.U. aged over 65 & Students from countries outside the E.U.
Free admission days
March 6: In memory of deceased Minister of Tourism & visionary Melina Mercouri
June 5: Environment international day
April 18 : International monuments day
May 18: International museums day
September 27: International tourism day
The last weekend of September annually (European Heritage Days)
National Holidays
Sundays in the period between 1 November and 31 March
The first Sunday of every month, except for July, August, and September
NOTE: If the first Sunday is a holiday then the second is the free admission day
Holidays in Greece
January 1: closed
January 6: 08:30 AM - 03:00 PM
Shrove Monday: 08:30AM - 03:00 PM
March 25: closed
Good Friday: 12:00 PM - 03:00 PM
Holy Saturday: 08:30 AM - 03:00 PM
Easter Sunday: closed
Easter Monday: 08:30 AM - 03:00 PM
May 1: closed
Holy Spirit Day: 08:30 AM - 03:00 PM
15 August 15: 08:30 AM - 03:00 PM
October 28: 08:30 AM- 03:00 PM
December 25 & 26: closed