Overview
Adorable 6-h photography tour in ancient and modern Athens; This six-hour private photography tour in Athens is an option you should not miss if you are into photography and especially if you are interested in ancient ruins and archaeological sites.
Athens is definitely a city that will satisfy even the most demanding visitor with a variety of options for photo shooting ancient and modern Athens.
What you will see during this 6-hour photography tour in Athens
The Acropolis, Ancient Agora, the Stoa of Attalos, the Roman Agora, Lycabettus Hill, Plaka
Highlights of the Adorable 6-h photography tour in ancient and modern Athens
The Acropolis of Athens
The ancient part of the city of Athens
The picturesque district of Plaka
The views from Lycabettus Hill
The little corners of modern Athens that will amaze you
Description
Description of the 6-hour photography tour in Athens
Our six-hour photography tour in Athens will give you the chance to enjoy Athens like one of its residents and will give you an insight into the local culture of the Athenians.
This private photography tour is designed for those who enjoy visiting ancient monuments and archaeological sites and are able to discover their beauty and capture it with their camera.
Your professional driver will take you to the actual Acropolis Hill, with its magnificent Parthenon, Erechtheion, and the Porch of Maidens, to admire the classical beauty of Athens in person. Next, we'll visit the ancient Agora of Athens built at the feet of the Acropolis, in the picturesque quarter of Plaka, which will give you endless options for shooting.
Plaka is a maze of cobblestone streets with pots of flowers and neoclassical houses you will absolutely love. Meandering streets, gardens, and stone walls will give you the impression that you are not in Athens but in one of the famous Greek islands.
The ancient Agora
You will see the Stoa of Attalos, where you can visit the incredibly beautiful temple of Hephaistus and the Byzantine Church of St Apostles nearby.
You will also see the remains of Hadrian's library, built by the famous Roman Emperor, which was one of the most important libraries of the Roman times.
You will see the Roman Agora and the Fethiye Djami mosque which is one of the few remaining Ottoman monuments in the city. The Octagonal tower built by Andronicus, with the sundial, and the hydraulic clock will also amaze you, showing you how technology was advanced at the time.
The private tour will also bring you to the central market in Athens, where you can visit the fish and meat market; you will get ample time to take numerous pictures there since the themes are various and depict the Greek culture and habits.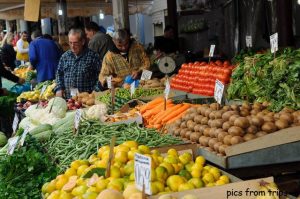 Finally, you will visit the Lycabettus hill that provides the best views of the entire city of Athens. Allow your gaze to stretch from the northern mountains that surround Athens to the port of Piraeus to the south, and take some pictures that will impress everyone back home.
Join Athens Tour Greece and enjoy one of the most memorable experiences of your life with this photography tour in the city of Athens of today and yesterday.
Details
Important notes
Tour Type
Shore Excursion - Private tour
Included in the tour
Car and Driver
A professional English-speaking driver or escort with good knowledge of the history and culture of Greece, to guide you till you enter archaeological sites and museums. Tour drivers are not licensed to companion you inside the archaeological sites and museums. If you'd like to have a licensed state tour guide to escort you inside the sites and museums, we can arrange it for you at an additional cost. Licensed by the state tour guides are freelance and it is subject to availability on bookings day!
Transport by air-conditioned Mercedes-Benz vehicle or similar appropriate for the size of your group
Accommodation is based according to availability (for multiple-day tours only)
Pick-up from and return to your hotel
Pick-up from the Port of Piraeus
Private tour, Road tolls and local taxes
Excluded from the tour
Additional info
Dress: religious and marmoreal sites: shoulders and knee must be covered
Confirmation will be received at the time of booking
A voucher will be emailed to you with our contact numbers and all necessary information for your tour.
This is your ticket and proof of purchase. On the day of the tour please present a paper voucher in order to redeem your tour/activity.
Persons with Disabilities
Due to uneven surfaces, certain sites are not recommended for persons with walking disabilities or using a wheelchair. Such sites are the Acropolis, the Temple of Poseidon at Sounion, Mycenae, Delphi and Meteora
In all cases, we recommend comfortable flat-solid walking shoes, sunglasses, and sunscreen.
Restrictions:
Please note that on this tour, your tour driver is not licensed to accompany you on your climb. If you want this service you may book a licensed by-state tour guide for an extra cost.
In case a group is followed by a licensed tour guide or an English speaking tour-escort the professional driver is not obliged to speak English!
Opening hours & Admission fees
Opening Hours:Summer April 1st to October 31st from 08:00 AM to 07:30 PM
Winter: November 1st to March 31st from 08:30 AM to 03:00 PM
Free admission fees: Children under 18 & Students from E.U.
Reduced admission fees: Citizens of the E.U. aged over 65 & Students from countries outside the E.U.
Free admission days
March 6: In memory of deceased Minister of Tourism & visionary Melina Mercouri
June 5: Environment international day
April 18 : International monuments day
May 18: International museums day
September 27: International tourism day
The last weekend of September annually (European Heritage Days)
National Holidays
Sundays in the period between 1 November and 31 March
The first Sunday of every month, except for July, August, and September
NOTE: If the first Sunday is a holiday then the second is the free admission day
Holidays in Greece
January 1: closed
January 6: 08:30 AM - 03:00 PM
Shrove Monday: 08:30AM - 03:00 PM
March 25: closed
Good Friday: 12:00 PM - 03:00 PM
Holy Saturday: 08:30 AM - 03:00 PM
Easter Sunday: closed
Easter Monday: 08:30 AM - 03:00 PM
May 1: closed
Holy Spirit Day: 08:30 AM - 03:00 PM
15 August 15: 08:30 AM - 03:00 PM
October 28: 08:30 AM- 03:00 PM
December 25 & 26: closed