There's a Greek island to suit every traveller — if you know where to look.
By National Geographic Traveller (UK)
Published 27 Mar 2023, 09:03 BST
Greece's numerous isles are best known for their idyllic beaches, toes-in-the-sand tavernas and laidback pace of life. But for those willing to explore a little further, cloud-circled clifftop villages, local markets stocked with mountain herbs and secret stretches of sand await.
1. Crete – Walk this way
Crete's gorges and mountains echo not just with tumbling rocks, but with myth, infusing every realm of Cretan life just as olive oil infuses every Cretan recipe. According to Greek mythology, it was on this island that Zeus was born in a mountain cave and that Theseus braved the Labyrinth to slay the Minotaur. And the fridge of every taverna is well-stocked with Mythos, Greece's best-selling beer.
The hardy souls who once made Samaria Gorge their home are gone now, moved out to make way for Samaria National Park in 1962. The 10-mile hike through the gorge isn't particularly dangerous or difficult, but nothing motorised can reach down here and the nearest helipad is several miles down the track — break a leg, and you're carried out the old-fashioned way: on the back of a mule.
Trees of cypress and maple shade the path as rock formations rear up on either side, the latter's faces twisted and deeply ridged like carved flames. The air is heavy with the aroma of mountain herbs: wild thyme, oregano, Jerusalem sage. DANIEL STABLES
READ MORE: Hiking in Crete: myths, monasteries, mountains
2. Kefalonia – Ionia's wine country
The rugged mountains and cream-coloured beaches of Kefalonia have been winning over travellers for decades, but as Greek wine's international profile grows, the Ionian island's wine country is providing another reason to visit. Kefalonia is renowned for its signature Robola grape, which is used to produce an excellent, crisp white wine. The grape's heartland is the Omala Valley, on the western slopes of Kefalonia's Mount Ainos.
The vineyards of the Omala Valley benefit from a hillside position and limestone-enhanced soils that account for the grapes' balanced acidity and rich flavour. At Orealios Gaea, a winemaking cooperative supporting around 300 growers, and at wineries including Vassilakis, you can sample the latest vintages of Robola, as well as other Greek varietals like Mavrodafni and Muscat. Sticking with the wine theme, travellers can spend the night at Gentilini Retreat (from £96, room only), set within a seaside winery. ALEXIS AVERBUCK
Hiking through Samaria Gorge, Crete.
3. Spetses – Island-hopping
For the perfect getaway from busy Athens, head to Spetses. It's a two-and-a-half-hour cruise away, meaning it tends to avoid the bulk of the day-tripping crowds. Piney and beachy, it greets arrivals with a jigsaw waterfront of tile-roofed sea captains' houses, palms and cypresses. The main square is carpeted in pebble mosaics and overlooked by a statue of a woman, dressed in traditional costume, with a pistol. This is Laskarina Bouboulina, a naval commander and heroine of the Greek War of Independence. Nearby, her family home now houses a small museum dedicated to her legacy.
Author John Fowles taught English on Spetses before writing The Magus, the novel forever linked to the island. Cinematic hits The Lost Daughter, with Olivia Colman, and Glass Onion: A Knives Out Mystery, with Daniel Craig, were filmed here, and a TV miniseries of The Magus is in the works. Spetses is largely car-free (taxis are permitted), so hire a bike to pedal the 17 miles around the island; don't miss Zogeria beach, where The Lost Daughter was filmed.
The best place to stay is the Poseidonion Grand Hotel (from £178, B&B), built in 1914 to lure wealthy Athenians to Spetses and the first Greek island hotel to offer bespoke spa treatments. DANA FACAROS
4. Santorini – Volcano touring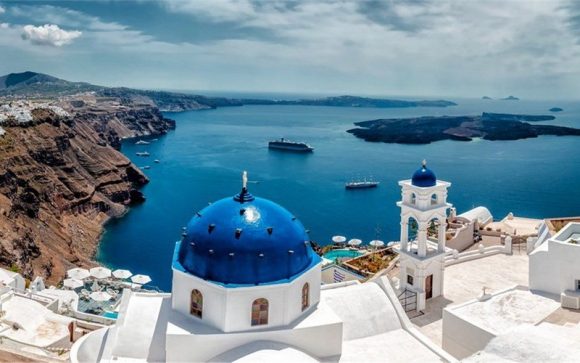 Honeymooners love the Cycladic island of Santorini, where sugar-white villages and bubble-domed churches teeter on blackened cliffs, offering spine-tingling views over the fathomless caldera, formed in around 1620 BC in one of the largest volcanic eruptions of the past 10,000 years. Frescoes from the Late Bronze Age town of Akrotiri that were buried in ash following the eruption are on display at the Museum of Prehistoric Thera and are so charming you'll wonder if Santorini really was Atlantis. To experience the volcano's heat and sulphurous smell, sail across the caldera to Nea Kameni island, whose volcano last erupted in 1950.
There's also the island of Thirasia, where villages delightfully evoke pre-tourism Santorini. The real action, however, is underwater: the submerged volcano Kolumbo, the most active in the Aegean, is rumbling again. The Santorini Paradise Cave Houses in Oia (from £135, B&B) has the frisson-giving views. DANA FACAROS
Spetses island, a filming location for Olivia Colman's The Lost Daughter.
5. Milos – Sea kayaking
To the west of Santorini, Milos was formed by a volcanic eruption and its 80-mile coastline is scattered with geological wonders. You have to go by sea, ideally in a kayak, to see its highlights, among them the formations of volcanic ash as white and frothy as meringue, the red-and-yellow precipices, and an abandoned sulphur mine with a yellow beach. Also look out for the black basalt cliffs, the towering sea rocks shaped like dancing bears, and the pocket-sized ports with colourful boat garages hollowed out of the stone. Stay at White Rock Milos Suites near the kayak base in Adamas (from £102, B&B).
For jaw-dropping inland views, hire a quad to tackle the road up Profitis Ilias, whose 2,450ft summit makes it the tallest mountain on the island. In the capital, Plaka, you'll find the nation's only catacombs and the Archaeological Museum of Milos, which houses a replica of the Louvre's famed Venus de Milo sculpture. DANA FACAROS
6. Hydra – Artist residency
Just two hours from Athens by boat, car-free Hydra has long been known as an island of artists, with galleries, studios and cultural festivals creating a spirited atmosphere. Gliding into Hydra's harbour, tiers of stone houses glitter in the soft sunlight, rising up imposing rocky mountains. This car-free island in the Saronic Gulf attracts visitors with its lively port and sense of utter timelessness — there are no billboards or scooters here, and the influence of technology feels very far away.
A visit to Hydra is an immersion in the best of Greek life and art. Start your explorations by strolling beyond the cannons on the point to reach the DESTE Foundation, where an annual installation of art world stars fills a former slaughterhouse on the seafront. For a change of scene, take a walk along Hydra's marble lanes and onto its rustic coastal trails, which lead to myriad craggy coves with deep cerulean waters. Settle down and enjoy the views over a coffee or cocktail at Hydronetta beach bar before strolling a mile down the northwest coast for a leisurely seafood taverna lunch at Marina in the beachside hamlet of Vlychos, or the Four Seasons — no relation to the large hotel chain — at Plakes Beach for sunbeds and iced cappuccinos.
7. Kastellorizo – Cultural fusion
'Airport' is a grandiose term for the narrow strip of tarmac and shed that greet me on arrival on the island of Kastellorizo. Closer to the Turkish mainland than it is to Athens, it's the country's most far-flung island, where permanent residents number just 300 and the only action happens around the harbour, where wild turtles bob sedately between traditional fishing kaikia (boats).
Naturally, it's there I'm headed. There's just one taxi on the island and I jump in, bound for the pretty, pastel-hued coast. "Turkey," says the heavily moustached driver, pointing to the mirage-like stretch of land visible across the sea when we arrive.
I'm here to meet yiadiades (Greek grandmothers) as part of my research for my next book, Yiayia, a collection of their recipes. The reason is simple: Kastellorizo is where Greek and Turkish customs and cultures collide, which means it's home to some of Greece's most interesting dishes. ANASTASIA MIARI
8. Mykonos – Beyond the nightlife
The beaches on Mykonos's southwest coast are among the Med's best for parties, but head east to find a different vibe among a rocky, filigreed coastline dotted with sandy coves.
Park your vehicle in the dirt lot and stride over the low dunes to find perfect little Fokos Bay, where deep, sheltered waters offer delightful swimming for all ages. Once you've worked up a bit of an appetite, head on over to the renowned taverna overlooking the sand for a lazy seafood lunch.
Stroll west around the headland to the next beach along — the gentle arc of Mersini beach, which is usually the least-crowded on Mykonos. Bring your own sun mat and even an umbrella as this beach is service-free: wild and raw, and perfectly matched to the nakedness of many of the sunbathers who make the pilgrimage out here. ALEXIS AVERBUCK
READ MORE: Mykonos
9. Karpathos – Traditional ways
Dropped into the inky Aegean between Crete and Rhodes, Karpathos feels like it belongs to a different age. This pristine, far-flung spot in the Dodecanese is locally renowned for its white-sand beaches, hugged by pine trees up until the water's edge.
Nestled atop a cliff, you'll find one of Greece's best-kept secrets. Olympos has held onto its traditional ways thanks to its remoteness. Here, local women still sport the colourful, traditional folk dress — embroidered waist coats, full skirts and leather boots — that's long since been abandoned in the rest of the country. It's a chance to experience a part of Greece as it once was, and worth the drive. ANASTASIA MIARI
10. Kythera – Old Greece
Kythera remains a nugget of Old Greece, isolated south of the Peloponnese, where family-run hotels dot the beaches, welcoming tavernas spill out onto the streets and old-timey kafeneions (coffeeshops) still echo to the click clack of games of backgammon.
It's a bucolic island of dramatic landscapes, sacred to Aphrodite, who was born here in sea foam. Stay in the Palaeopoli Villas (from £66, room only) near the fishing village of Avlemonas, and hire a car to explore the pretty castle-topped capital Chora, the waterfall at Milopotamos, the Venetian-era ghost town of Palaiochora and the Sunday farmers' market in Potamos, where all the locals meet. DANA FACAROS
11. Elafonisos – Simple pleasures
Simos beach, where twin crescents of dunes form an hourglass in the turquoise sea, is irresistible. But you have to work to get there; Elafonisos is in the southeast Peloponnese, a short ferry hop from Pounta, which is a four-hour drive from Athens airport or just under three hours from Kalamata.
All the hotels are small, including the Elafonisos Resort (from £82, B&B). There are other gorgeous sandy beaches but only one 'sight', the world's oldest submerged city, 5,000-year-old Pavlopetri, so bring your snorkel. Elafonisos is no longer a secret, but it's not spoiled; Elafonisos Eco, the first environmental association on a Greek island, is dedicated to keeping it that way. DANA FACAROS
12. Agistri – Quick escape
This tiny, pristine teardrop of an island sits a mere 50 minutes from Athens. The high-speed ferry zips first to the island of Aegina and then 10 minutes further to the even more remote-feeling shores of Agistri.
The island is easily walkable, with a dense blanket of pine trees offering welcome shade. In July and August, Agistri's pair of harbours, Skala and Megalochori, thrum with sunseekers who come for the island's radiant waters. June and September are the ideal months to visit for fewer crowds and warm seas. Head for beaches such as Draghonera and Aponissos in the west, or closer to Skala there's clothing-optional Chalikiada Beach, backed by cliffs. ALEXIS AVERBUCK
13. Skiathos – Design hotels
The queen of the Sporades Islands is a magnet for beach lovers. It's also the ideal option for those looking for alternative accommodation, thanks to its blossoming design hotel scene. Built into the hillside, the Atrium Hotel (from £185, B&B) is top of the list — a rural haven created by a family of architects. Over by the powdery blonde strand of Koukounaries, at the western end of the island, Elivi Skiathos (from £275, B&B) is making a five-star splash with its flowing spaces and calming neutral-toned rooms. Or there's the adults-only Aegean Suites (from £260, B&B), which has just 20 rooms opposite Megali Ammos beach. ISABELLA NOBLE
14. Rhodes – Family-friendly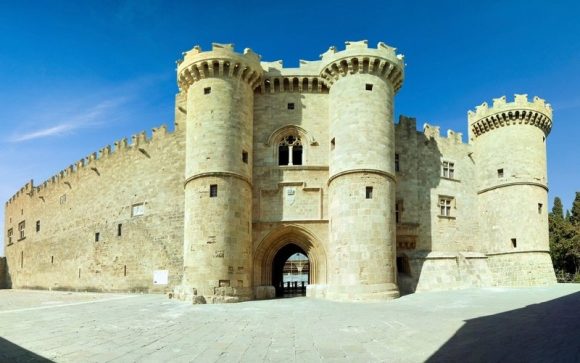 Families are never bored on Rhodes, even during cooler spring and autumn breaks. Young imaginations are fascinated by the Old City, with its walls, moats and Palace of the Grand Masters built by the Knights of St John. A new cinema, the Throne of Helios, brings the island's action-filled history and famous Colossus to life for little ones.
Away from Rhodes Town, stroll through the Valley of the Butterflies, or Farma Rhodes where kids can feed ostriches. Near the waterpark in Faliraki, under-12s stay free at the Grecotel LuxMe Dama Dama (rooms for four from £247). DANA FACAROS
15. Ikaria – Island of immortals
Remote and savagely beautiful, Ikaria is one of the world's five Blue Zones, places with inhabitants of remarkable longevity, with incredibly high percentages of centenarians. Ikaria, which is just 30 miles off the coast of Turkey, in the eastern Aegean, is one of them — alongside Sardinia (Italy), Okinawa (Japan), Nicoya (Costa Rica) and Loma Linda (California). More than 30% of Ikarians live into their nineties, generally free from chronic illness and dementia, and many hit 100.
One possible reason for this is genes. But Ikarians also benefit from an outdoor lifestyle in tune with nature, a plant-based diet rich in wild herbs, vegetables, pulses, olive oil and natural wine, a lack of stress and tight-knit communities. Today's centenarians have had tough, self-sufficient lives, working in the fields and tending vines and olive groves, often without roads, phones or convenience foods. In short, the opposite of what the western world perceives as progress. KERRY WALKER
Greece's craft heartland
In the Sporades island group north of Athens, Skyros is a vision of deep-blue bays bordered by pine trees, with a string of chic, laid-back, whitewashed villages. Famously the last home for the endangered Skyrian horse, a miniature Greek breed that roams in the mountains, the island is also unique for its thriving artisanal tradition, stretching back to the Byzantine era.
The island's living artisanal scene can be experienced on a stroll through the tangled, white-walled streets of the capital, Skyros Town, which cascades down the hillside from a now-restored kastro (fortress) of Byzantine and Venetian origins. From ceramicists and embroiderers to watercolour painters and woodworkers, this is where most of the island's artisans have their workshops and sell their pieces to people who pop in for a chat. ISABELLA NOBLE
17. Kos – Secret beaches
Dolphin-shaped Kos in the Dodecanese was the 5th-century BC birthplace of Hippocrates, the 'Father of Medicine'. His followers founded the Asklepieion, the most important healing sanctuary in the ancient world, where relaxation was part of the cure. Today, the 'cure' visitors seek in Kos is on the sunbeds of smart beach resorts. When Kos Town seems too busy, head out west to Kefalos and the 'dolphin's tail' for its secret beaches: sandy Agios Theologos, with an excellent taverna and gorgeous sunsets; picturesque and rocky Tripiti, or cliff-backed quiet Kata, at the end of half-a-mile of rough road. For a place to stay, try Kouros Palace in Mastichari (from £99, B&B). DANA FACAROS
18. Ithaca – Homer's Odyssey
Homer's adjectives 'narrow', 'rocky', 'unfit for riding horses' describe Ithaca perfectly, but was this Ionian island the kingdom of Odysseus? Some scholars say no, but the locals disagree.
Stay in Hotel Familia in the capital Vathy (from £75, B&B) and seek out the sites where they believe the Odyssey took place. South of Vathy, there's the field where Odysseus met his father Laertes, the Cave of the Nymphs where he hid his treasure, and the plateau of Marathias, where he stayed with Eumaeus. North of Vathy, Stavros has Mycenaean-era walls identified as Odysseus's palace and an archaeological collection that includes a 2nd-century BC mask inscribed 'Pray to Odysseus'. DANA FACAROS
19. Evia – Idyllic escape
Most visitors to Greece's second-largest island are Greek, but even only a few of them have heard of the Lichadonisia. Lush and volcanic, these seven uninhabited islets off Evia's northwest coast are nicknamed the 'Seychelles of Greece' for the thousands of blue-and-green shades in the shallow sea in which they sit.
Boats to the islands depart from Kavos on Evia's Lichada peninsula. While here, stop at the seafood tavernas in the fishing village of Agios Georgios Lichados, take a tour of the Vriniotis vineyards, or brave the dirt road to the often deserted Krokodil beach. Reward yourself with a soak at the Thermae Sylla in the spa town of Edipsos. The Ilia Mare, east of Edipsos, is a great base (from £66, B&B). DANA FACAROS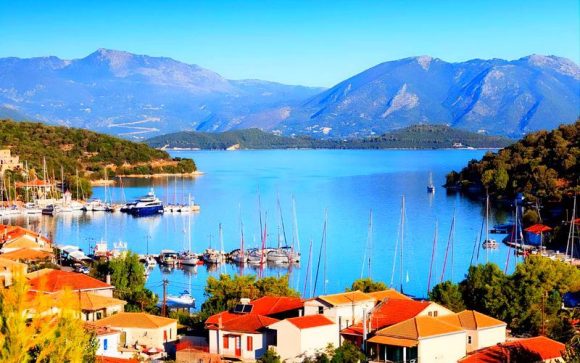 20. Meganisi – Sailing away
Meganisi is a no-brainer. Like all of the Ionian, it has gentle morning winds that get stronger into the afternoon, there's uncomplicated navigation and you can sail somewhere new in two hours. But it's next to Lefkas and between Corfu and Zakynthos, so most people don't take the time to discover it. It's so unspoilt — still very local, with little fishing harbours and residents who are just phenomenal.
It's green year-round because of pine and olive trees, and most beaches are pebbly, so the sea is crystal clear. It looks a bit like a lamb chop from above, with sheltered harbours around the top and unexplored bays along the tail, where white cliffs drop sheer into deep sea. There are a few beaches with sunloungers but no big hotels. CLAIRE SHIELDS
21. Ios – Coming into its own
A short ferry hop from its sister in the Cyclades, Santorini, Ios has been dogged for decades by its reputation as a hippy hangout and party island — the latter acquired in the '80s, when backpackers flocked here to sleep on its sandy beaches and blast away the cobwebs in the bars along the bougainvillea-lined alleys of capital Chora.
In 2014, though, all that started to change when Greek stockbroker-turned-artist Angelos Michalopoulos and his wife, Vasso, bought a chunk of the island around the ancient Cycladic site of Skarkos and launched the Mediterranean's largest private conservation project, to be left exactly as nature intended — only with 55,000 new trees.
Vowing to develop only 1% of their land, the couple built their flagship luxury resort, Calilo, comprising a dozen plush suites clad in monochrome mosaics and featuring lagoon-like pools, on a remote plot of land overlooking Papas Beach (suites from £422, B&B), and Pathos Sunset Lounge, a chill-out venue that hosts big-name DJs. Gone are the tacky souvenir shops in Chora's windmill-studded port, and in are indie boutiques selling Greek designer wear, hyper-local tipples — innovative vintner Georgós Zanganas has just launched the island's first modern winery — and chic new cocktail bars such as Click. HEIDI FULLER-LOVE
22. Alonissos – Underwater museum
Alonissos is a short hop from cosmopolitan Skiathos, but couldn't be more different: rustic, sparsely populated, forested and tranquil. Queen of its own little uninhabited archipelago, it's surrounded by the pristine seas of Europe's largest marine reserve, home to the critically endangered monk seal, as well as Eleanora's falcons, dolphins and whales. Visit aboard the Stella, from where you may just spot some of the resident wildlife between swims off islands.
In 1985, Dimitris Mavrikis was fishing off nearby Peristera island when he spotted an ancient, 30-metre-long shipwreck that turned out to be loaded with 4,000 amphorae dating to around 425 BC. Soon the wreck was dubbed the Parthenon of Shipwrecks, and last year it became Greece's first underwater museum. Divers can book an immersive experience; landlubbers can enjoy a virtual-reality tour at the information centre in Chora, the former hilltop capital. The village was devastated by an earthquake in 1965 but is now mostly restored and famous for its glorious sunsets.
Most residents live near the port of Patitiri in the south of the island, where the Ikion Eco Boutique Hotel (from £109, B&B) is a great place to stay. DANA FACAROS
23. Corfu – An island reborn
Floating between the heel of Italy and the western shores of mainland Greece, close to the border with Albania, the strategic position of Kerkyra (as locals know it) has lured in outsiders since antiquity. It's this legacy of foreign rule that you can see reflected in every street of the island's atmospheric Old Town. Its two forbidding forts and patchwork of sinuous alleys, crammed with terracotta-tiled townhouses, are testament to four centuries of Venetian occupation; the elegant arcades and pavement cafes of the Liston extend to a lawned cricket ground left by the British in the 19th century. ZOË MCINTYRE
24. Chios – Greek mojitos
Greeks call the big, north-Aegean island of Chios 'Myrovolos' ('fragrant') for its citrus groves and wild herbs, but above all for the gum mastic trees that grow only here. Even on this island, they only flourish on the hills of the south; evergreen, with trunks that writhe like dancers at a bacchanalia. In summer, the trees undergo the 'needling' that will make the trees weep 'tears' — the sweet resin that dries and hardens and has been prized since antiquity, used to treat stomach ailments, to make cosmetics, sweets and the liqueur in a Greek mojito, and as a varnish for paintings.
Chios is made for touring. Don't miss the Byzantine mosaics at 11th-century Nea Moni monastery (a UNESCO World Heritage Site) and the ghost town of Anavatos, abandoned since a massacre of the townsfolk by the Ottomans in 1822 (Eugène Delacroix's famous painting of this, now in the Louvre Museum, rallied international support for the Greek War of Independence). 'Craggy Chios', as Homer called it, defines the north of the island — here, aim for the village of Volissos, with its medieval castle, high above beautiful Agia Markella Beach.
The lively capital, Chios Town, rebuilt after an earthquake in 1881, still has its Byzantine castle walls, as well as several museums and four seafront windmills. Just to the north, Vrontados is popular over Greek Easter, when rival churches bombard each other with homemade fireworks. DANA FACAROS
25. Naxos – For food lovers
The Cyclades' largest island has been a celebrated food producer for centuries, thanks to its fertile soil and freshwater springs. The island's sixth-century Temple of Demeter, built to honour the goddess of the harvest, is a symbol of this prowess. Surrounding it are mountain vineyards, village tavernas and markets.
All of which makes Naxos one of Greece's most delicious destinations. In the whitewashed capital of Hora, crowned by a hilltop Venetian castle, visitors should try the popular restaurant Doukato, set in a former monastery, for island recipes such as kalogeras (beef, aubergine and cheese). For a more modern spin with small plates and views across the Cyclades, there's Avaton 1739, located on the roof of the castle. Escaping town, visitors can join a culinary tour with Vioma to meet local producers and chefs, or learn to make Naxian specialities on one of its cooking classes. Drive inland to sample the island's signature liqueur, kitron, made from the leaves of the citron fruit, at Vallindras Distillery. ALEXIS AVERBUCK
Getting there & around
Crete, Corfu, Mykonos, Rhodes, Santorini and Skiathos have regular direct flights from the UK in summer. Airlines serving some or all of these islands include British Airways, EasyJet, Ryanair and TUI. All islands, with the exception of the few that lack airports (such as Agistri, Elafonisos, Hydra, Ios, and Spetses), are linked to Athens by regular flights on Aegean Airlines and its affiliate Olympic Airlines, as well as other Greek carriers such as Sky Airlines.
All islands have regular ferry services in high season (July and August) and some, such as Mykonos and Santorini, are ferry hubs with routes that serve many other islands. The boat networks in the Ionian and Aegean Seas have myriad routes and operators, so consult openseas.gr or ferries.gr. Ferries from Athens leave from the port of Pireaus. The Cyclades has the largest ferry network and is the easiest region to island-hop in. Book via ferryhopper.com or individual ferry companies.
When to go
The best time to visit is May to September; average temperatures in August are around 30C but it can get much hotter. In April and October, some businesses operate shorter hours or close completely. Some ferry services only run in summer.
More info
How to do it
Greek island specialists include Olympic Holidays and Sunvil, while for active itineraries, try Much Better Adventures. Responsible Travel has a number of sailing trips.
Published in the April 2023 issue of National Geographic Traveller (UK)