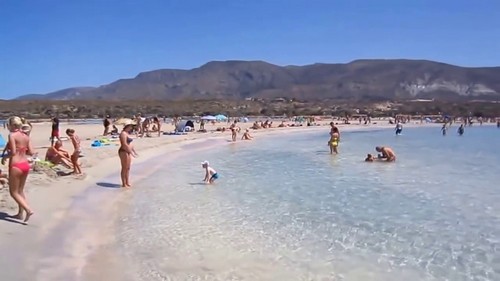 A Greek beach has managed to get into TripAdvisor's travel deals for the best beaches suitable for families.
Elafonissi beach in Crete; According to an article on the biggest travel platform, Elafonisi beach belongs to the 6 best for family holidays in 2019.
All 6 beaches have distinguished Travelers' Choice Awards awarded last week by TripAdvisor, based on reviews and ratings which they collected from millions of travelers all around the world.
* Elafonisi has emerged as the 22nd best beach in the world and it is considered as an adventure that will be loved by younger visitors. The sand is pink, while the beach is also a lagoon, sheltered from the open sea by rocks and islets.
ATG Editor
March 05, 2019
The 6 best for family vacations are …
Playa de Alcúdia, Majorca, Spain. This beach is the tenth best in Spain, it has a Blue Flag and all the necessary infrastructure for families (showers, toilets, changing rooms).
*Elafonisi, Crete, Greece
Bondi Beach, Australia. It is the eighth-best beach in South Pacific. It is ideal for surfing as it often has winds, but with a protected zone marked with 2 flags. It offers family-friendly facilities such as easy access by carriage rides, picnic benches, barbecue areas, and a children's playground.
Siesta Beach, Florida, USA.The sixth-best beach in the US. It is an oasis for families, thanks to its tranquil turquoise waters, sandy beach, and child-friendly facilities such as playgrounds, toilets, and lifeguards.
İztuzu Beach, Dalyan, Turkey. It is the 15th best beach in Europe and consists of a large sandy beach that separates the beach from the river. It has warm and calm waters, ideal for swimming. It is ideal for families who love nature as it is a breeding ground for the sea turtle.
Filey Beach, Yorkshire, UK. The sixth-best beach in the UK is an exploration paradise for children. It has a path around the beach as well as Roman archaeological finds. ΑAlso, it is known for its natural swimming pools, ideal for children, while families can find nearby facilities, cafes, playgrounds, and a golf course!