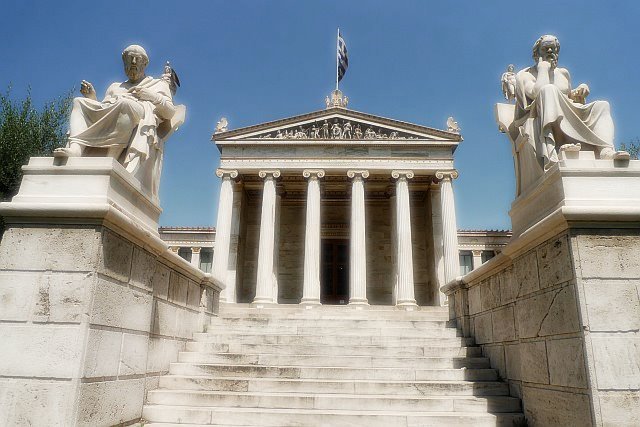 The Academy of Athens forms part of the so-called "Neoclassical Trilogy" of the City of Athens: Academy – University – Library.
The Academy was founded by Plato in the 4th century – exactly in 387 BC in Athens. Aristotle studied there for twenty years (367–347 BC) before founding his own school, the Lyceum.
The Academy persisted throughout the Hellenistic period as a skeptical school, until coming to an end after the death of Philo of Larissa in 83 BC. The Platonic Academy was destroyed by the Roman dictator Sulla in 86 BC.
The Academy of Athens consists of aesthetically distinct parts that form a harmonic ensemble of built mass. A corridor connects the two lateral wings to the main body of the building, which -in its proportions of line and mass- is set-off by its Ionian-style entrance and its big pediment.
The entrance has elements originating from the eastern side of Erechtheion, on Acropolis. The predominant material on the facets is a marble. Overall, the building is a characteristic example of mature Neoclassicism.
Built-in two phases
It was built in two phases, in 1859-1863 and 1868-1885, based on studies of the Danish architect Theophile Hansen and it is believed to be his most exquisite work in Greece. Hansen himself was also supervising the construction up to 1861 when E. Ziller took over. The embossed compositions on the central pediment and the statues outside are works of the sculptor L. Drosis. The embossed compositions on the eight small pediments are worked by Fr. Melnizki (1875) and the wall-paintings in the interior were made by K. Grupenckel.
The main donator to finance the construction was the family of Baron Simon Sinas, Ambassador of Greece in Vienna, Berlin, and Munich. In 1887, the architect Ernest Ziller, acting as a proxy of Sinas' heirs, delivered the building completely to the then Prime Minister Charilaos Trikoupis.
Free admission days
Sundays in the period between 1 November and 31 March
The first Sunday of every month, except for July, August, and September (when the first Sunday is a holiday, then the second is the free admission day.)
27 September, International Tourism Day
Free admission for:
Free admission
University students from Greece and the E.U.
Open
Winter: From the 1st of November until the 31 of March 2010, 8:30-15:00
Summer: Open during the working days and hours