Overview
A fascinating 4 days / 3 nights city break in Athens! Experience the cradle of the western civilization and the fascinating 3 islands of the Sardonic gulf. Athens; Reich in history, legends but modern and glamorous life too. Greece has 6.000 islands and islets. In this Athens city break, you will have the opportunity to visit 3 of the most famous close to Athens. Hydra, Poros, and Aegina. Each one of them has its own beauty, history, and glamour.
Highlights of the Athens and the Saronic islands city break
Eight hours private tour in Athens
Visit the trademark of the city of Athens, the Acropolis of Athens with its Parthenon and museum.
Visit the picturesque neighborhood of Plaka and enjoy lunch in a Greek restaurant
The 3 fascinating Saronic islands. Hydra, Poros, and Aegina.
Professional English speaking tour driver
PACKAGE INCLUDES:
3 nights accommodation in Athens
4* hotel
Full day Athens private tour
Full day cruise to Hydra, Poros, Aegina (including lunch)
All transfers as mentioned
Licensed tour driver to guide you till you enter sites.
Daily breakfast
All taxes
Entrance fees during guided sightseeing
24 hour assistance phone number
PACKAGE EXCLUDES:
Travel insurance
International flights
Personal expenses
Gratuities
Description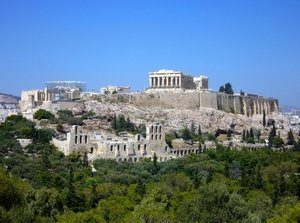 Day 1: Arrival at Athens Airport, meet with our driver, and transfer to your hotel in Athens. Time at leisure.
Day 2: Meet after breakfast with your tour driver at the hotel to experience the Best Of Athens Full Day Sightseeing Private Tour. Afternoon at leisure. Duration of 8 hours.
The full-day tour and one day cruise include a visit to the following sites in Athens:
The Acropolis (Parthenon, Propilea, Erechthion, Temple of Athens Niki, the Odeon
Theater, the Dionysus Theater, Mars Hill / Areopagus)
Temple of Zeus
Panathenaic Stadium (first modern Olympic Games in 1896)
ex-Royal Palace
Change of the Guards Ceremonial
Greek Parliament
Tomb of the Unknown Soldier
Ancient Greek Agora
Roman Agora (Tower of the Winds)
Hadrian library
Plaka (the old city of Athens) with time for lunch and leisure
The Acropolis Museum or the National Archaeological Museum
Lycabettus Hill with its breathtaking panoramic view of the city
Sightseeing from inside the vehicle
Panoramic tour from inside the car
Adrian's Arch (Athens Gate), Syntagma Square (Constitution Square), National Garden, Catholic Cathedral, Academy of Arts, University of Athens, National Library, The Kapnikarea Byzantine church, Monastiraki (also known as the flee market), Theisio, Central Orthodox Church, Kolonaki, the prestige area of Athens
Day 3: Athens One Day Cruise; A daily cruise to the 3 most famous islands close to Athens, Greece. Discover the world's most beautiful islands of the Aegen sea in a unique and refreshingly local way. We at Athens One Day Cruise design breathtaking experiences that complement the natural beauty of Greece in a way that identifies with our vibrant outdoor lifestyle. Take the journey and discover your dream Athens one-day cruise experience. Pick up from your hotel in Athens at 07:00 AM approx to start the fascinating Athens One Day Cruise to the 3 islands Hydra, Poros, Aegina. Return to your hotel at 19:30 approx.
Day 4: Pick up from your hotel in Athens for your departure transfer to Athens International Airport. End of our services.
Optional Tours
Optional Tours
Cape Sounion
HALF-DAY (Sunset)
Duration: 4 Hours
From Nov 1 to Mar 31 – Daily
Dep.: 5:30pm – Ret.: 9:30pm
From Apr 1st to Oct 31st – Daily
Dep.: 3:00pm – Ret.: 7:00pm
The Impressive 4-H Sunset tour to Sounion, the Athens Riviera and the southern coast of Athens with countless coves will give you an overview of Athens' alluring and romantic side and will offer you the chance to experience an emotional moment during your tour. Αdmire the architecture of the spectacular Temple of POSSEIDON overlooking the Aegean sea, and one of the best sunsets in the world!
Athens by Night
NIGHT LIFE – HALF-DAY
Duration: 4 Hours
From Nov 1st to Mar 31st – Every Thu & Sat
From Apr 1st to Oct 31st – Daily
Dep.: 7:30pm – Ret.: 11:30pm
Starting our evening Athens by night private tour with folklore music, dance show and dinner in a Greek typical restaurant  in Plaka, is the tour you cannot miss if you want to combine sightseeing and entertainment. During this tour you will have the chance to enjoy Athens by night; those who have experienced it will only tell you that it is probably one of the most memorable experiences you will ever have.
N.B. Drinks at the taverna are not included.
Details
Proposed Hotels or Similar
Important Note
Hotels are subject to availability on bookings day!
The Athens city Break includes 4* hotels. If you wish a 3* or 5* hotel please contact our customer service!