Overview
Combine a Christian tour to ancient Corinth and a  Boat cruise through the famous Corinth Canal in an 8 hours tour! It's worth experiencing!
√ Experience Ancient Corinth, the chosen city of apostle Paul, rich in history and culture!
√ Explore the famous Corinth canal with our Corinth canal boat cruise!
Highlights of the Christian Corinth Tour And The Corinth Canal Cruise
The famous Corinth canal
Visit the house of Akila and Priscila
The ancient agora
The important archaeological Corinth museum
The unique Corinth canal boat cruise
Description
Corinth Canal Boat Tour (Cruise)
The Corinth Canal cruise starts at 10 am in the morning during the summer period of high demand. The cruise lasts approx 60-90 minutes depending on marine traffic along the canal. The Corinth Canal is not only a major shipping route due to its active shipping route for cargo, military, and private traffic, but also a huge tourist attraction with thousands of visitors visiting the canal to admire its engineering construction, so there is always plenty to see.
The unique design and its rich history make it a famous landmark both in Greece and all around the globe. Thousands of people admire the Corinth Canal from the bridges above, but few get the chance to experience it, taking a boat trip down the Corinth Canal.
During the canal crossing, an audio guide will provide insight into canal history along with the disasters and power struggles it has experienced.
It will guide you through the history and culture of this remarkable construction project, and enlighten you on the natural beauty and uniqueness of the Corinth Canal. More for Corinth Canal here…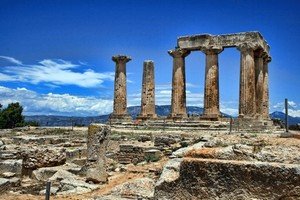 After the cruise, we'll head on to the ancient Corinth. In between, you can taste lunch in a traditional Greek restaurant owned by a Greek family in ancient Corinth village! Likewise, the ancient Corinth tour follows the exact same itinerary as the Christian tour of Corinth, Saint Patapios Monastery, And Vouliagmeni Lake! Corinth was in control of the ancient world of the Isthmus. Too many cities in the wider ancient Greek world were colonies, and this in itself demonstrates the wealth and influence is exerted. It was destroyed by the Romans for example in 146 BC, after the unfortunate battle for the Greeks at the Isthmus of Corinth. Visit the agora where ruins of Ancient Corinth still stand as witnesses of its greatness. Visitors can admire, among other things, the imposing columns of the 6th century BC Apollo Temple, the ancient market (Agora) with the "Step of the Apostle Paul" Conservatory, renovated by Herod Atticus, and other public buildings of great archaeological interest.
There is also one of the most important archaeological museums in Greece, the Corinth Archaeological Museum. Visitors can admire the archaic Sphinx of the 6th BC in its four rooms and its two galleries which were in excellent condition, findings from the Sanctuary of Asclepius, traces of the presence of an Israeli community in Roman times (a community visited and later addressed by a letter from the Apostle Paul).

Details
Important notes
Tour Type
Shore Excursion - Private tour
Included in the tour
Car and Driver
A professional English-speaking driver or escort with good knowledge of the history and culture of Greece, to guide you till you enter archaeological sites and museums. Tour drivers are not licensed to companion you inside the archaeological sites and museums. If you'd like to have a licensed state tour guide to escort you inside the sites and museums, we can arrange it for you at an additional cost. Licensed by the state tour guides are freelance and it is subject to availability on bookings day!
Transport by air-conditioned Mercedes-Benz vehicle or similar appropriate for the size of your group
Accommodation is based according to availability (for multiple-day tours only)
Pick-up from and return to your hotel
Pick-up from the Port of Piraeus
Private tour, Road tolls and local taxes
Excluded from the tour
Additional info
Dress: religious and marmoreal sites: shoulders and knee must be covered
Confirmation will be received at the time of booking
A voucher will be emailed to you with our contact numbers and all necessary information for your tour.
This is your ticket and proof of purchase. On the day of the tour please present a paper voucher in order to redeem your tour/activity.
Persons with Disabilities
Due to uneven surfaces, certain sites are not recommended for persons with walking disabilities or using a wheelchair. Such sites are the Acropolis, the Temple of Poseidon at Sounion, Mycenae, Delphi and Meteora
In all cases, we recommend comfortable flat-solid walking shoes, sunglasses, and sunscreen.
Restrictions:
Please note that on this tour, your tour driver is not licensed to accompany you on your climb. If you want this service you may book a licensed by-state tour guide for an extra cost.
In case a group is followed by a licensed tour guide or an English speaking tour-escort the professional driver is not obliged to speak English!
Opening hours & Admission fees
Opening Hours:Summer April 1st to October 31st from 08:00 AM to 07:30 PM
Winter: November 1st to March 31st from 08:30 AM to 03:00 PM
Free admission fees: Children under 18 & Students from E.U.
Reduced admission fees: Citizens of the E.U. aged over 65 & Students from countries outside the E.U.
Free admission days
March 6: In memory of deceased Minister of Tourism & visionary Melina Mercouri
June 5: Environment international day
April 18 : International monuments day
May 18: International museums day
September 27: International tourism day
The last weekend of September annually (European Heritage Days)
National Holidays
Sundays in the period between 1 November and 31 March
The first Sunday of every month, except for July, August, and September
NOTE: If the first Sunday is a holiday then the second is the free admission day
Holidays in Greece
January 1: closed
January 6: 08:30 AM - 03:00 PM
Shrove Monday: 08:30AM - 03:00 PM
March 25: closed
Good Friday: 12:00 PM - 03:00 PM
Holy Saturday: 08:30 AM - 03:00 PM
Easter Sunday: closed
Easter Monday: 08:30 AM - 03:00 PM
May 1: closed
Holy Spirit Day: 08:30 AM - 03:00 PM
15 August 15: 08:30 AM - 03:00 PM
October 28: 08:30 AM- 03:00 PM
December 25 & 26: closed
Especially for the Corinth Canal Cruise
The Boat is a 24m modern vessel, with indoor and outdoor spaces. The boat is manned by a highly trained crew and also includes a bar in order to satisfy the needs of all our guests during the trip.
The Corinth canal boat tour is shared and NOT private! If you are looking for a private tour of the canal, please get in contact with us as we have many options available.
The cruise is subject to availability on the booking day!
The Corinth canal cruise could be canceled due to uncovered participants' number!