Ancient Corinth, Home to legendary Jason of the Argonauts, A short history of Ancient Corinth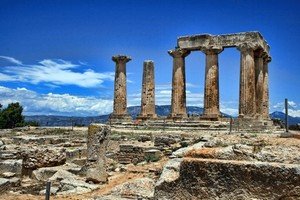 The site of Ancient Corinth was first inhabited in the Neolithic period (6500-3250 B.C.). The peak period of the town, though, started in the 8th century B.C. and lasted until its destruction by the Roman general Mummius in 146 B.C. A representative of its wealth is the Doric Temple of Apollo which was built in 550 B.C.
The city was re-inhabited in 44 B.C. and gradually developed again. In 51/52 A.D., Apostle Paul visited Corinth. The center of the Roman city was organized to the south of the temple of Apollo and included shops, small shrines, fountains, baths, and other public buildings.
The invasion of the Herulians in A.D. 267, initiated the decline of the city though it remained inhabited for many centuries through successive invasions and destructions until it was liberated from the Turks in 1822.
The excavations
Limited excavations were conducted in 1892 and 1906 by the Archaeological Society of Athens under the direction of A. Skias. The systematic excavations of the area, initiated by the American School of Classical Studies in 1896, are still continuing today and have brought to light the agora, temples, fountains, shops, porticoes, baths, and various other monuments. The investigations extended also to the fortress on Acrocorinthos, the prehistoric settlements, the Theatre, the Odeion, the Asklepeion, the cemeteries, the Quarter of the Potters, and other buildings outside the main archaeological site.
The finds are exhibited in the Archaeological Museum inside the archaeological site of Ancient Corinth.
In the winter months, the site of Ancient Corinth is open from 8:00 – 15:00 from the 1st of November until the 31 of March. A full ticket costs 7€ and reduced ticket costs 4€ (prices 2011).
In the summer months, Ancient Corinth is open from 8 AM until 5 PM.
Free admission days in Ancient Corinth

6 March (in memory of Melina Mercouri
5 June (International Environment Day)
18 April (International Monuments Day)
18 May (International Museums Day)
The last weekend of September annually (European Heritage Days)
27 September, International Tourism Day
Sundays in the period between 1 November and 31 March
Reduced Admission in Ancient Corinth
Citizens of the E.U. aged over 65
Students from countries outside the E.U.
Free admission in Ancient Corinth for:
Journalists
Members of the ICOM-ICOMOS
Persons possessing a free admission card
Persons under 19
Soldiers carrying out their military service
Tour guides
University students from Greece and the E.U.
Visit Ancient Corinth