Overview
Visiting Delphi and Meteora Monasteries is an experience you should not miss; it is not only the importance of the most sacred pace in the ancient world, and the monasteries perched on the tops of the high rocks, but mostly it is the eerie feeling that this landscape creates. The three days bus tour to Delphi and Meteora is a tour you should definitely try if you are in Greece for a short period of time.
Itinerary of the 3 days coach tour to Meteora
Athens, Thebes, Levadia, Lamia, Trikala, Kalambaka, Meteora, Athens
Highlights of the Impressive Delphi and Meteora Monasteries 3-day coach tour
A tour to the Oracle of God Apollo in Delphi
The Monasteries of Meteora are of course the absolute highlight of this tour
The wonderful landscape of Kalambaka and the huge rocks at Meteora
The trip through the plain of Thessaly
Includes entrance fee, tour guide, hotel, dinner, breakfast
Description
Description of the coach tour to Delphi and Meteora Monasteries
Day 1. Athens, Thebes, Levadia, Trikala, Kalambaka, Meteora
The 3 days tour starts in Athens; we will pick you up in the morning from your hotel and drive through the fertile plain of Beotia, crossing the towns of Thebes, Levadia, Arachova until we reach Delphi, the cult center of the Ancient World – also known as the Navel of the Earth. This exciting tour in Delphi begins: Feel the mystery in the Temple of Apollo, where Oracle Pythia would give her prophecies on personal and public issues. Visit (on your own) the Delphi Museum housing astounding masterpieces, such as the famous bronze Charioteer called Eniochos, the Naxian Sphynx, and the statue of athlete Aghias. Drink water from the running Castalia spring with the two monumental fountains receiving water from the spring for the last 3000 years.
Free afternoon, enjoy dinner and overnight in Delphi.
Day 2. Lamia, Karditsa, Trikala, Kalambaka
After breakfast, the bus tour will continue towards Kalambaka driving through the city of Lamia, and passing by numerous picturesque villages and small towns of Central Greece. Afternoon free. Dinner. Overnight in Kalambaka, the beautiful town located at the feet of Meteora rocks, offering splendid views to this unique natural formation.
Day 3. Kalambaka, Meteora Monasteries, Athens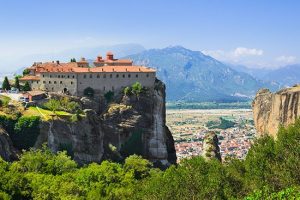 Breakfast and visit some of the well-known Byzantine Monasteries in Meteora constructed on top of huge rocks, which seem to be suspended in mid-air. Meteora Monasteries were built in the 11th century and since then have played a very important role in the monastic life in Greece, and they belong to the list of protected sites by UNESCO.
During our stay in the town, it could be possible to visit more monasteries, however, you should keep in mind that not all monasteries are open every day, therefore if you wish to visit one, in particular, make sure you consult with your driver in advance, so as not to miss the chance if possible.
Return to Athens by the same route, late in the afternoon.
N.B. Visit the Museum in Delphi is not included. Please ladies for the visit of the Monastery you need a skirt and the gentlemen long trousers. Clients staying at the coast will depart for their hotels, from our terminal around 19.30 hrs.
Details
Important notes
According to the new law a CITY TAX for the hotel overnights is effective from January 1st 2018 and it is NOT included in our excursion rates. Clients will have to pay the tax on the spot at the hotels. The amount per overnight per room is: 5* hotel=4€ | 4* hotel=3€ | 3* hotel=1,50€.
From November 1st 2019 all children from the age of 6 (six) who are coming from non E.U. countries will have to pay the full rate of the entrance fee for the Museums and the Archaeological sites. For children coming from E.U. countries status, rates remain the same but It is very important to have their passport with in order to prove their nationality.
Tour Type
Organized Shared Bus Tour
Included in the tour
Professional licensed by the state bilingual tour Guide
Entrance fee for archaeological sites and museums
Transport by luxury air-conditioned coach
Pick-up from most of hotels in Athens
Meals as per itinerary (Breakfast, & Dinner), for multiple day tours only
Road tolls and local taxes
Excluded from the tour
Gratuities (optional)
Drinks and Beverage
Additional info
Dress: religious and marmoreal sites: shoulders and knee must be covered
Confirmation will be received at time of booking. In case of limited participation, your tour will be diverted to one of our partners and vise versa.
A voucher will be emailed to you with our contact numbers and all necessary information for your tour.
This is your ticket and proof of purchase. On the day of tour please present a paper voucher in order to redeem your tour/activity.
Persons with Disabilities
Due to uneven surfaces, certain sites are not recommended for persons with walking disabilities or using a wheelchair. Such sites are the Acropolis, the Temple of Poseidon at Sounion, Mycenae, Delphi and Meteora
In all cases, we recommend comfortable flat-solid walking shoes, sunglasses and sunscreen.
Opening hours & Admission fees
Opening Hours:Summer April 1st to October 31st from 08:00 AM to 07:30 PM
Winter: November 1st to March 31st from 08:30 AM to 03:00 PM
Free admission fees: Children under 18 & Students from E.U.
Reduced admission fees: Citizens of the E.U. aged over 65 & Students from countries outside the E.U.
Holidays in Greece
January 1: closed
January 6: 08:30 AM - 03:00 PM
Shrove Monday: 08:30AM - 03:00 PM
March 25: closed
Good Friday: 12:00 PM - 03:00 PM
Holy Saturday: 08:30 AM - 03:00 PM
Easter Sunday: closed
Easter Monday: 08:30 AM - 03:00 PM
May 1: closed
Holy Spirit Day: 08:30 AM - 03:00 PM
15 August 15: 08:30 AM - 03:00 PM
October 28: 08:30 AM- 03:00 PM
December 25 & 26: closed
Price:
Half board First class 408,00 € per person & Child 240,00 €
Half board tourist class 348,00 € per person & Child 205,00 €
Supplement for Single First class 144,00 €
Supplement for Single Tourist class 116,00 €
The above rates do not include the New "City TAX" for overnights in hotels. The accommodation tax will be payable by the guests prior to their check-out as following: 5* hotel: 4,00 € per overnight per room, 4* hotel: 3,00 € per overnight per room, 3* hotel: 1,50 € per overnight per room.
---
Available:
From April to October 2022
Every Tuesday from 5/4 to 25/10
Every Wednesday from 13/4 to 26/10
Every Sunday from 10/4 to 23/10
Fridays only the following dates : 29/4 – 06/5 – 13/5 – 20/5 – 27/5 –
03/6 – 10/6 – 17/6 – 24/6 – 08/7 – 22/7 – 05/8 – 19/8 – 02/9 – 09/9 –
16/9 – 23/9 – 30/9 – 07/10 – 14/10 & 21/10
Dep. 08.45 – Ret. 19.00 (3rd day)