Overview
Surround yourself in the green and blue of Greece and discover its beauties from south to north, with an 8 days tour to Delphi, Macedonia, and Thrace of Northern Greece
Itinerary of the 8-days tour to Delphi, Meteora, and Northern Greece
Athens, Delphi, Arachova, Kalambaka, Meteora, Vergina, Thessaloniki, Kavala, Thasos, Xanthi, Katerini, Dion, Athens
Highlights of the Triumphantly tour to Delphi, Meteora, Northern Greece 8 days
Visit Delphi, the once known as Navel of the Earth
Meteora, the protected site by UNESCO
A visit to the capital city of the north, Thessaloniki
Get to know the important cities of the Macedonian Empire in North Greece
Visit the captivating island of Thasos
Spend eight relaxing and comfortable days and customize the schedule as you like
Description
Description of the tour to Delphi, Meteora, and Northern Greece
Day 1: Athens, Levadia, Arachova, Delphi, Kalambaka, Meteora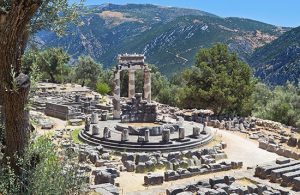 As the 1st day of the tour is an exciting and busy one, we will set off early in the morning driving through the towns of Levadia and Arachova to reach Delphi, the sanctuary of God Apollo, situated at the feet of Mt Parnassus.
Walk the sacred way to the Temple of God Apollo which dates back to the 5th century BC and visit the Museum of Delphi with artifacts such as the Bronze Charioteer, Eniochos.
Enjoy a typical Greek lunch in Delphi or Arachova and then head towards Kalambaka, crossing the plain of Thessaly.
Free evening and overnight in Kalambaka or Kastraki.
Day 2: Meteora Monasteries, Tempi valley, Katerini, Thessaloniki
Enjoy a thrilling visit to the second most important complex of Byzantine monasteries in Greece, Meteora (the suspended rocks), and enter some of the monasteries during the tour, which provides a retreat to monks and nuns since the 11th century AD.
After lunch, we will be setting off towards Thessaloniki through the valley of Tempi passing by Katerini.
In the late afternoon, we will reach Thessaloniki, the second-largest city of Greece, and the capital of northern Greece. Dinner and overnight in the city.
Day 3: Thessaloniki, Pella, Vergina, Veria
If you have been an admirer of Alexander the Great, this is your day; the tour starts with a visit to Pella, the capital of ancient Macedonia.
Afterward, we will visit the archaeological site of Vergina, where you will be able to admire the Treasures of Alexander and his father, Phillip, whose tomb is also found here.
After this exciting tour, head towards Kavala, one of the most beautiful seaside cities in Greece. Free evening and dinner in Kavala.
Day 4: Kavala
Wake up in Kavala, the so-called Monte Carlo of Greece, an attractive and interesting city of the north. Visit the ancient theatre of the city, the castles, and the array of Museums in the city, such as the Archaeological Museum, the Municipal Museum, the citadel at Philippi, The castle at Palaiochori.
After a full sightseeing day, enjoy a free evening and overnight in Kavala.
Day 5: Thassos Island
Time for a Greek island! In the morning we will head to the port of Kavala and travel shortly to Thassos island, with its lush greenery and beautiful beaches.
Thassos boasts an ancient agora and theatre, but also some truly amazing beaches where you can swim, before heading back to Kavala. Overnight in Kavala.
Day 6: Kavala, Xanthi, Avdira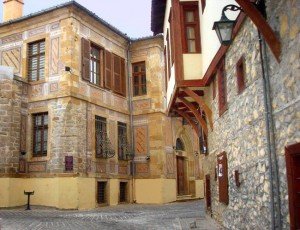 The sixth day promises new and interesting experiences; we will visit the northeastern part of Greece, Xanthi, a place that gave birth to Spartacus and Democritus.
Xanthi is a vibrant city of the north with its own university and a long and intriguing history, which is evident everywhere, from its architecture to the culture of its people, and the taste of its food.
Xanthi is known for its restaurants and taverns, as well as its hospitable atmosphere. Overnight in Xanthi.
Day 7: Xanthi, Kavala, Thessaloniki, Katerini, Dion
Enjoy your breakfast in Xanthi, before setting off for Katerini and Dion, one of the known historical cities of antiquity.
Dion is an area at the foot of Mount Olympus, known throughout the world because archaeologists unearthed a very important Macedonian city as the ancient kings of Macedonia had picked Dion for their summer residence.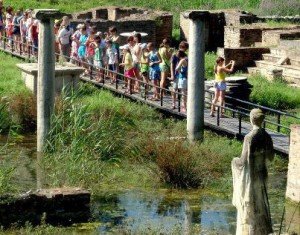 Visit the archaeological site in Dion and then head to the beaches of Katerini to cool off. Free afternoon and evening and overnight in Katerini.
Day 8: Katerini, Tempi valley, Larisa, Thermopylae, Athens
The exciting 8 days tour ends today, but there are still things to see on the way back. The tour will bring you to Thermopylae, the renowned battlefield, where King Leonidas and his 300 men fought millions of Persians to death.
Arrive in Athens late in the afternoon where the tour ends.
NOTE: Keep in mind that you can customize this tour according to your personal preferences and needs.
Details
Important notes
Tour Type
Shore Excursion - Private tour
Included in the tour
Car and Driver
A professional English-speaking driver or escort with good knowledge of the history and culture of Greece, to guide you till you enter archaeological sites and museums. Tour drivers are not licensed to companion you inside the archaeological sites and museums. If you'd like to have a licensed state tour guide to escort you inside the sites and museums, we can arrange it for you at an additional cost. Licensed by the state tour guides are freelance and it is subject to availability on bookings day!
Transport by air-conditioned Mercedes-Benz vehicle or similar appropriate for the size of your group
Accommodation is based according to availability (for multiple-day tours only)
Pick-up from and return to your hotel
Pick-up from the Port of Piraeus
Private tour, Road tolls and local taxes
Excluded from the tour
Additional info
Dress: religious and marmoreal sites: shoulders and knee must be covered
Confirmation will be received at the time of booking
A voucher will be emailed to you with our contact numbers and all necessary information for your tour.
This is your ticket and proof of purchase. On the day of the tour please present a paper voucher in order to redeem your tour/activity.
Persons with Disabilities
Due to uneven surfaces, certain sites are not recommended for persons with walking disabilities or using a wheelchair. Such sites are the Acropolis, the Temple of Poseidon at Sounion, Mycenae, Delphi and Meteora
In all cases, we recommend comfortable flat-solid walking shoes, sunglasses, and sunscreen.
Restrictions:
Please note that on this tour, your tour driver is not licensed to accompany you on your climb. If you want this service you may book a licensed by-state tour guide for an extra cost.
In case a group is followed by a licensed tour guide or an English speaking tour-escort the professional driver is not obliged to speak English!
Opening hours & Admission fees
Opening Hours:Summer April 1st to October 31st from 08:00 AM to 07:30 PM
Winter: November 1st to March 31st from 08:30 AM to 03:00 PM
Free admission fees: Children under 18 & Students from E.U.
Reduced admission fees: Citizens of the E.U. aged over 65 & Students from countries outside the E.U.
Free admission days
March 6: In memory of deceased Minister of Tourism & visionary Melina Mercouri
June 5: Environment international day
April 18 : International monuments day
May 18: International museums day
September 27: International tourism day
The last weekend of September annually (European Heritage Days)
National Holidays
Sundays in the period between 1 November and 31 March
The first Sunday of every month, except for July, August, and September
NOTE: If the first Sunday is a holiday then the second is the free admission day
Holidays in Greece
January 1: closed
January 6: 08:30 AM - 03:00 PM
Shrove Monday: 08:30AM - 03:00 PM
March 25: closed
Good Friday: 12:00 PM - 03:00 PM
Holy Saturday: 08:30 AM - 03:00 PM
Easter Sunday: closed
Easter Monday: 08:30 AM - 03:00 PM
May 1: closed
Holy Spirit Day: 08:30 AM - 03:00 PM
15 August 15: 08:30 AM - 03:00 PM
October 28: 08:30 AM- 03:00 PM
December 25 & 26: closed