Overview
Experience a romantic memorable cruise with our traditional boat (Kaiki). Discover the crystal deep blue waters of the Aegean Sea, the unique colors of the world's famous Mykonian sunset navigating towards the horizon and watching the breathtaking Mykonian Sunset.
Highlights of the Romantic Delian Mykonos Breathtaking 2½-H Sunset Cruise
A sunset cruise to Delos of Mykonos
Cruise with a traditional boat (Kaiki)
Admire Delos and Rhenia island
Enjoy the beautiful sunset with a drink on board
Description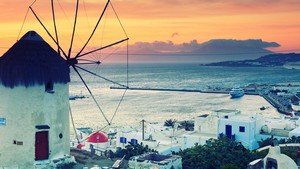 Meet at Ornos Bus station at 18.10 pm and depart at 18:30 pm with our traditional Greek Kaiki.
Following the route of the sunset cruise will take us to Delos with a view of the ancient harbor and the ruins. Then cruising between Delos and the coast of Rhenia past the little islands "Ano and Kato Rematiaris" towards South to the uninhabited islands "Prassonissia" where we can enjoy the magic light of the sun setting over Delos.
Find onboard a variety of drinks between sparkling wine, white wine, Gin 6 tonic, Ouzo, beer, and soft drinks (max. 2 drinks per person) which is offered with small snacks.
We will be back at Ornos Bus station at 20.40 pm after experiencing a beautiful sunset.
Details
All clients should present themselves at the prearranged meeting points at least 30 minutes before the start of each excursion.
Meeting points and meeting times are clearly written on the vouchers. In case of delay due to heavy traffic or other reasons we should be notified at least 30 minutes before the departure of the excursion.
Schedules of the excursions are subjected to the weather conditions.
The Captain of a boat or the driver of a bus can decide of a different routing due to safety or time organizing reasons.
If weather does not permit an excursion to take place we can alter the date of operation and notify the clients. If they cannot attend on the new date ( usually the next day ) they are entitled to be fully refunded.
Clients should observe the dress code when ever there is one ( eg for Tinos monastery ). They should read those requirement in our brochure or internet site .
Last minute reservations ( after the 20.00 of the previous day ) are subjected to availability. Only a confirmation by fax or email by us is proof of acceptance of reservations.
Excursions cancelled up to two (2) days before the operation will be fully refunded
Excursions cancelled up to one (1) day before the operation ( up to 20:00 h )will be charged 50%
Excursions cancelled on the day of the the operation ( from 20;01 h of previous day )will NOT be refunded
Excursions cancelled by us or because of FORCE MAJEUR will be fully refunded