Overview
Discover the holy island for Ancient Greeks islands of Delos and the paradise island of Rhenia! Our Private Cruise to the two islands guarantees vast doses of relaxation, culture, and unique moments!
Highlights of the Mykonos Delos Island And Rehnia Private Day Cruise
Visit the unique cultural island of Delos
Stunning sandy shores, some accessible only by boat
the magnificent island of Rhenia is a true heaven on earth
Multilingual Captain
Cool Beverages, Fresh fruit & snacks
Wi-Fi internet connection on board
Description
Description of the cruise
1. Depart Mykonos. At your selected time, we departure from Ornos little port in Mykonos.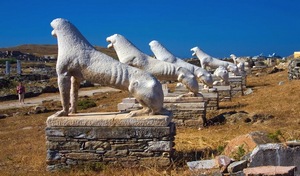 2. Stop at Delos island. After a short boat trip, we arrive in Delos holy island. Delos is one of the most beautiful Unesco's World Heritage archaeological sites in the world. The holy island for Ancient Greeks, according to the mythology, was revealed through the waves of the Aegean Sea by Poseidon, when Leto – persecuted by Hera – arrived there to give birth to Apollo and Artemis. (Professional guided tour of the archaeological site available on request).
3. Beach time at Rhenia. After leaving Delos we head to the nearby Rhenia island and anchor off in one of the most famous beaches it holds! Skinos beach, known as "Blue Lacuna". Here you will have the time to swim in the crystal clear waters, stroll around the coast and enjoy our delicious snacks and drinks.
4. More Beach time at Rhenia. After Skinos, we head down to explore more of the magnificent Rhenia beaches like Lygia, Glyfada, Strada, Lia, and Ampelia. Here you will have more time to work on your tan and enjoy the unique golden sand beaches of this hidden paradise.
5. Return to Mykonos. As the sun sets in the Aegean Sea we witness the famous Delian Sunset, before heading back to Mykonos, and Ornos beach.
---
Departure: Ornos pier
---
Departure: Time 10:00am or 14:00pm
---
Return: Time 16:00pm or 20:00pm
Details
Include
Multilingual Captain
Beach towels
Snorkeling equipment
Wi-Fi internet connection
Cool Beverages
Taxes
Fresh fruit & snacks
Transfer Service to/from the pier
Not Included
Breakfast Additional
Hostess
Premium drinks
Alcohol beverages
Entry Fees
Overnight
Private Guide