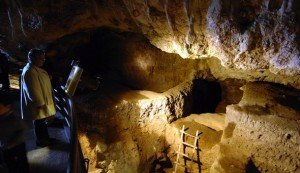 Theopetra Cave, 1 of the impressive prehistoric treasures in Greece is just 3 kilometres before reaching Meteora, a huge lime rock rises above the village of Theopetra. On its north-east side, there is a cave bearing the same name: Theopetra Cave. It is a prehistoric site situated in the western part of the Thessalian plain, at the foot of the Chasia mountain chain, the natural boundary between Thessaly and Epirus.
The cave is situated approximately 100 metres above the surface of the plain and 280 metres above sea level. The Lithaios River, a tributary of the Peneios River, flows in front of the cave. The mouth of the cave is 17X3 metres whereas its main chamber, measuring 500 square metres, is rectangular and has side niches.
Systematic excavations have brought to light geological deposits of the Pleistocene and the Holocene and anthropogenic deposits reaching a total thickness of approximately 6 metres. This discovery confirms the view that the cave must have been inhabited continuously during the Middle and UpperPalaeolithic, the Mesolithic and the Neolithic era. Specimen (eg. coal, human bones) from deposits, whose age has been estimated using methods provided by the natural sciences, confirms beyond any doubt that the cave was occupied from approximately 50,000 till 4000 BC. Its temporary use continued during the Bronze Age and historic times and continued up to 1955.
The cave
It is the first time that cave-habitation has been recorded in Thessaly during the Palaeolithic era since the best-known finds of that period come from open sites. Additionally, Theopetra Cave is the sole cave so far that permits the study and dating of the transition from the Upper Palaeolithic to the Middle Palaeolithic as well as of the transition from the Mesolithic to the Neolithic era.
The stratigraphic sequence of Theopetra comprises three cold periods: one during the Middle Palaeolithic (ca. 25,000 BP), one during the Upper Palaeolithic and one during the final Upper Palaeolithic, that is at the end of the Pleistocene.
The excavations and study of the remains in Theopetra Cave have been conducted since 1987 by the scientific research group of the Ephorate of Palaeoanthropology-Speleology, under the direction of Dr N. Apostolika-Kyparissi.