Overview
08 Days/07 Nights, Athens–Mykonos–Santorini
Lively whitewashed paradise, stunning natural wonders, and some of the world's best beaches make Mykonos and Santorini a favorite Aegean island.
A cocktail of glamorous people and celebrities, sugar-soft sands together with black volcanic sand and clear deep blue waters, holidays to these two islands are the smug holiday postcards.
Think colorful sunsets, barefoot beach strolls, vivid coral reefs, and generous helpings of Ouzo punch. Sink your toes into the sand, grab an ice-cold local Banks Beer, and soak up your slice of the good life.
Highlights of Sun-Kissed Summer, 8-Day Incredible Island Package In Greece
8-days majestic island summer package in Greece
Visit the cradle of western civilization
Explore the pearl of the Aegean, Mykonos
Enjoy Santorini the island made by Gods for people
Description
Description of the Sun-Kissed Summer In Greece
Day 1: ARRIVAL IN ATHENS, GREECE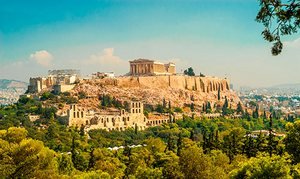 Meet and assist at Athens International Airport and transfer to your hotel in Athens. The balance of the day is yours to explore this fascinating city of Athens. A majestic city with the most glorious history in the world is worshiped by gods and people. The enchanting capital of Greece has always been the birthplace of western civilization. This is the city where democracy and most of the wise men of ancient times were born. The most important civilization of the ancient world flourished in Athens and relives through superb architectural masterpieces.
Day 2: ATHENS CITY TOUR INCLUDING THE ACROPOLIS MUSEUM
Starting from your hotel in the morning, with the half-day Athens sightseeing and Acropolis museum tour you'll see all the famous sites of ancient and modern Athens on this comprehensive tour. Offering a perfect overview of the city, this guided half-day tour, will help you to get your bearings if this is your first visit to Athens. We start with a photo stop at Panathinaikon Stadium where the first modern Olympic Games took place in 1896. It is the only stadium in the world that is built out of white marble. We then proceed, passing by Zappeion and The Temple of Olympian Zeus. We will then pass the Athens Trilogy which includes the University of Athens, the Academy of Athens, and the National Library. We Continue passing by the National Garden, Hadrian's Arch, St. Paul's Church, The Parliament, The Tomb of the Unknown Soldier, Schliemann's House (Numismatic Museum), Catholic Cathedral, Old Parliament, Constitution Square, Russian Orthodox Church, and finally the ACROPOLIS where we will visit Propylaea, Temple of Athena Nike, Parthenon, and the Erechtheion with its Porch of Maidens). We continue the tour with a short pleasant walk passing by the Herodion and Dionysus Theater in order to visit the ACROPOLIS museum. We skip the lines of the new museum and proceed to see the main attractions such as votives, artifacts of everyday life, statues from the archaic period, Caryatids, and of course the Parthenon hall with the metopes, the pediments, and the frieze that will amaze you. Evening at leisure. Overnight in Athens
Day 3: ATHENS, MYKONOS
Today after breakfast, you will check out from your hotel in Athens and transferred to Piraeus port for your ferry embarkation to Mykonos Island. Mykonos sits amidst the Aegean Sea like a unique Jewell handcrafted by time, the Greek sun, and an anonymous local craftsman. All that can be said or written about Mykonos would be just too little. For centuries Mykonos existed under the shade of the religious center of Delos and it had to wait until the 20th century to reach its international status and win a place on the world tourist map. Mykonos, famously called 'the island of the winds' due to the constant wind that blows, is the most popular and cosmopolitan island of the Cyclades and considered as one the most famous islands in the world. The sunlight of Mykonos from its first sunshine of dawn all the way to its last of the sunset is astonishing and supplements an atmosphere of images that seem to have sprung out of a painting. Arrive in Mykonos and transfer to your hotel. The rest of the day is free in order to explore the island. Overnight in Mykonos
Day 4: MYKONOS
Today, after breakfast day at leisure in order to explore the island. Among the cobbled streets, next to the churches, behind the freshly painted shutters, through the delivery of island living, the heavenly beaches, and the liveliness of the night, Mykonos keeps its secrets. The happiest different moments for everyone, here, on the most famous island in the world, each one of us makes each moment UNIQUE. Mykonos retains full beauty through the passage of time, and is and always will be a perfect host to visitors, offering unlimited vacation and great expectations. Overnight in Mykonos.
Day 5: MYKONOS, SANTORINI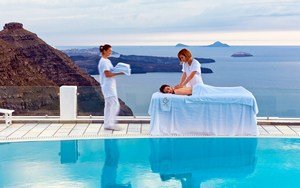 After breakfast morning at leisure. Later you will be picked up from your hotel and transferred to Mykonos port for your ferry embarkation to Santorini Island. A thousand sunsets, a thousand memories, a thousand heartbeats, colors of blue red & gold streaking the sky … this is Santorini island … Poets have written about it, artists attempt to capture its beauty. Nothing can quite describe … the unsurpassed magic of Santorini. This tiny Greek island in the Aegean Sea, rich in history and steeped in myth, is situated on the southern east tip of the Cyclades Cluster. Once famous for its seafaring captains and thriving trade from Russia towards England, France, Italy, and even further back in time the biblical volcanic catastrophe of 1.500 BC, today Santorini is one of the most popular holiday destinations worldwide. Arrive in Santorini and transfer to your hotel. The rest of the day is yours to spend in order to explore the island and admire the breathtaking view. Overnight in Santorini.
Day 6: SANTORINI
After your breakfast, you will be picked up for a cruise at the caldera and its hot springs. During this tour, you will have the unique chance to visit the active volcano of Santorini, walk on dried lava up to its peak, feel the heat underneath your feet and see the steam of sulphuric gases emerging from the earth bowels. Next, you will sail to the thermal springs where you can dive or step down into the blue waters in order to swim towards the springs (35°-36° C). Last you will visit the traditional sister island of Santorini, Thirassia, where you can either swim, go up to the village or simply relax and have something to eat. Return at your hotel. Overnight in Santorini.
Day 7: SANTORINI, ATHENS
Morning at leisure. After breakfast continues to explore the island. Later you will be transferred to Santorini port for your way back to Athens. Arrival at Piraeus port and transferred to your hotel. Overnight in Athens. 
Day 8: ATHENS DEPARTURE
After breakfast, you will be transferred to Athens international airport for your departure.
End of our services
Details
Important notes
Tour Type
Vacation / Holiday package
Included
Sightseeing sailing (for packages include islands)
All ferry tickets are calculated on economy class, without cabin.
Hotels, pickup and drop off (selected hotels only)
Round trip transfers (Port – Hotel –Port) on each Island are included (Shared).
An English speaking tour drive, with good knowledge of the Greek history and culture (for private tours)
Road tolls, All taxes, and handling charges
Excluded from the tour
Gratuities (optional)
Drinks and Beverage
Food and drinks, unless specified
Trip Terms & Conditions
Your deposit is due immediately on booking (30% of program price, minimum €150,00). The balance is due 90 days prior to departure.
Tour quotes do not include airfare to/from the trip start point unless noted on the itinerary.
Cost increases in currency exchange, government fees, taxes, surcharges or hotel/lodge tariff increases between quote date and start date are payable by the client.
Availability cannot be guaranteed until booked. We will exercise best efforts to book hotels per the itinerary, however, in busy seasons and with client bookings made within 90 days of tour date we may be forced to offer substitutes.
Payment of the program price constitutes your acceptance of the terms and conditions set out at "Terms-Conditions".
Living Standards and practices at destination may differ from those in your country with respect to provisions of utilities, services and accommodation
Additional info
Dress: religious and marmoreal sites: shoulders and knee must be covered
Departure Time: Departure as per our program
Return details: Returns to original departure point
Hotel pickups commence approximately 30 - 60 minutes prior to this time, exact pickup time will be advised on reconfirmation
Confirmation will be received at time of booking
A voucher will be emailed to you with our contact numbers and all necessary information for your tour.
This is your ticket and proof of purchase. On the day of tour please present a paper voucher in order to redeem your tour/activity.
The order of visiting the islands can be changed according to the traffic and weather conditions.
Special Notes
All boat schedules given in regards with Greek island packages can be adjusted according to clients wishes, while all mentioned times serve mainly as a reference
 to the most convenient boat schedule.
Accommodation on the islands is based according to availability
.
Any part of the trips operated by ferry can be substituted by air sectors at an extra 
 cost, according to availability.
Packages description for the economy of time and space, includes only the services 
 offered and occasionally a few suggestions.
Specific information about every 
 suggested destination can be found separately.
Persons with Disabilities
Due to uneven surfaces, certain sites are not recommended for persons with walking disabilities or using a wheelchair. Such sites are the Acropolis, the Temple of Poseidon at Sounion, Mycenae, Delphi and Meteora
In all cases, we recommend comfortable flat-solid walking shoes, sunglasses and sunscreen.
Opening hours & Admission fees
Opening Hours:Summer April 1st to October 31st from 08:00 AM to 07:30 PM
Winter: November 1st to March 31st from 08:30 AM to 03:00 PM
Free admission fees: Children under 18 & Students from E.U.
Reduced admission fees: Citizens of the E.U. aged over 65 & Students from countries outside the E.U.
Holidays in Greece
January 1: closed
January 6: 08:30 AM - 03:00 PM
Shrove Monday: 08:30AM - 03:00 PM
March 25: closed
Good Friday: 12:00 PM - 03:00 PM
Holy Saturday: 08:30 AM - 03:00 PM
Easter Sunday: closed
Easter Monday: 08:30 AM - 03:00 PM
May 1: closed
Holy Spirit Day: 08:30 AM - 03:00 PM
15 August 15: 08:30 AM - 03:00 PM
October 28: 08:30 AM- 03:00 PM
December 25 & 26: closed
Especially this Package includes:
3nights's split stays accommodation in Athens hotel on BB basis. Package rates are based on STANDARD ROOM TYPE
Half-day City tour of Athens with the new Acropolis Museum (organized), with English speaking guide + entrance fees and the transportation from/to hotel.
Private round trip transfers in Athens from airport-hotel-port-with private air-conditioned taxi
2 night's accommodation in Mykonos on a BB basis. The package rates are based on STANDARD ROOM TYPE
Round trip transfers in Mykonos from the port –hotel, and v.v. on the seat in coach basis
Delos tour
2 night's accommodation in Santorini hotel on BB basis. The package rates are based on STANDARD ROOM TYPE
Half-Day volcano tour and hot springs (organized) with transportation from/to hotel or designated meeting points. (Food-drinks and 2,5€ entrance fee to the Volcano are not included)
Round trip transfers in Santorini from the port –hotel-port on the seat in coach basis
Economy Class Normal Ferry ticket (Blue Star) from Athens to Mykonos
Economy class high-speed ferry (High Speed/Sea Jet) from Mykonos to Santorini
Economy class Normal Ferry Ticket (Blue Star) from Santorini to Athens
Assistance upon arrival in Athens-Mykonos-Santorini
All local taxes applicable
IMPORTANT NOTES
The package offered is only a quotation and no booking has been made.
Process for Package confirmation will begin only, once 50% payment is received.
If you have any concerns/complaints/feedback about the service received, please contact us!
Price not valid for travel during trade fair period and special events.
Ferry tickets, air tickets in Greece, hotels rooms, interconnecting /adjoining rooms/ early check-in /late checkout/wheelchair are subject to availability.
Should the period of travel, or the number of participants, or the type of accommodation, or the type of transport or the duration of the trip, change the quote will be adjusted accordingly.
ONCE BOOKING IS DONE, AMENDMENT/CANCELLATION CHARGES WILL BE IMPOSED
All Hotels Check-In time is 1400 hrs & Check-Out time is 1200hrs (Early Check-In / Late Check-Out is subject to availability & at the discretion of the hotel).
Additional Night rates, apply for Guaranteed early check-in /guaranteed late checkout
For your benefit we strictly recommend you to take travel insurance. However, all insurance claims will be dealt with as per the insurance provider's terms and conditions.
Payment options are as follows: Bank transfer