The 10 top reasons why you want to vacation or live in Greece
 1. There is great food.
The dishes are full of flavor, are prepared with local and fresh ingredients, especially the halloumi and feta cheese that add extra flavor to many delicacies. Greek food is great and everything tastes natural. Even the desserts are so delicious that you will love them!
2. There are splendid beaches.
Greece is known all over the world for having an endless number of beautiful beaches, with one different from another. While Mykonos has white sandy beaches with clear and turquoise waters. Santorini Island boasts of volcanic sand beaches with pebbles and shells.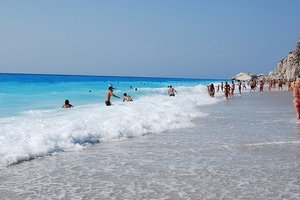 3. It has a wonderful climate.
With perfect climatic conditions, Greece and the amazing Greek islands will allow you to enjoy each season in any of its wonderful destinations and resorts. As it is not too hot or cold here, it delivers the perfect climate that lets you get every opportunity to have a great holiday with lots of activities.
4. It has a rich culture and tradition.
Due to its location, Greece has a rich culture and tradition, influenced by the many occupations by different people in the country.
5. It has a lovely natural diversity.
When visiting the country, you will that it has great diversity, with a variety of landscapes and places that you will not find anywhere else in the world.
6. It has wonderful monuments and heritage sites.
As the country is known for having several UNESCO World Heritage sites, you will be able to see some of the world's most amazing monuments. Monuments such as the medieval town of Mystras and the archaeological site of Delphi Oracle, which you should not miss.
7. There are warm and welcoming people.
What makes Greece feels like a home away from home is its people, who are truly warm and welcoming. Their hospitality will make your holiday in the country more enjoyable.
8. It offers things that are unique to the place.
The country offers many opportunities that you will not find elsewhere, like climbing the Meteora; tasting the mastiha, which are only cooked in Chios; …and diving into unspoiled coves. These are special and rare experiences that you cannot miss during your trip here.
9. There are beautiful villages.
The country's villages are known for being picturesque with each having its authentic charm and distinctive characteristics. You will see scenic villages filled with colorful houses and other historic sites, such as churches. In them, you can immerse yourself in a typical life in Greece.
10. It has numerous beautiful islands.
The country covers an archipelago comprising thousands of islands, which means that you will find landmasses of different sizes, shapes, and qualities. For hopping between islands you can charter a private yacht.