Ari the legend
Aristotle Socrates Onassis was born in Smyrna, Turkey, in either 1900 or 1906 – throughout his life he maintained two passports, with two very different dates of birth. A Greek of Turkish nationality, his mother died when he was 6. In adolescence, Onassis admired his Uncle Alexander, who taught him to always charm his way to the top of every situation, and drilled into his impressionable young mind ancient Greek stories of passion, love, revenge, defiance, and loyalty, concepts that would play out in Onassis' later life.
Onassis fled to Greece when war erupted in Smyrna, becoming a homeless Anatolian refugee at 17 – or 23, depending on which year of birth you believe. Onassis wanted to emigrate to the U.S., but immigration quotas had just been introduced, and Anatolian refugees were on the "not wanted list." Soon he ventured to Buenos Aires, Argentina, the destination for many a young man hungry to carve out his place in the world.
During his years in Argentina, Onassis imported Turkish tobacco from Greece. His father had been successful in the tobacco industry in Turkey before the war. Some historians and conspiracy theorists maintain that Onassis actually imported opium, not cigarette tobacco, into Argentina, and that he later made his huge megafortune, not from oil and shipping activities, but from drug running, and from the manufacture of synthetic diamonds, rubies and emeralds which he marketed as genuine precious stones.
Ari the great
Onassis entered the shipping business in the 1930s, when he purchased his first oil tankers. From then on, his fortune kept multiplying. He was like Midas, legendary king of Phrygia, who requested of the gods that everything he touched be turned to gold. The gods granted Midas his wish, but then his food turned to gold the moment he touched it, and man cannot live by gold alone. Onassis identified strongly with other Greek heroes, namely Achilles and Odysseus. From Onassis' private island of Skorpios in the wine-dark Ionian Sea, one can see Odysseus' ancient island kingdom of Ithaca. Onassis' sense of his Greek ancestry was profound. He felt that his life was deeply touched by ancient mythology; he often read Homer's tales of the Trojan War, and fantasized about Helen, "the face that launched a thousand ships."
From the time he was a young man, Onassis' relationships with women were stormy. An early romance with a ballet dancer in Buenos Aires ended with violence; afterwards, he drowned himself in drink, a tendency that developed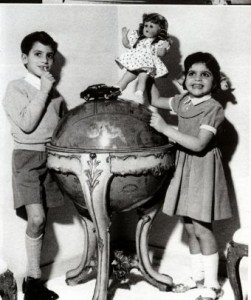 into raging alcoholism in later life. In the 1930s, he became engaged to the daughter of a wealthy Swedish shipowner, Ingeborg Dedichen, a romance that included more than one violent episode in which an enraged, drunk Onassis beat his fiancée. Onassis admitted a certain sexual pleasure in violence, and was quoted as saying, "he who loves well, beats well."
The first Mrs. Aristotle Onassis, Athena Livanos (Tina), described Onassis as "a brutal drunk." They were married in 1946, divorced in 1960. Visitors who spent time with Onassis and Tina sometimes heard sounds of physical violence, and a woman's screams, coming from the master's bedroom.
During his lifetime, Onassis was investigated by the FBI, the CIA, the KYP (Greek CIA), Britain's M15, and the DST (French security service), among others. In 1953, Onassis hired Dr. Hjalman Schacht to negotiate an oil contract with the King of Saudi Arabia. Schacht had been Adolf Hitler's financial wizard, his economic dictator, and president of the Reichsbank in 1937. Schacht had been acquitted of war crimes at Nuremberg in 1946 – "you can't hang a banker," cynics said – but was later found guilty by a German denazification court. Schacht successfully created the Jiddah Agreement, between the Saudis and Onassis, which called for Onassis to supply 500,000 tons of tanker shipping toward the establishment of the Saudi Arabian Maritime Company. Onassis' fleet would fly the national flag of Saudi Arabia, and be exempt from Saudi taxes. Within a decade, this agreement allowed Onassis to create a strategic monopoly on the transport of Saudi oil.
The Jiddah Agreement created a crisis in Washington, DC, because this new, huge Saudi fleet posed a threat to U.S. interests. Onassis argued his case before the State Department, saying that he had signed the deal with the Saudi Government because "somebody had to"; it was a huge deal waiting for someone to grab it, and he did. The U.S. Government wasn't mollified. The American Jewish lobby was pressuring the U.S. oil companies to stop dealing with the Saudis, and the Jiddah Agreement contained a clause, written by Schacht, that Jews could have no direct or indirect interest in any of the subcontracting companies. Then, to add fuel to an already flaming fire, Onassis invited Alfred Krupp von Bohlen und Halbach to the launching of one of his latest tankers; it was Krupp's first official public appearance since serving six years in prison as a Nazi war criminal. Onassis invited him despite his aides' warnings not to.
It was around this time that the CIA planted a listening device in Onassis' Paris apartment, which led to his indictment by the U.S. Government for conspiracy to violate the false statement statute of the Ship Sales Act when his companies filed applications to buy surplus vessels. He was also charged with false balance sheets, false financial statements, and false claims about citizenship. On December 21, 1955, Onassis paid a $7 million fine (equivalent to $38 million in 1995) to the U.S. Government, for fraud and criminal charges.
Onassis had lots of enemies, some in high places; he also had quite a few good friends who owed him favors, also in very high places. Onassis' need to control everything often led to tyranny on his part, in both business and private life. Some said an air of sinister melodrama followed him wherever he went. Costa Gratsos observed after Onassis' death that there had been a violence in Onassis, tending towards sadism at times, that was never far from the surface, and that he aimed at those closest to him, especially when he drank. Onassis himself once said, "if you have one golden apple, you have the power; you can get away with murder if you have a single apple that somebody else wants."
Onassis had a publicity agent to keep his name in the press, believing that constant publicity about his social life gave him credibility with bankers. Throughout his checkered shipping career, and in his personal life, Onassis made a definite impression on those he met. During Onassis' short-lived friendship with Prince Rainier of Monaco, Onassis declared that "there should be no gambling in Monte Carlo. Gambling is immoral," to which Rainier responded, "Really, Mr. Onassis, I do not think you are in a position to tell me what's moral and what's immoral."
In 1959, Giovanni Meneghini, while filing for a legal separation from his wife, Maria Callas, referred to Aristotle Onassis as one of the "persons who are reckoned the most powerful of our time." His use of the word "powerful" rather than the word "wealthy" is notable. Onassis was, to be sure, an example of self-will run riot.
Onassis was in Hamburg, Germany on November 22, 1963, publicly launching one of his new tankers, the Olympic Chivalry, when President John F. Kennedy was assassinated. He immediately called Lee Radziwill in London, then flew to Washington with her in one of his private jets. Onassis owned Olympic Airlines from 1955 until January 1975, when he handed it back to the Greek government shortly before his death. Having his own private airline for 20 years provided Onassis with the means to go anywhere, at any time, and also to fly other people, anywhere, at any time. Records of passenger lists and flight schedules did not have to be kept for his private airline as strictly as they would have been kept for a public airline.
Onassis was a guest at the White House during the funeral. President Kennedy had told Onassis that he was not welcome in America until after the 1964 election, but his presence went unnoticed in the days of shock and mourning that gripped America and the world. He played the part of court jester at the funeral, drinking heavily and telling stories with Bobby and Teddy Kennedy. Nevertheless, the Kennedy brothers instinctively disliked him.
On December 3, a week after JFK's dramatic, televised funeral, Onassis and Maria Callas conspicuously celebrated her 40th birthday at Maxim's in Paris. But a close Onassis aide, Panaghis Vergottis, said that he knew Onassis' interest in the newly-widowed Jacqueline Kennedy would not quickly go away.
Aristotle Onassis – why he wanted Jackeline Kennedy
On August 7, 1963, Jackie gave birth prematurely to her son Patrick; he was the last child Jackie was to carry, and he lived only two days. Following baby Patrick's death, Jackie spiraled into a serious depression, from which her younger sister Lee Radziwill tried to help her recover.
Lee invited Jackie for an October cruise on Greek shipping tycoon Aristotle Onassis' yacht, the Christina, to give Jackie some solace from her loss, and a week away from the pressures of being First Lady. Lee and her husband Prince Stanislas Radziwill chaperoned the cruise, along with Commerce Secretary Franklin D. Roosevelt, Jr., and his wife Susan.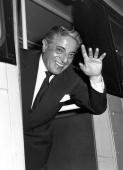 During Spring and Summer 1963, Lee Radziwill had become intimately involved with Onassis; her marriage to Prince Stanislas Radziwill was deteriorating rapidly. The Onassis/Radziwill affair surfaced in the American press during the Summer of 1963, causing embarrassment for a Kennedy administration hoping for easy reelection in 1964; they didn't want any scandals. Onassis had been indicted by the U.S. Government for fraud, was divorced, and for years had carried on an open affair with married opera diva Maria Callas. Europeans did not bat an eye at such things, but Americans still did. Bobby Kennedy asked Jackie to talk Lee into cooling the affair, which Jackie refused to do. On the contrary, Jackie was impressed that her sister was friends with one of the world's wealthiest men.
Onassis' interest in Lee Radziwill was due at least in part to the fact that she was Jackie's sister, and the sister-in-law of the most powerful man in the world. Washington Post columnist Drew Pearson asked, "Does the ambitious Greek tycoon hope to become the brother-in-law of the American President?" Onassis was obsessed with celebrities to the point of addiction, and sought self-aggrandizement through his associations with the rich, the famous, and the powerful. More than once, Maria Callas talked to the press about Onassis' obsession with famous women, and other members of his inner circle have commented on his need to be noticed and envied, saying that the presence of the famous at his table confirmed his status in his own eyes. Those closest to him described him as "ruthless in business, and tyrannical in private."
The October 1963 cruise wasn't the first time Onassis and Jackie had laid eyes on each other. One night in 1958, while then-Senator John F. Kennedy and Jacqueline were vacationing in the south of France, Onassis had invited them onto his yacht to meet former British Prime Minister Winston Churchill, one of JFK's idols. Churchill wanted to meet JFK, whom he considered "Presidential timber." Remember, this was 1958. While Kennedy and Churchill talked, Onassis met Jackie for the first time, and noticed everything about her, from her clothing to her short dark hair blowing in the evening breeze. He told Costa Gratsos, one of his most confidential aides, "There's something damned willful about her, there's something provocative about that lady. She's got a carnal soul." Gratsos tried to talk Onassis out of his obvious intense interest in the young Jacqueline Kennedy, telling him he was too old for her.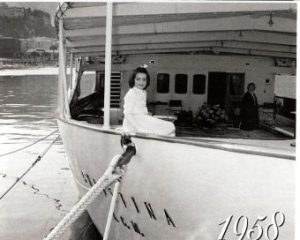 Back to October 1963. The Christina, stocked with gourmet chefs, paté, lobsters, caviar, wine, a masseuse, and two hairdressers, set sail the beginning of October. The yacht had nine double guest cabins, each named for a Greek island. Jackie stayed in the cabin named Ithaca. They cruised through the Aegean, docked in Istanbul, Lesbos, and Crete, and navigated along the Pelopponnesian coast. The media went wild. Photographs appeared of Jackie and Onassis touring the Blue Mosque in Istanbul, and walking hand-in-hand in ancient Smyrna, where Onassis showed Jackie the places from his youth. They also visited Ithaca, Odysseus' island kingdom, and Onassis' private scorpion-shaped island of Skorpios, where they walked up the rocky hillsides, among the cypress trees and olive groves. Onassis guarded his privacy so strictly that he had had his island removed from the official maps of the Ionian Sea, to discourage sightseers and journalists. Walking with Onassis along the water's edge, Jackie told him she wished her Greek island vacation would never end, and that she did not like her life as First Lady. As a 10-year-old girl, she had written a poem, entitled "Sea Joy," which ended with the line, "Oh – to live by the sea is my only wish."
On the last night of the cruise, Onassis gave everyone expensive gifts, including a diamond and ruby necklace for Jackie. On October 17, Jackie returned to Washington, DC refreshed and revitalized. The White House staff noticed the changes in Jackie. One worker remarked, "Jackie has stars in her eyes – Greek stars." Others felt Jackie was more independent and stronger after the cruise, having successfully beguiled a powerful and wealthy man. Partly because of the negative media coverage her cruise on Onassis' yacht had caused – some thought it was wrong for the wife of the President of the United States to accept hospitality from a convicted felon, among other things – Jackie agreed to accompany her husband on his November trip to Texas.
There are conflicting reports about Jackie and Onassis' conduct during the two-week cruise; Franklin Roosevelt Jr. swears that nothing romantic happened during the cruise. JFK's personal secretary Evelyn Lincoln, however, disagreed. Asked if she thought Jackie and Onassis had had an affair before the assassination, Lincoln answered, "I think so, yes. Jackie loved money. Onassis had money." In either case, Jackie later remembered the cruise as a tension-free oasis between tragedy and tragedy, between the premature birth and death of her son Patrick, and the gruesome assassination of her husband.
The cruise marked the end of Lee Radziwill's affair with Onassis, because he fell in love with Jackie during the cruise. Onassis began courting Jackie very soon after the assassination the following month, by which time Onassis' daughter Christina was already referring to Jackie as "my father's unfortunate obsession."
In October 1963, Americans had little reason to believe that Jack and Jackie's marriage was shaky. But in more recent years, evidence has come to light indicating that all was not well behind closed doors. In 1975, Judith Campbell Exner testified to the Senate Select Committee on Intelligence that in the early 1960s, she had had an affair with President Kennedy at the same time she was Chicago Mafia leader Sam Giancana's good friend. In her autobiography, My Story, she claims that she had a sexual relationship with JFK while he was President, that his marriage was unhappy, and that Jackie wanted a divorce. Exner's exact testimony was sealed until 2025. Exner's story blew the lid off the conspiracy of silence surrounding JFK's private life; his numerous extramarital affairs are now well-publicized. Ben Bradlee's sister-in-law Mary Pinchot Meyer also had an affair with Kennedy while he was in the White House. She was murdered during the Summer of 1964 in Georgetown; her diary and letters were obtained by CIA counterintelligence chief James Angelton, who claims that he burned them. Perhaps Jackie, fed up with her husband's incessant philandering, decided during the cruise on the Christina to have a little fun of her own.
While she was First Lady, Jackie sadly confessed to a family member that she "would go mad" if she could not get away from Washington soon. If you wonder why Jackie stayed in the marriage, there are several reasons. First of all, the Kennedy's were Roman Catholic, it was the early 1960s, and divorce was rare, and stigmatizing. Joseph P. Kennedy, Jackie's father-in-law, more than once offered her money (reportedly $1 million each time), which she accepted, in order to keep the marriage going for political reasons. Appearances meant the world to Jackie. When her father, Jack Bouvier, was too hopelessly drunk to give her away at her wedding, she was crushed, but she was determined not to let her disappointment show, and that no outward mishaps or embarrassments happened during the wedding. So strong was Jackie's need for the world to see what she wanted it to see, that we saw only what she wanted us to see.
By the Fall of 1963, Kennedy's personal popularity as President remained high, but administration blunders such as the Bay of Pigs invasion had diminished the country's belief in his political effectiveness. Division within the Democratic party was also growing. Jackie's reputation, however, was higher than ever in 1963. She stood tall and beautiful on a sacred pedestal, and no one would publicly criticize her.
As the cruise through the Greek isles came to an end, FBI director J. Edgar Hoover demanded an updated file on Onassis, who he had previously investigated as a spy and a criminal, and who was now beguiling, and dangerously beguiled by, the First Lady. Hoover had always disliked Onassis, and the cruise only served to deepen Hoover's distrust. And Hoover wasn't the only powerful Washingtonian who held firm that the First Lady of the United States should not have accepted the hospitality of a foreigner who had been indicted in the United States.
Jackie fell apart when Bobby was assassinated. Despite her recent arguments with him over her relationship with Onassis, they were still very close. He was her closest male friend, a confidante, and a devoted uncle to her children. She was incoherent upon hearing of Bobby's death. Onassis flew to Hammersmith Farm, the Newport, Rhode Island estate of Jackie's mother Janet Auchincloss, to comfort Jackie, who was completely shattered. "If they're killing Kennedys, my children are targets. I hate America," she sobbed, on Onassis' shoulder.
She suddenly felt terror and panic, and feared for her children. She needed to escape the Kennedy nightmare of killings. As her escape, she chose a secluded island in the Ionian Sea, and a yacht fit for a queen. And king. Camelot was replaced by an enchanted Greek island. Onassis offered Jackie and her children safety and protection. The Kennedy clan continued their campaign against the marriage, but in the end, no one could stop Jackie. On October 20, 1968, she married Onassis in a small, private chapel on Skorpios.
The press was extremely unforgiving of the thirty-nine year old widow's marriage to the much older billionaire. It was rumored that Jackie would never have married Onassis if Bobby had not been killed. Jackie's reputation suffered terribly from her marriage to Onassis, especially in Europe where Onassis was strongly disliked. He was often condemned in the European press, for details of his personal and business life that the American press never covered.
The marriage made no sense to most people, some of whom were disgusted by it and didn't mind saying so in public or in print. How could she, the dutiful widow of a beloved president, believed to be flawless, devoted to her dead husband's memory and ideals, marry a vulgar and disreputable foreigner with no looks and even less class? Onassis displayed Jackie in public as if she were a jewel, and enjoyed shocking his guests – and Jackie, a lifelong animal lover – with bloody tales of harpooning whales.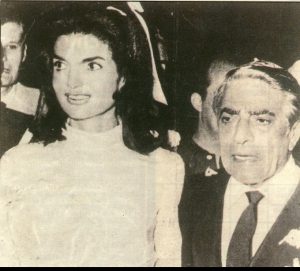 Jackie married Onassis for financial security, safety, and privacy. Believing that lone political fanatics had killed her husband and brother-in-law, she sought refuge outside of the U.S., away from American soil she believed nurtured fanaticism and extremism. Suddenly, one gloomy night in February, four years after marrying a man who had offered her protection, she discovered that he had betrayed her in the most awful way, by orchestrating the deaths of the two men she had loved. She was trapped on a fairytale Greek island in the middle of a long winter night, and outside more than the wind was howling.
People need closure and completion in their lives. They need – and deserve – answers. When Jackie and Onassis circled the Greek Orthodox altar three times in October 1968, she had no way of knowing what she may have later come to learn, but it was part of her journey to find out. The marriage provided Jackie – eventually – with answers to questions that must have plagued her for years. In 1977, Jackie confided to a cousin at a family funeral, "there are some things you never get over."
In the musical version of Camelot, King Arthur's reign comes to a sudden, crashing halt, not because of politics, but because of passion, because of an affair between Guinevere and Lancelot. Passion and sex brought down Camelot, not politics. On that day in 1963 when Jacqueline Kennedy, recently widowed, first spoke with Theodore White about Camelot, did she, however unconsciously, hint at truths she felt, but did not yet know, truths that would take years to surface? Camelot had come and gone again, once again a reign full of intrigue and secrets, and once again suffering a tragic end because of passion, not politics.
Jackie's cousin, author John H. Davis, noticed profound changes in Jackie during her marriage to Onassis, and remembers that the loneliness and insecurity which clung to Jackie in the years following the assassination of her husband were transformed during her marriage to Onassis, and that she became happier and more outgoing. At least during the early years of that second marriage.
Whatever the feelings of families and friends, the newlywed couple showed every sign of being in love. They would have sex in all sorts of unconventional places, aeroplanes, small boats, the beach, regardless of who might be watching – or photographing. The brother of one of Jackie's Washington friends was shocked by the way Onassis would drag Jackie suddenly into any one of the cabins on Christina and make love to her without bothering to shut the door. This sort of exhibitionism satisfied his ego – he would boast embarrassingly to Jackie's friends, like Pierre Salinger, of her sexual appetite and his own prowess in bed with her.
Jackie went along with this. On Christina she appears not to have minded sleeping in the bed he had shared with Maria Callas for the past nine years. She did, however, have the huge portrait of Tina moved from its dominant position on the staircase. She realised that in many ways Ari still loved his first wife and it upset her to see 'that beautiful face'.
It was not Tina, however, but Maria who posed the threat. Maria never again came to Skorpios, but her apartment in Paris at 36 Avenue Georges Mandel was conveniently close to the Onassis apartment at 88 Avenue Foch. Onassis and Maria appeared closer and happier together now than they had been before his marriage to Jackie, but Onassis, for once, did what he could to conceal his frequent rendezvous with Maria. He warned her to switch off the lights at the entrance to her apartment when he was due, so that no one could see him arriving, and arranged to see her through his aide, never calling her directly.
Jackie was aware of her husband's continuing affair with Callas, and was hurt by it. Once again, she was not number one in her husband's life. For all the satisfactory, frequent sex, the kissing and touching, the little endearments, there was an element of unreality in their marriage. She was kept away from his business affairs. 'It would bore you, honey,' he said, just as Jack had not wanted to discuss the political issues of the day with her. With Maria, it was different. No one who saw them together at this time thought that Onassis went to her only for sex.
In reality Jackie was psychologically terribly wounded by the traumas of the past five years and the deaths of Jack and Bobby. 'She was,' said the daughter of a close friend of Onassis, 'a deeply shattered person. How could it be any different? She spoke to me of the assassination, of how she felt during it, immediately afterwards, what it was like coming back to the White House in that state. And I remember when I first saw her it struck me that her face was entirely laboured by these tiny crack-marks. Like crackle glaze on porcelain. It was the outward sign of what she had gone through.'
Marriage to Onassis was a curiously rootless life for Jackie, who was often left alone. According to one of her few Greek friends, 'She had no real life in Greece. There were no big parties. Our days were very, very quiet. We read, we walked, we went swimming.'
The Onassis compound at Glyfada was not exactly the sort of setting to which Jackie had been accustomed. Damaris, Lady Stewart, wife of the British ambassador in Athens, Sir Michael Stewart, described the Glyfada villas as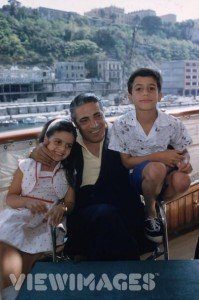 'appalling, of no taste or interest whatsoever'. Lady Stewart had the impression that Jackie had nothing to do with the running of the houses. 'When I went to lunch with her he [Onassis] was having a lunch in the next-door house, because the food was coming backwards and forwards across the lawn … When we got to the pudding stage – it was a sort of bought chocolate cake – we had half, the other half had presumably gone there … My superficial impression,' Lady Stewart went on, 'was that she was bored and didn't feel in any way at home.'
There was open hostility to Jackie in the Onassis circle. Quite apart from his children, Alexander and Christina, who could not abide Jackie, there was Costa Gratsos, one of Onassis' oldest friends and a devoted partisan of both Maria and Christina. Gratsos had been unequivocal in his denunciation of Ari's marriage. As Jackie's spell over Onassis faded, so Costa's influence grew, as he worked on his friend's superstitious nature.
Alexander and Christina were irreconcilable and Jackie made little effort to win them over. 'I will never sleep in the same house as that American woman,' Alexander told his father's secretary, even before the wedding. Onassis' efforts to improve relations only seemed to make things worse: once when he was about to leave with Jackie for New York, he told her to wait while he went off to find Alexander to come and say goodbye to her. After fifteen minutes, Jackie, increasingly nervous, despatched Kiki Feroudi to fetch him because they were going to miss their flight. Feroudi overheard Alexander flatly refusing to do what his father wanted. Jackie was furious and her usual self-control deserted her. 'I have done nothing to deserve such rude treatment.'
'Worry only about your own children, not mine, my dear,' he told her nastily, as he walked so fast to the plane that there was no way she could keep up with his pace.
Alexander's reaction to Jackie was relatively calm compared with Christina's. 'Christina resented her terribly because Christina herself had had an impossible childhood,' a family friend said. 'Because of that, her father meant a great deal to her … She was a completely neurotic girl, hanging on to everything which could give her some sort of security … She would have resented anyone because she was too insecure herself. I mean that girl was not all right. When she was thin, Christina was a very pretty girl, with large dark eyes, delicate wrists and ankles, but when she became particularly depressed, her weight yo-yoed. Jackie, with her slim elegance, was a constant reproach to her, even had she not appeared as a threat to take her father away from her.
Meanwhile, back in the United States, the Kennedy legend was crumbling. Jackie's marriage to Onassis had been a serious blow, but what happened on the night of 18 July 1969, ten days before Jackie's fortieth birthday, was far, far worse. Earlier that year, after witnessing Teddy Kennedy's bizarre drunken performance on an overnight aeroplane flight, a journalist had described him as 'an accident waiting to happen'. On 18 July on the tiny island of Chappaquiddick off Martha's Vineyard, Teddy was returning from a party there and drove his 1967 Oldsmobile off the Dike bridge, drowning his passenger, a Kennedy 'boiler-room girl', Mary Jo Kopechne. The whole incident, bad as it was, was made worse by his inexplicable behaviour. He stumbled back to the cottage where the party was being held but instead of calling the rescue services he enlisted his cousin Joe Gargan to dive with him to the submerged car. When they failed to rescue Miss Kopechne, he swam the narrow creek dividing Chappaquiddick from Martha's Vineyard, returned to his hotel, made a 2.30 a.m. appearance in the lobby, then retired to his room where he made seventeen telephone calls, none of which was to the police.
Attempts to represent him as having made heroic efforts to rescue the girl by 'diving into the strong and murky current', and speculations about 'some awful curse' having over the Kennedys (later used as a frequent excuse for reckless family behaviour) had the opposite effect. The circumstances surrounding the accident were never full explained, but evidence showed that poor Mary Jo's head had been in an air bubble and she might have been rescued if prompt action had been taken. The words 'panic', 'cowardice' and 'cover-up' were bandied about.
On February 1970 four of Jackie's letters to Ros Gilpatric, written between 1963 and 1968, mysteriously surfaced. One, dated 13 June 1963, thanking Ros for a 'slim volume', was couched in the intimate flirtatious style that Jackie used in letters to her men friends. The last had been written while on her honeymoon with Onassis, again in the most affectionate terms.
Onassis could discount Jackie's friendship with Gilpatric, which was not exactly unknown to him but his Greek male pride was offended by his new wife having sat down on their honeymoon to write warm notes to another man. Nor did he like the publicity, which he saw as reflecting badly on him. He told Costa Gratsos, 'My God, what a fool I have made of myself.'
In a deliberate show of tit-for-tat, he dropped his discretion where Callas was concerned. He spent four successive evenings with her in May and was seen leaving her apartment at one o'clock in the morning. Jackie flew to Paris to take Maria's place. The message from Jackie to Maria was clear: I'm his wife, I'm number one. Distraught at being used once again, Callas spent three sleepless nights and accidentally overdosed on sleeping tablets. It was now impossible for Jackie to pretend that her husband was not with his mistress whenever her back was turned or that he was using Callas to keep her in line.
Jackie's marriage to Onassis was not in trouble – yet – but the strains underlay it. Onassis was still beguiled by Jackie who, when in Greece, was prepared to act like a Greek wife. Onassis was proud of her, of her beauty and her taste, the impeccable way she ran her households, but he was not cut out for the delicate minuets he had to dance with Jackie. He became bored with her feyness and fantasy, her need for reassurance and admiration, contrasting it with Maria's wholehearted passion. As a friend observed, 'Maria would sing, cook, throw spaghetti at him, they used to fight like crazy, they were temperamental.'
As things began to go wrong in Onassis' business and private life, darker shadows fell across the marriage. It seemed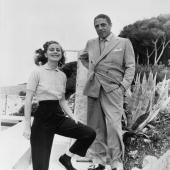 that Onassis had lost his phenomenal skills in putting together a deal and single-mindedly pursuing an objective. At the same time he seemed to be losing control of his family. In July 1971 Christina, aged twenty-two, married Joseph Bolker, a forty-eight-year-old California-based real-estate dealer, without telling her father. Christina's marriage outraged Onassis because he saw it as an act of defiance against his rights over her as a father. (In February 1972, after months of pressure, Christina and Bolker were divorced amicably.) To him it was a symptom of his loss of control in other areas. In October he suffered a blow that hit him personally and left him reeling. His arch rival, Stavros Niarchos married Onassis' former wife, Tina. Illogically, although the divorce from Tina had been the direct result of his open adultery with Maria Callas, the failure of his marriage had hurt. To him Tina was always his true wife and the mother of his children. He saw, probably correctly, Tina's marriage to Niarchos as her last act of revenge for his own marriage to Jackie.
For his part, Onassis was getting bored with Jackie, who increasingly was getting on his nerves. He resented her increasingly frequent and prolonged trips to America to see her children or to attend Kennedy functions, when as a Greek wife she should be sitting a home waiting for him. Onassis began to complain about Jackie to his Greek friends and, naturally, to Maria Callas. She was never with him, she was cold, she spent too much money. Even sexually now he found her dull. 'He called Callas and he told her, "I'm just a babysitter. I have to sit and wait and wait for this woman." He also said that going to bed with her was like going to bed with a corpse.'
Just as he had with Callas, Onassis began to humiliate Jackie publicly. Her capacity to 'tune out' irritated him as much as it had Jack Kennedy. One rainy evening in Glyfada, Onassis and his friends Miltos Yiannacopoulos and Yiannis Gorgakis had been talking to each other all evening while Jackie sat opposite them, silent, reading a book about Socrates. Finally, she put down the book to ask Yiannis Gorgakis whether he thought that Socrates had really existed or whether he had been an invention of Plato to represent the Athenian philosophers. As Gorgakis began to answer seriously, Onassis jumped up from the sofa and began to scream at Jackie: 'What is the matter with you? Don't you ever stop to think before you open your mouth? Have you never noticed the statue in the centre of Athens? Are you too stupid not to know a statue of Socrates?'
Jackie, in tears, whispering to herself in French to make sure that if she was overheard she would be understood, went upstairs, came down wearing a raincoat and walked out. Onassis refused to bring Jackie in out of the rain himself but ordered Yiannacopoulos to do so. Without saying a word, Jackie came in and sat down silently beside Gorgakis. Onassis sat back muttering about 'idiotic conversations' and closed his eyes. His form of apology was an expensive gold bracelet he gave her some days later. Jackie had won the battle without saying a word, with enormous self-control and an actress's sense of how to steal a scene. Silent withdrawal, as she had learned with Jack, was one of her most potent weapons.
Onassis simply did not know how to deal with her, and the great publicity coup he thought he had achieved in marrying her had turned sour. Since everybody believed that she had only married him for his money, the reports of her spending – real and exaggerated – made him look like a sucker. Her devotion was to her children, her real life in America, and not in Greece, or even Paris, with him. He planned to reassert himself by divorcing her and by making sure that she would not get away with a large slice of the Onassis fortune. In November 1972 he sprang his first trap for Jackie. He presented her with a legal document which stated that in return for $2 million in bonds which Onassis had given her as a wedding present she thereby waived every claim she might possibly have to inherit anything from his estate. The document also stated, 'Each party declares that he or she had been represented by independent counsel in the negotiation and execution of this agreement,' which was false. Only Onassis' lawyers were involved; Jackie had not consulted anybody. In fact, the document had no legal validity and could not affect Jackie's right to inherit a one-eighth share of Onassis' property under Greek law. But this was merely the first stage in the saga: her husband was planning to use his influence to have the law changed in order to legitimise the waiver and thus deprive her of her statutory rights. Two months later, Ari contacted the infamous Roy Cohn, an unscrupulous lawyer who had every reason to hate the Kennedys, with a view to collecting evidence for a divorce from Jackie.
The idea of showing Jackie and the world who was boss, and depriving her of access to any of his fortune, became an obsession with Onassis. He was in his seventies and ageing. His son, Alexander, with whom he was constantly at loggerheads, taped his telephone conversations with his father. One revealed Onassis, drunk, calling from New York croaking out 'Singin' In The Rain' with a medley of oaths, inanities, orders and complaints. 'It's two o'clock in the afternoon over there,' Alexander commented, 'and he's completely pissed out of his mind.' Sexually, he was no longer the man he had been. 'He [Onassis] was horrid to all his women in the end,' said Reinaldo Herrera, a friend of both Jackie and Onassis, who had been Tina's lover before her divorce. 'I think it was a sign of impotence, you see. I know he was impotent with Tina. I'm sure she [Jackie] was very unhappy. And I think it all happened because there was a sexual thing there that didn't work.'
Again, just as she had with Jack, Jackie began to taunt Onassis, saying biting things in her own inimitable way, although rarely in public. She knew of the divorce discussions, although no figures had been put forward. Her experience with the waiver had no doubt unnerved her. Onassis kept her in the dark.
Alexander was delighted about his father's plans to 'divorce the Widow'. On 22 January he was at the controls of the elderly Piaggio which, he had told his father, was a 'deathtrap', on what was to be a training flight for the pilot, who was to take the plane to Miami to be sold. Seconds after take-off, the plane hit the runway, leaving Alexander with irreversible brain damage. As family and friends gathered at the Athens hospital where Alexander lay in deep coma, his face shattered and the right side of his brain a pulp, Jackie 'did something so shocking that I can't talk to you about it', according to one of those present. 'It showed Jackie's insensitivity, her hard side. She approached Fiona Thyssen, whom Alexander had hoped to marry, to ask if she knew what Ari was proposing to offer her as a divorce settlement. Taken aback, Baroness Thyssen replied that that was a question she should ask her husband.
Jackie knew that Onassis planned to rid himself of her – no doubt, as cheaply as he could – and she was desperate to know what he had in mind. Nothing else can explain her crude approach to Fiona Thyssen at a time of such anguish. Jackie, of course, could only experience the anguish by proxy: Alexander had detested her and had been consistently rude to her. But his death was a tragedy for her also: it destroyed Onassis as a man and all semblance of a relationship between them.
'He was a shattered, shattered man,' the daughter of one of his friends said. 'I went to see him at the airport after Alexander's funeral. I remember all we could do was sort of hug each other.'
Jackie's position was becoming increasingly untenable. Her husband, deeply superstitious, was beginning to believe the whispers circulating among his entourage, specifically from Christina and her principal ally Costa Gratsos, that Jackie was the bearer of bad luck. Gratsos was bluntly obscene, using a horrible Greek phrase to describe her, of which 'Black Widow' is the politest interpretation.
Nothing that Jackie or anyone else could do comforted Onassis for the loss of Alexander, his grief compounded by guilt at his shortcomings as a father, or for the Greek sense of being punished by the fates, which was undermining his self-belief and his will to live. His behaviour was increasingly morbid; night after night on Skorpios he would take a bottle of ouzo and two glasses up to Alexander's grave, pour one for himself and one for his son, and sit there crying and talking to Alexander. Or he would invite Jackie or Artemis and her husband to lunch beside the mausoleum, sitting at a table set with linen tablecloth, silver and glass, toasting his son.
At heart, Onassis did not hate Jackie. In his drunken states he would take out his frustration and rage on her, not just for what had happened but for what could never happen. He wanted her to be his Greek wife, at his beck and call as Callas had been. He resented her devotion to her children to the exclusion of his own wishes. He resented her Kennedy life, the constant reminders of her first husband, the anniversaries and the memorials; even, perhaps, while drinking pink champagne late at night with close women friends on Christina that she would go over the assassination, again and again, making that arcing gesture to describe the trajectory of a piece of Jack's skull.
Although he and his clique liked to represent Jackie as 'the Golddigger' he had not, considering his wealth, been generous to her financially, apart from lavishing gifts upon her in the early days of their marriage. In marrying Onassis she had forfeited access to the Kennedy trusts and was, therefore, financially dependent on him, apart from the $2 million in bonds he had given her as a wedding present – hardly a fortune in his terms. She had no property of her own – apart from the Fifth Avenue apartment – and he refused to buy her a country house, which she had pressed him for. He retained chequebook power over her by paying her monthly bills for clothing and decoration. For Onassis money, like Samson's hair, was the source of his power, which no one but he could touch.
Intimations of mortality were all around him, even before Alexander's death had dealt him the ultimately fatal blow. His heavy drinking was limiting his capacity to function as a businessman, let alone as a husband. He was a sick man. He became more and more determined that Jackie, if she would not bend to his will, should not profit from his death. She should not have even what was hers under Greek law.
To further his aim Onassis drafted a will which gave a lifetime income of $100,000 a year, with $25,000 each to John and Caroline until they reached the age of twenty-one. In addition Jackie was to be given a 25 per cent share in both Christina and Skorpios in partnership with Christina, provided she bore the proportionate share of the not inconsiderable cost of upkeep. Should she choose to dispute the will, she would immediately forfeit her annuity, and Onassis' executors and his heirs were to fight her 'through all possible legal means'.
Jackie was not aware of the existence or the terms of the will, which Onassis had not as yet signed, or, more importantly, of the further steps he was undertaking to nullify her rights to 12.5 per cent of his total fortune under Greek law and validate the waiver she had so trustingly signed.
Onassis pocketed his will, unsigned, and left to join Jackie for New Year in 1974 in Acapulco, the place where she and Jack had begun their honeymoon, just over twenty years before. If it had been planned by Jackie as a romantic trip, it turned out to be a disaster. On the return journey in their private jet, after a row over Jackie's plans to build a house in Acapulco, in which she told him a few unwelcome truths, he signed the will.
In June that year he moved to stage two of excluding Jackie from her legal rights. At his behest his friends, the government of Greek 'colonels', passed a special law to validate the waiver he had induced Jackie to sign in 1972. The waiver would entitle him to leave her what he wished and what he had now designated under his will.
Inexorably, disaster seemed to follow upon disaster for Onassis. The fourth Arab-Israeli war and the Arab oil-producers' decision in the autumn of 1973 to increase their oil prices had hit the tanker business. Olympic Airways was similarly going downhill. On the personal side of the Onassis family, things went from bad to worse. In August Christina took an overdose of sleeping pills. Tina flew to London to be with her; Onassis was not told until she had recovered. Less than two months later Tina herself was found dead in her bedroom. No signs of violence were found on her body; after an autopsy demanded by a suspicious Christina, she was found to have died of 'acute oedema of the lung'. But Tina's misery in her marriage may have contributed to her death: she had been smoking and drinking too much.
Several weeks after Tina's death, Onassis' own health deteriorated sharply and he was admitted to a New York hospital where he was diagnosed as suffering from myasthenia gravis, an incurable disease brought on by stress, alcohol and fatigue.
On the day he discharged himself his face swollen from cortisone treatment, his drooping eyelids held up with plaster behind his dark glasses, he received news that Olympic Airways was nearly broke. He had already heard the news that his plans for an oil refinery in New Hampshire had been turned down. In Greece, his junta friends had been replaced by a democratically elected government. Against his doctor's advice, Onassis flew to Athens in December determined to negotiate government backing for Olympic. He seemed not to be aware that, as a close associate of the disgraced junta, he was out in the cold. On 15 January 1975, after almost twenty years of Onassis' ownership, Olympic was sold back to the Greek government. The blow to his sense of his own prestige was immeasurable. It seemed to him that he did nothing but lose.
Jackie's relationship with her husband was also at an all-time low, so much so that she did not accompany him to Athens this time, but went skiing. At this crisis in his affairs her presence in Greece might have helped him both personally and from a public- relations point of view. She did not seem to care. She did not return to him until she received a message from Christina at Glyfada saying that he had collapsed with severe abdominal pains on 3 February 1975.
On 6 February Christina and Jackie flew with Onassis to Paris. He had been too feeble even to walk to the car to be taken to the airport. Instead he was carried downstairs and placed in the waiting Cadillac. In Paris, flanked by Jackie and Christina, he made a supreme effort to walk into 88 Avenue Foch on his own, past the ranks of photographers, to spend what would be his last night there. The following day, again surrounded by journalists and television cameramen, they took Onassis to the American Hospital. The doctors there decided to remove his gall bladder.
After the operation, on 10 February, he weakened dramatically and for the next five weeks lay there kept alive by a ventilator and fed intravenously, dying slowly. Jackie flew back and forth between New York and Paris to be with him. One woman was not allowed to be at Onassis' bedside: Maria Callas. Middle-class Greek morality forbade it. Only once did she manage to slip into the hospital unrecognised. On 10 March she could bear the situation no longer and fled to Palm Beach.
That same week Jackie, too, aware that Onassis would not recover, but advised by the doctors that his condition had stabilised and that he was unlikely to die in the near future, decided to leave for New York.
Christina never left her father's bedside during all the time of his hospitalization. He was all hers at last, and she was not prepared to share him with Jackie. According to one source, she instructed the doctors not to tell anyone else that he was dying, so Jackie was still in New York when Aristotle Onassis died on 15 March 1975. Of all his family only Christina was with him at the end. After he died, she made an attempt to slash her wrists but was saved by an alert doctor.
Jackie's absence from her husband's bedside when he died made the worst possible public impression, giving ammunition to her enemies in the Onassis camp. But it was at Onassis' funeral, just as at Alexander's deathbed, that Jackie's hard streak surfaced inappropriately. Escorted by Teddy Kennedy, she got into the lead car with the grief-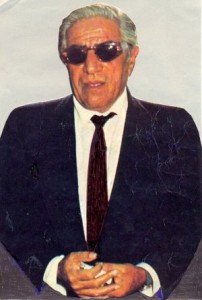 stricken Christina for the drive to the fishing village of Nidri from where Onassis' body was to be carried by boat to Skorpios. Suddenly the car stopped, Christina got out and ran back to her aunts' car immediately behind. The reason for this surprise move, Christina told Marina Dodero after the funeral, was that Teddy had leaned forward and said to her, 'And now, what about the money?' Teddy had blurted it out but he would hardly have done so without Jackie's previous agreement.
It was a grey and windy wintry day on Skorpios when Onassis' coffin was lowered into the vault beside Alexander's. Of the five Onassis women, Jackie was the only one who did not weep, as her husband of almost seven years was buried in the church where they had been married. Yet despite his treatment of her during their latter years together, she was never heard subsequently to criticise him and always expressed great fondness for him. On the day of the funeral she vowed to Christina that she would always keep the Onassis name. But in effect her Greek life was over.
"God is punishing you for your sins," Christina whispered into her dying father's ear. Onassis' health and will to live suffered an unstoppable decline after Alexander's death. At her second husband's funeral, in March 1975, Jackie's chosen facial expression was a fixed, habitual smile, almost a grimace. At his funeral, Jackie said:
Aristotle Onassis rescued me at a moment when my life was engulfed with shadows. He meant a lot to me. He brought me into a world where one could find both happiness and love. We lived through many beautiful experiences together which cannot be forgotten, and for which I will be eternally grateful.
At his death, Onassis' estate was reportedly worth close to $1 billion dollars (equivalent to $6 billion in 2007), and by Greek law, Jackie's legal share would have been approximately $125 million, but Onassis, immediately prior to his death, and without Jackie's knowledge, had persuaded the Greek parliament to change the inheritance laws, in order to keep his wife from inheriting her rightful share. In the two years after Alexander's death, rumors of a pending divorce had surfaced in the papers, but divorce was not possible; Jackie had too much dirt on Onassis, and threatened to use it against him if he even considered divorcing her.
After Onassis' death, rumors abounded, especially in Europe, that Jackie had some dirt on her deceased husband, that she knew something she wasn't supposed to know, but no one could say what it was. Jackie threatened to make big trouble if Christina did not announce publicly that Onassis had not planned to divorce her, and if Christina did not give her a decent sum from the estate. Christina knew that Jackie "had something on Onassis" with which she could successfully blackmail the Onassis estate and reputation. In a nervous attempt to save her family's reputation, Christina bought off her stepmother, giving her $26 million from Onassis' estate, a much greater share than Onassis had left her in his rewritten will (approximately $3 million).
Christina inherited her father's wiliness and secretiveness, and his determination that Jackie should have as little as possible from his estate. She started the bidding with an offer of a mere two or three million dollars to Jackie. Tough negotiations led to a settlement in May, one provision of which declared 'the daughter and wife each hereby confirm that to the best of their knowledge and belief that the father died intestate leaving no will or testament of any kind, granting rights or wishes to the wife or to her children'.
The Onassis side alleged that Jackie had signed a waiver 'which was valid', to which Jackie's side replied that it was fraudulently produced and was invalid in its execution' under New York law, which required that when such an agreement was entered into 'you must have independent counsel and knowledge of the facts – "both absent here"'. They threatened that they would allege fraud on this and have the waiver declared null and void. Jackie's lawyers scoured Europe for evidence of Onassis' assets and found, as he had predicted, no visible leads to his hidden fortune. None the less they pressed on to come to a settlement.
Eventually, Jackie received over $26 million, $500,000 of which went to her lawyers. The agreement was signed on 7 May 1975. But where Onassis' affairs were concerned, nothing was that simple. Four weeks later Onassis' will, to the surprise of Jackie's side, surfaced and was probated. Some people suspected an intrigue or battle of wills involving Christina and a member of the Onassis circle, which led to publication. Jackie's lawyers immediately telephoned Christina's side: 'Well, fancy that, we all thought there was no will, where did this come from?' The Greek response was to tell them, in so many words, 'You've got your settlement. Now go away.'
But Jackie's lawyers did not go away. It took an additional two years to negotiate a further settlement, which was finally reached on 5 October 1977. Jackie was to receive the income provided for her in the will for the rest of her life.
Christina represented Jackie as 'greedy' but she had married Onassis without conditions, refusing to 'barter' herself. His 'wedding gift' of $2 million bonds to compensate her for what she had lost in Kennedy funds by marrying him was a mere fleabite in terms of a fortune estimated at more than $500 million.
Onassis had appeared as not only a safe refuge from a violent America and an escape to a Mediterranean fantasy but also, more importantly, as the ideal father/lover who would protect her and physically satisfy her. In the end, both had been disillusioned. Onassis, looking for a little-girl wife like Tina, with the passionate but acquiescing characteristics of Maria Callas, had discovered a little-girl attitude that concealed a real independence of spirit. Jackie, while behaving well – even heroically so – in public, in private found herself increasingly alone, her sexuality and her intellectual ability denigrated or ignored. Her Kennedy children were her primary responsibility, but Onassis who had never regarded his own children in that light until it was too late, had not been able to accept her divided loyalty.
Aristotle Onassis and Maria Callas
MARIA Callas's life is eloquent testimony to the truth of Erik Erikson's observation that "when artists go under, it is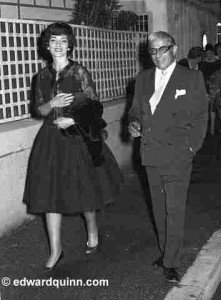 not as slaughtered lambs, but as the vanquished in the struggle for power." Callas's formidable personality and temperament gave her insight into the larger-than-life heroines of many 19th-century operas. With the tools of her musicianship and remarkable technique, she translated this identification into performances that could transform people's lives. Her style was at one with the Romantic period and altogether alien to our own time. No one knew this better than she. Even at the end of her career, when a director of Covent Garden asked her to narrate "L'Histoire du soldat," she refused: "I'm not very keen on Stravinsky. I don't really like modern music. … I don't really even approve of Puccini. Mine is the nineteenth century."
The 19th century also marks the style of Arianna Stassinopoulos, Callas's most recent biographer. The author, who never met her subject and attended only one of Callas's performances (when Miss Stassinopoulos was 10 years old), was the choice of British publisher George Weidenfeld. And an interesting choice it was. Miss Stassinopoulos has produced a biography loaded with detail, high on hyperbole and lacking in objectivity. "Maria Callas" contains the elements of a juicy libretto, complete with malevolent mother, opportunistic husband and sadistic lover, all bent on exploiting a vulnerable female.
The London equivalent of America's Marabel Morgan, the author of "Total Woman," Miss Stassinopoulos is best known abroad for her book "The Female Woman," in which she attacks the feminist emphasis on career and celebrates the traditional womanly virtues. In this biography, she portrays Callas as a tragic figure for whom Aristotle Onassis was a necessity because he awakened her sexuality and womanhood: "Aristo had brought love, frivolity, passion and tenderness to the life of a dedicated nun. … He had opened the way for a host of feelings never before experienced and impressions never before sensed. … Onassis made her aware of her sensuality, and he was her first real lover. Maria discovered sex at thirty-six and she discovered it through Onassis."
However frivolous this book may be, Callas was in no way frivolous. Even one note alone of hers was unmistakable; that cannot be said of anyone else. Her voice ranged from a low dramatic soprano to the highest coloratura and she could articulate virtuoso runs and trills with impeccable accuracy. Her timbre was unique, something like an English horn, and in her recordings her voice conveyed emotion as few others ever did. Callas was an extraordinary artist and one of the most electrifying personalities of our time. What Joan Peyser is the editor of "The Musical Quarterly" and author of "Twentieth Century Music: The Sense Behind the Sound" and "Boulez: Composer, Conductor, Enigma." caused her to subjugate herself and her art to years of degradation with Onassis, a man who "belittled her constantly: 'What are you? Nothing. You just have a whistle in your throat that no longer works' "? This is a reasonable question for any Callas biography to raise, but it is not one that is answered adequately here.
To paint a faithful portrait of her subject, the author need only have listened carefully to the central figures in the story; instead she follows their every comment with angry refutations. Callas's husband, Giovanni Battista Meneghini, a millionaire in his 50's when she married him, told a reporter when she left him for Onassis: "This man has billions, you must understand." Then Miss Stassinopoulos undermines him: "It was the rich man's impotent envy of the superrich, the stingy millionaire's resentment at the extravagant multimillionaire …" Callas's mother backs up Mr. Meneghini: "I was Maria's first victim. Now it's Meneghini. … Maria would (like to) marry Onassis to further her limitless ambition." But here again Miss Stassinopoulos argues: "She could not have shown less understanding of her daughter. Ambition was the last thought in Maria's mind when … she was at the Milan airport, boarding the private plane Onassis had sent for her."
Both literally and figuratively, Callas had an enormous appetite, and it manifested itself in behavior that Miss Stassinopoulos repeatedly refers to in her narrative: "As was her lifelong habit, (Callas) picked what she wanted from everybody else's plates." It was not enough for her to thrill millions, to have her fans break down doors or yell themselves hoarse. Callas had to be Number One and she demanded more money than anyone else only because, as she readily admitted, she had to have the most: "I'm not interested in money," she told the Vienna State Opera, "but it has to be more than anyone else gets."
Her voraciousness knew no limits; no challenge was too much to attempt. Callas began her career singing Wagner, but she soon moved into coloratura roles and almost singlehanded revived the entire bel canto repertoire. She even went so far as to sing Donizetti's "Anna Bolena," a role that the born coloratura Beverly Sills claimed took five years off her own operatic life. Callas's challenges were not merely vocal. In 1952, when she weighed 180 pounds, she set Audrey Hepburn as her model and lost 62 pounds in less than two years. By 1954 she was thin, rich, beautiful, famous. Around this time her voice began to falter and she turned her attention elsewhere. She moved into Elsa Maxwell's circle, met Aristotle Onassis and made every effort to marry him.
Unlike many sopranos, for whom the voice is an end and not a means, Callas used hers as a tool, a source of revenge, a way of thumbing her nose at the gods for a wretched childhood. Fat, ugly and acned, she lived in awe of her sister, "tall, slender, beautiful Jackie with chestnut hair and brown eyes" who was her mother's expressed favorite. All Maria ever had was her voice, and she could work wonders with it: "Only when I was singing did I feel loved." Later Callas remarked: "If you live, you struggle. It is the same for all of us. What is different are the weapons you have and the weapons that are used against you." When her mother was on welfare and appealed to her for help, she replied with a letter later published in Time magazine: "If you can't make enough money to live on, you can jump out of the window or drown yourself."
All of this can be gleaned from Miss Stassinopoulos's book, which contains large doses of information, some of it useful, some of it cheap. We learn that Callas's mother, who wanted a boy to replace the son she had lost to typhoid fever, would not look at Maria when she was born. During her marriage to Mr. Meneghini, Callas was in love with the Italian film director Luchino Visconti, described by Miss Stassinopoulos as "largely homosexual." Callas became for Elsa Maxwell "the object of an almost adolescent passion. … (Callas) always made sure that she was not left alone with Elsa, even for a few minutes." When Callas was 43 years old, she became pregnant and, at Onassis's insistence, aborted the baby. After Onassis married Jacqueline Kennedy, Callas relied on tranquilizers and sleeping pills and attempted suicide.
The material is presented with little nuance, and conclusions are seldom drawn even when the facts cry out for some. Consider, for instance, Callas's weight loss. Miss Stassinopoulos writes that following Callas's 1954 appearance as Queen Elizabeth of Spain in Verdi's "Don Carlo," it was an "ironic tribute to her transformation that the rave reviews were reserved for her physical appearance …" and not for her voice. Nowhere does the author suggest that the weight loss may have affected the instrument.
Miss Stassinopoulos claims that, in contrast to Callas's passion for Onassis, her relationship with Mr. Meneghini was loveless from the start and that she married him because his wealth allowed her to be more "selective" in accepting engagements without suffering financially. "She liked his stability," the author continues, "she liked the way everyone deferred to him, and above all she liked the way he liked her."
But surely Onassis, too, appealed to her in those ways. The point is that by 1957, with a triumphant career behind her, she required a man l0 times more powerful than the one she had needed 10 years before. As for the matter of selectivity in accepting engagements: with Onassis as her lover, Callas became so selective that during 1963 she did not appear in a single opera. And she was then only 40 years old.
Callas claimed that there is no such thing as coincidence, that "the patterns, large and small, of every aspect of her life" all had some clearly defined meaning. Unlistening, her biographer ignores the fact that the name of the sister Callas hated in her youth was the same as the woman who finally married Onassis. Nor does Miss Stassinopoulos mention that two-and-a-half years after Onassis's death, Callas died during the very week that Jacqueline Onassis won a $20,000,000 suit against her late husband's will. Mrs. Onassis's victory may well have been for Callas the last in a series of grotesque defeats.
To say that Callas's acquisitive purposes were outside the realm of art is, as Erikson suggests, to misunderstand art. Miss Stassinopoulos's major error is to separate the human being from the artist: her subtitle is "The Woman Behind the Legend." In portraying the soprano as "Maria … suffocated by La Callas," Miss Stassinopoulos has produced a lively but superficial biography. The awesome artist who is her subject deserves a more insightful evaluation.
What happened in Christina's Onassis disappearance
The sudden death of Christina Onassis in Argentina in 1988 presaged no changes in the shipping and real-estate empire founded by her father, Aristotle S. Onassis, according to several members of a multinational board that has run the business since he died in 1975.
The private fortune was estimated at $500 million to $1 billion (today's 5 billions), owned half by Christina Onassis and half by the Alexander Onassis Foundation, whose 14-member board has controlled the entire empire with minimial influence by Ms. Onassis as its president.
Several members said yesterday, after a meeting in Athens and calls to other members in Europe, the United States and Latin America, that the board would continue to manage the affairs of the Onassis family and contemplated no major changes in direction or organization.
The death of the 37-year-old heiress, whose four marriages and stormy personal life often obscured her role as a businesswoman, will apparently make her 3-year-old daughter, Athena, one of the world's richest people, family business associates in Athens said yesterday. A Dramatic Story
Like the tumultuous saga of the Onassis family itself, the story of Christina Onassis's death on Saturday was a dramatic, controversial and global affair, with implications in Europe and North and South America for governments, businesses and ordinary people touched by the family.
Not least were the implications for the infant, destined some day to control fleets of ships, skyscrapers in the capitals of the world, islands in the Ionian Sea and power beyond the dreams of all but a few people whose enterprise, or good fortune, sets them apart.
In Buenos Aires, authorities yesterday said they were investigating the cause of Ms. Onassis' death, which a judge called questionable, even though an aunt, Mary Onassis, insisted that she had died of a heart attack and ruled out suicide.
"She was at the best stage of her life," Mary Onassis said as she entered a Greek Orthodox bishopric, where the body was taken for a vigil after a mass. Other friends said, however, that Ms. Onassis had been undergoing an intensive weight-loss course, part of a constant fight against obesity that sometimes left her in excess of 200 pounds. Judge Orders an Autopsy
Ms. Onassis was found unconscious at a friend's mansion outside Buenos Aires and was pronounced dead on arrival at a hospital, where officials said she had apparently died of a heart attack. But a local judge ruled the death suspicious and ordered an autopsy after a box of pills was found near her. Forensic experts were to analyze the pills.
In Athens, a half-dozen of the 14 members of the board of the Onassis Foundation gathered yesterday – and conferred by telephone with the other members around the world – to discuss funeral arrangements and the future of the business founded by Aristotle Socrates Onassis, a Greek maverick who immigrated penniless into Argentina in the 1920's and became one of the world's richest men.
A family spokesman in Piraeus said that the body of Ms. Onassis would be returned to Greece and buried beside her father and brother on the Ionian island of Skorpios, which is owned by the family.
"Christina's death was a complete shock to all of us," said Stelios Papadimitriou, secretary general of the Onassis Group, the family holding company, as well as a member of the foundation's board and Ms. Onassis' personal lawyer.
"She had no trace of a heart ailment – indeed, no health problems at all," Mr. Papadimitriou added. "Yet there is not a shadow of a doubt that she died of a heart attack. The possibility of a suicide is categorically ruled out." Board Members to Meet
Mr. Papadimitriou declined to discuss the family fortune or details of the future of the corporate empire of which she was a part. But he noted that the board members abroad were converging on Athens and would meet soon.
Another board member, Ioannis Georgakis, who was named the acting president of the foundation, said: "Christina hardly ever interfered in the functioning of the Onassis Foundation, and we were very grateful to her for this. We have decided, in tribute to her, to continue her work and that of her father."
Apostolos Zambelas, treasurer of the Onassis Group and a board member, said it was difficult to assess the exact value of the family's assets, but he said he would not deny estimates in the neighborhood of $1 billion.
When Aristotle Onassis died at the age of 68 on March 15, 1975, the Onassis Group was worth somewhat less than that. It controlled hundreds of corporations, 47 ships, Olympic Airways and real estate on several continents. But the shipping industry was in its worst depression since the 1930's, and 80 percent of the Onassis fortune was in ships.
In his will, Mr. Onassis left half his assets to Christina and half to the foundation named for his son, Alexander, who had died in the crash of a private plane two years earlier. The foundation – with 13 of his closest associates as members and Christina as president for life – was set up in Liechtenstein, where paid minuscule taxes as a charitable organization. A Generous Foundation
To keep this status, it continues to allocate large grants to many individuals and groups. Recipients have included Amnesty International, former President Alessandro Pertini of Italy, former Prime Minister Harold Macmillan of Britain, Lech Walesa of the Polish labor movement Solidarity, former Chancellor Helmut Schmidt of West Germany and Robert S. MacNamara, president of the World Bank.
As president of the board, Ms. Onassis wielded no extraordinary power beyond those of the other members. She had only one vote unless there was a tie, in which case she had two votes. Soon after her father died, it became apparent that he had ordered too many supertankers from Japanese and French shipyards.
Ms. Onassis, in her most forceful involvement, led a board decision to cancel the new ship orders. "While we lost tens of millions of dollars, we could have lost hundreds of millions," Mr. Zambelas recalled. "As the oil crisis worsened, nobody could say it was a wrong decision."
Also shortly after Mr. Onassis died, Olympic Airways was taken over by the Greek Government, and the Onassis organization got about $104 million for its assets.
Over the years, the board and Ms. Onassis pared the shipping fleet down to about 35 tankers, freighters and other vessels by selling some and scrapping others. Meanwhile, it has increased real-estate holdings in the United States, Europe and Latin America. These include ownership of Olympic Towers, a residential and office condominium at 645 Fifth Avenue. Business by Telephone
In recent years, she had spent three to four hours a day conducting the family business by telephone from wherever her jet-set life took her. After marriages to Joseph Bolker, an American businessman, Alexander Andreadis, a Greek shipping magnate, and Sergei Kauzov, a Russian shipping agent – all of which ended in divorce – she married Thierry Roussel in 1984.
Mr. Roussel is a French phamaceuticals magnate who controls a dozen companies and is a multimillionaire. Their daughter, Athena, was born in January 1985, and the couple filed for divorce eight months later. The divorce proceedings had not been completed.
Ms. Onassis, who made frequent trips to Argentina, had been staying with Marina Dodero, one of her closest friends and a member of a shipping family. Ms. Onassis was born Dec. 11, 1950, in New York, but gave up her American citizenship for tax reasons after her father's death.
Christina O Yacht Charter
Charter the legendary Christina O Motor Yacht
CHRISTINA O encapsulates the legend that was Aristotle Onassis. As a result of an extensive re-fit, this magnificent vessel defines a new category in luxury yachting. CHRISTINA O is one of the only mega yachts capable of accommodating up to 36 guests in 19 staterooms, in full compliance with SOLAS, US Coastguard and Public Health regulations.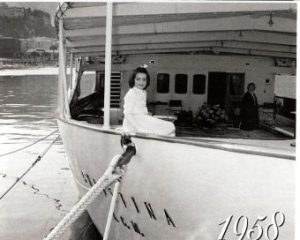 CHRISTINA O's canopied decks are the ideal venue for any extra special occasion. When Onassis bought the vessel in 1954, he converted her at an expense of over $4 million, into the largest, most modern and most exalted yacht of her era. CHRISTINA O became his floating mansion and headquarters for over two decades until his death in 1975. Onassis' guests onboard were some of the most famous and influential people of the time. At night, CHRISTINA O served as the stage for Onassis' celebrated social life, as he played host to Presidents and Prime Ministers, royalty and film stars. CHRISTINA O's fame owes itself to names such as Maria Callas, The Begum of Aga Kahn, John Paul Getty, John D Rockefeller, Eva Peron, Richard Burton, Elizabeth Taylor, Marilyn Monroe, Frank Sinatra, Rudolf Nureyev, John Wayne, Greta Garbo and Dame Margot Fonteyn… John F Kennedy and Sir Winston Churchill first met as guests of Aristotle Onassis onboard CHRISTINA O and two of the century's most celebrated wedding receptions were held on CHRISTINA O; Prince Rainier to Princess Grace, and Onassis to Jackie Kennedy.
In 1978 Onassis's daughter Christina donated CHRISTINA O to the Greek Government,and it eventually became disused. In 1998 CHRISTINA O was purchased by a family friend of Onassis and underwent an extensive refurbishment and re-powering, restoring her to her former glory and with the addition of all the latest technologies and equipments. CHRISTINA O has fabulous areas for entertaining, including a sumptuous dining room capable of seating up to 40 guests. CHRISTINA O's exterior amenities include the famous swimming pool which converts to a dance floor, a large Jacuzzi and extensive sunbathing decks. Up to 250 guests can be entertained on CHRISTINA O's canopied decks for the ultimate event.
CHRISTINA O – SPECIFICATION:
Built/Refitted: Christina O was originally built in 1943 as a Canadian convoy escort. Bought & refitted by Aristotle Onassis in 1954, Christina O was restored & extensively refitted in 1999-2001.
Length: 325'/99.1m
Beam: 36.5'/11.06m
Draft: 14'/4.24m
CHRISTINA O – ACCOMMODATION:
36 guests in:
– Onassis suite (bridge deck) with Jacuzzi bathroom & private lounge en suite
– 10 guest cabins forward on the main deck
– 8 guest cabins aft on the cabin (sea) deck
– All but one guest cabin are convertible from twin to double
– All cabins with en suite shower room, TV/DVD/CD/Stereo
CHRISTINA O – LAYOUT:
Compass Deck: Galaxy Bar, Sun Lounges
Bridge Deck: Onassis Suite, Bridge, Central Atrium
Promenade Deck: Reception, Show Lounge, Library, Massage & Beauty Salon, Central Atrium, Children's Playroom, Fitness Centre, Sports Lounge, Jacuzzi Deck
Main deck: 10 Guest Cabins, "Rendezvous" Music Lounge, Main Dining Room, Central Atrium, Ari's Bar, Lapis Lounge, Swimming Pool (salt water) which converts to dance floor
Cabin deck: 8 Guest Cabins
Cruising speed: 15 knots
Fuel cons: 750 l/hr cruising
Flag: Panama
Crew: Captain Edmund Wilkinson (British) + 33
Summer: Mediterranean
Winter: Seychelles (tbc)
CHRISTINA O is available from 45,000 Euros per day
See pictures on the official website:
The Diva and The Tycoon
There was a time when celebrity romances rarely last longer than a teenage crush, it's hard to believe that gossip columnists here and abroad fastened on one couple for more than 15 years. She was a glamorous Greek opera star of singular talent and obvious vulnerability, and he was a charismatic and slightly sinister Greek tycoon. The tempestuous love affair between Maria Callas and Aristotle Onassis had so many fascinating and even improbable elements that the public eagerly followed every twist and turn.
Nicholas Gage has the credentials to bring a new perspective to this oft-told tale: Greek-born, he is an American journalist with an impressive reputation for thorough and resourceful reporting. Callas and Onassis both died in the 1970's, but Gage managed to track down most of their family and friends, a number of whom spoke publicly for the first time. Still, the account he offers in "Greek Fire" is somewhat clinical, oddly lacking the passion that defined the personalities of Callas and Onassis.
Onassis, who was 19 years older than Callas, was born in Turkey, where his father was a prosperous merchant and prominent member of the Greek community that outnumbered the Turks in the port city of Smyrna. Ari's mother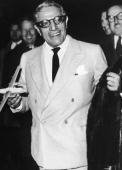 died when he was 8, and 10 years later he barely escaped a brutal massacre of non-Turkish citizens by the Turkish Army in 1922. After an unhappy spell in Athens, Onassis emigrated to Argentina, where he made a fortune importing tobacco, and then to New York, where he built his multimillion-dollar shipping business.
Callas had a similarly itinerant and difficult childhood. The daughter of Greek immigrants, she spent her early years in Manhattan. At 5, Maria stunned listeners with her precocious voice, later described by one of her teachers as "violent cascades of sound, full of drama and emotion." Her domineering mother pulled her out of school at 13 so Maria could return to Greece for training as a singer.
During World War II, Maria sang for the occupying Axis forces, but her mother also hid two fugitive British soldiers until they could escape. When Maria and her family were trapped in their apartment in an area held by Communist troops during the Greek Civil War, a grateful British officer helped them flee to his country's embassy in Athens. Faced with bleak prospects in Greece, Maria returned to America, where she went broke in a fruitless effort to establish herself as an opera singer. Finally, after landing in Italy at 24, she met and married a Veronese impresario 30 years her senior who sent her into her career as a world-renowned soprano.
Callas and Onassis were introduced in 1957 by the predatory social columnist Elsa Maxwell, one of a number of exotic secondary characters in the lovers' drama. According to Gage, Maxwell not only promoted Callas's career, she made sexual overtures that the diva rebuffed, driving Maxwell to fury and despair. The centerpiece of the book, covering seven out of 23 chapters, is the saga of the three-week cruise along the Greek and Turkish coasts in the summer of 1959, when Onassis, then married to Tina Livanos, seduced Callas and the notorious affair began.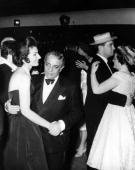 After both lovers divorced their spouses, they alternately adored and raged at each other, even finding excitement in fisticuffs and thundering curses. "What a woman!" Onassis proclaimed after one exhausting battle as he laughed and squeezed Maria's thigh. Onassis was compulsively unfaithful, and in 1964 he set his sights on the prestigious prize of Jacqueline Kennedy, who had taken a much noticed cruise on his yacht following the death of the Kennedys' newborn son in August 1963. After she entertained him at Sunday brunch in her Fifth Avenue apartment ("All the guests were men," according to a close friend of Callas), Onassis began sending her "huge bunches of red roses." But within weeks after marrying Jackie in 1968, Onassis was back at Maria's doorstep in Paris "shouting, whistling for Madame to let him in."
As Callas lost her singing voice and Onassis suffered a series of tragedies — the death of his only son and the suicide of his former wife — as well as business reversals, the couple's devotion deepened, but she refused to be his lover as long as he remained married. When Onassis was dying in 1975, he took Maria's final gift, a red cashmere Hermès blanket, to the hospital, although neither Maria nor his wife was with him at his death. A heartbroken Callas died two years later.
Gage frequently draws on his knowledge of Greek history, culture and character to provide insights into the motivations of Callas and Onassis. Citing Plato's "Symposium," he offers the Greek theory of destiny to explain the attraction of two such volatile individuals: "The idea that each person is half of what was once a whole and spends his or her whole life searching for the other individual who will make him complete." Gage provides additional nuance by quoting a friend of Onassis who observed: "Onassis loved, but he never fell in love. He had the oriental view that a real man does not allow himself to be conquered by love. Maria, on the other hand, flooded Onassis with her love, surrendered totally." Gage's extensive research has unearthed revealing new facts about the couple as well, from the birth and death of a son in 1960 to a phone call Onassis made to Callas two days before his marriage to Jacqueline Kennedy, asking her to come to Athens and "save him," presumably by inciting a jealous Jackie to call off the wedding.
But journalistic overkill often slows the narrative to a crawl. The drama of the shipboard seduction collapses amid a deconstruction of when and where Onassis and Callas first had sexual relations. Nor does the reader need to know every document and source Gage consulted to pin down Onassis' birth date. He also has the annoying habit of boasting about his reporting. He repeatedly announces the circumstances of his interviews ("When I interviewed him in May of 1998 at his home near Lake Como"), making the book seem less the story of a fabled romance than a Baedeker of Gage's own odyssey as a reporter. Including photographs of himself with various sources adds to the impression that Gage considers himself as interesting as his subjects.
Every conscientious biographer makes countless phone calls and spends endless time tracking down elusive documents. But the details of such reporting and archival research belong in chapter notes that don't distract from the narrative. In this case, the author's notes are both sketchy and erratic, offering sources in some instances but ignoring many others. How does Gage know, for example, that John F. Kennedy exclaimed, "For Christ's sake Jackie! Onassis is an international pirate!" on hearing his wife was planning her cruise on the Onassis yacht?
Still, after years of erroneous accounts about Onassis and Callas, not to mention their own embroidered versions of their lives, Gage diligently sets the record straight. The most conspicuous falsehood that he demolishes is Callas's supposed abortion under duress from Onassis, first reported in a biography by Arianna Stassinopoulos and then popularized by Terrence McNally's play "Master Class." But one wishes that Callas and Onassis didn't have to share the stage so often with their intrepid biographer.
Onassis VS Niarchos
I first encountered Stavros Niarchos face to face four months before I got to know Aristotle Onassis, the man who
became on of my best friend. I met Niarchos in mid-May 1959 when the Creole was moored in the Bay of Vouliagmeni, outside of Athens. It was the most elegant and expensive yacht in the whole world at that time, a three-masted ebony masterpiece. I had a business appointment with him. In Greek we call a shipping magnate a Stolarchos, meaning the commander of a fleet, something much more than a shipowner. In truth many of these mercantile fleet owners, these Greek shipping magnates, were more powerful than navy admirals.What was Niarchos at that time, thirteen years after his acquisition of his first Liberty ship? He was a famous fifty-year-old opulent, Greek Stolarchos. He owned his own private island, Spetsopoula, and he privately entertained kings, assorted bluebloods and nobility, heads of government and celebrated artists. He was also renowned for his passion to enrich his private collection of great impressionist painting. Along with Aristotle Onassis and Stavros Livanos (the father-in-law of both Niarchos and Onassis), they represented the most famous and powerful triumvirate of "Golden Greeks," who governed seas and oceans with their fleets. Not that there weren't other Greek sea-rulers, for | example, the families of Laimos, Goulandris, Embeirikos, Pateras and Hatzipateras, Kouloukountos, and others. But the two brothers-in-law with their wives, the two fashionable and beautiful daughters of Livanos, the great shipowner from Chios, occupied the social columns of the foreign press almost daily. It was time of great public interest in all kinds of blue bloods – stars and legends of Hollywood, of the opera and the ballet, and rising political leaders who made up the new aristocracy.
Onassis, the most flamboyant of the great shipowners, had at his service the pen of Hollywood's arch-gossip-columnist, Elsa Maxwell, and he often entertained on his yacht, the Christina, Winston Churchill the veteran Father of Victory of World War II. So from the beginning, Onassis was the front-runner, as they say at the races. He led the field in the race to gain the attention of prominent personalities. Already Kennedy, Greta Garbo, Elizabeth | Taylor and Richard Burton, but also heads of state had visited his yacht at Monte Carlo, (over which he ruled for some time) to pay their respects to Churchill. The kings of Greece and Belgium, whom Niarchos entertained, did not measure up to the stature of Churchill. So the fifty-year-old collector of paintings was envious | and on the lookout for a counterattack to win the first prize of prominence from his brother-in-law.
The rivalry between Niarchos, the man from Piraeus, and Onassis, the man from Smyrna, had begun after World War II, in New York City, when both acquired a Liberty ship and coveted the same woman, none other than the youngest daughter of the great shipowner Stavros Livanos. The beautiful Athena, finally married Onassis. The unyielding Niarchos asked in marriage Athena's oldest sister, Eugenia, so the two brothers-in-law sharpened their swords during the holiday and Sunday afternoon dinners their father-in-law held at the Plaza Hotel in New York, or | at his estate in London.
Twelve years had passed since that time, but the rivalry of the two (who were becoming even richer year-by-year) continued. They competed over who get the biggest tanker, the most luxurious yacht, the most private island, the most blue-blooded and super-star guests, the most expensive houses and villas at the | farthest reaches of the earth; and finally, who would accumulate the most wealth….
During all those years of abundant harvests and successes, had children and gave the impression of being exemplary family men, but, as they were most healthy and robust (as Costas Gratsos told me), they clandestinely fooled around with models, starlets, social courtesans and whores, the women most well-known for their beauty and social standing. Both of them had first tasted sex and had proved their virility in common brothels: Aristos in those of Smyrna, and Stavros in those of Piraeus. Consequently, the whole idea of purchased sex was a standard habit of theirs, with the difference that, after their marriage, they used their yachts as | bachelor flats. Then Greta Garbo, Elizabeth Taylor and some
French actresses [to drink them in a glass] came on the "Christina" at Monte Carlo, and Niarchos (who saw the pictures | in newspapers and magazines) was furious with envy.As a journalist always on the hunt for the amorous escapades of | the notorious rich and famous, I was pricked by the suspicion that the one of the two rival brothers-in-law who decided to create an erotic scandal would become front-page news and would surpass the other in the battle for publicity.
That morning the old man woke up in a fair mood and invited the nurse – young and beautiful – to take tea with him. He asked her where she was from – a real New Yorker, she told him – but he did not believe her. She must have come from someplace deep in rural America, Niarchos thought, and she had come to the big city to become a nurse and seduce some doctor or rich patient. Even though Niarchos employed only Greeks for his male staff, his female employees were all foreign. He wanted to see only long-legged bodies around him; long and slender like the masts of his yacht, the Creole, and not some low-assed lighters.
As soon as Felix collected the dishes, Hilary brought a batch of fax-messages and notes to Niarchos and began reading them to him one at a time. The old man listlessly said, "Yes" for some and "No" for some others because he was acutely aware that there, on Fifth Avenue, he was left with just a bed to die in. The rest of the furniture was nothing more than decorations for an expected death. He thought of his wealth. It would be divided by his children. It would be plundered by his grandchildren, daughters- and sons-in-law, and all the other the fuckers of the extended Niarchos family. Oh my God, no, no, he thought to himself. It was impossible that his ingenious ideas, his labour and effort, the moves of a master on the chessboard of the universal shipping business, would reach the hands of such clumsy ungainly people. My God, no, he thought. A great lion's booty would become prey for jackals and hyaenas.
"Go away, all of you," the old man yelled suddenly. The secretary and the butler quickly retreated to avoid the full impact of his outburst. "You stay," he told the terrified nurse, gesturing to her to approach.
Women always either calmed or angered him, but this minute Stolarchos felt he needed a little relief, a little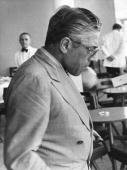 loosening of his nerves because his doctor told him often, "Less nervousness, more life]." He smiled at the beautiful woman, sweetly telling her, "Come sit next to me." When she brought a chair close to him, she sat and in his the wrinkled hand he held her young one. He creased his prune-like mouth drawing in her feminine perfume through his nostrils. "Channel No 5" he asked her. "Yes, sir," she answered, frightened, because she had used some without permission from the little bottle she found in the bathroom, the one Niarchos's old guests used.
The old man felt himself calming down. "My little girl, what memories you bring back," the old man whispered and closed his eyes.
In her mind, the nurse wished that he would begin to caress her and use her any way he wanted. He could not cease being a Magnate for her, even though he was a disgusting one. She thought that he could I not only give her gifts, but also possibly remember her in his will.
Niarchos continued to hold her hand and, reclining there in the armchair, he remembered the women he had enjoyed. Anonymous and faceless ones in the brothels at
Vourla and Troumba, well known ones of Athenian high society. The old man no longer had either sexual desires or passions, and abruptly his mood changed. His brain smouldered as if giving off an evil smelling smoke. Women, he thought…. All of them hide between their legs their most loathsome property, a portal of life, but also of dirt; a gate of unspeakable sweetness, and of deadly enjoyment too.
The old man's brain continued to grind away at every disgusting memory that came to him that moment. He saw clothing being shed from lithe bodies, simultaneous gasps of sensual pleasure and hypocrisy, as the unfortunate lover gathers his hot blood and empties his spine while the mistress often pretended her passion. Theatrical displies of the whore and of the shipowner's wife differed in nothing, absolutely nothing … in nothing, he thought. The bitches.
…Stavros Niarchos wearing his school hat, he visited the Eurotas flour mills, where his uncles would give him pocket-money. When he got it, he ran fast to save himself from the flour dust that reached the office. And he ran to Neo Phaliro to dive into the sea from the boardwalk. He remembered those days when men and women had to swim from separate places, as they now had to use separate bathrooms. It was much later mixed bathing became the custom. Neo Phaliro of the 20's. The subway building, Theater by the sea shore, the wooden boardwalk…
The young girls accompanied by their mothers, the dandies with their straw-hats. Going swimming was a family affair then, and he was usually responsible for his young cousins, Stavros and Spyros Koumantaros. He had to watch out so they did not swim into deep water. He idly watched the young girls. They were staringat that young guy parading around on his motorbike, the Aristos Onasis. He burned rubber just to show off. He wore dark glasses to protect his face and eyes from the wind, as he crossed the whole of Athens coming from Kifissia to reach Neo Phaliro and Piraeus, in order to stare at girls and ships. Later, he disappeared. He went to Argentina, representing his father to buy and sell tobacco, as they said. His name, Aristotle Onassis. Niarchos heard about him again years later, from his cousin Aglaia Koumantarou, who had been cut off by the war in America and there she had met him in Los Angeles. He told everyone, "I left Greece to save myself from the Greeks, but also from my father, who wanted me to become a salesman." Aristos suffocated under his father's shadow, just as Stavros did under his uncles' patronage. As the man from Smyrna came into his mind, he became upset and mumbled insults, incomprehensible to the nurse who anxiously came to his bed…
…Ares Onassis, still an adolescent, had freed – through a momentous gratuity – his father from the Turkish prison and proudly had brought him to Kifissia where the whole family had been gathered. According to custom, they had slaughtered a lamb, and the head of the family blessed it. They roasted it, had a demijohn of wine, drank, and then all of them began dancing, listening to songs from Smyrna on a phonograph with a funnel.
if you knew my pain, my heart's pain, aman, oh, aman your eyes would weep as do mine, aman, oh, aman.
As the Smyrnaic voice accompanied by the Anatolian lute and lyre tore the hearts of the refugee family, who just a while ago lived in riches, Artemis started crying. But the fifteen-year-old Nikos Konialidis recounted to Aristos how he had become a casual money-changer as soon as they arrived on Mytilene: "As I was saying cousin, I climbed on a chair and I bought and sold bank-notes."
The adolescent Aristos kissed him and then told his sister: "Stop crying; others left their carcasses in Asia Minor, while we saved ourselv…
They lived in a villa at the aristocratic district of Long Neck, and Stavros had begun to transform himself into a shipowner. He kept a cook and a gardener for her, but when the South American Magnate, Alberto Donero, invited them to his mansion at Center Island for a weekend, Niarchos realized just how far he still stood from the real magnates of wealth. First there was a sitting room for receiving guests, then two immense drawing rooms, and twelve people providing service, Outside were spacious verandahs, swimming pool, grass, tennis courts, flower-beds, very tall trees. Inside, crystal chandeliers, the most expensive antiques, paintings by famous artists, and furniture brought from all over Europe. And when they sat down for dinner, men found a gold tobacco-box and women platinum perfume, holders.
The fledgling shipowner was shocked by the riches and opulence and Melpo was bedazzled by the dress of Mrs. Donero, a former Hollywood starlet, which probably cost as much as Melpo's complete wardrobe.
Onassis was also invited. Niarchos remembered him at Neo Faliro before the war, that little tramp with the motorcycle and those golf trousers. Forty-five-years old now, his hair parted and slicked back, and wearing a double-breasted suit, but without the dark glasses that became his trademark later. Spyros Skouras, the president of FOX, often teased him that he could easily fit the role of a Mafia guy in a gangster movie. Onassis laughed loudly that he preferred to be hired as a trainer for stars and starlets who did sex scenes. The short but well-built man from Smyrna slipped like an eel from drawing room to drawing room to find guests who interested him. Not only high government officials, but also beautiful women. He was popular because of his bold and daring jokes, and he enchanted even Melpo, whom he accompanied from person to person, introducing her to persons of authority, bankers, stockbrokers, and artists. Once even, he introduced her to her … husband, but Niarchos had his mind elsewhere, in Liberty ships and maybe on those T2 tankers that Americans were willing to sell cheaply…
…The thirty-seven years old Niarchos desired Athena, whom they called Tina, and paid no attention to her older sister, Eugenia, whose name they had changed to Jenny. She was beautiful too, but a bit cold, not a tease like the young one. I'll wait, he thought, for her to grow up a bit; I'll divorce Melpo, and ask her hand in marriage from Livanos. One day, however, he realized that the young one belonged to Onassis who, from that moment on, became his most hated enemy. He was taking a walk at Central Park when suddenly she rode by, quick as lightning, with her bike, followed equally quickly by Aristos, that old satyr. Niarchos sat on a bench and, shortly, saw them returning on their bikes, one next to the other, holding each other by the shoulder, and flirting like love stricken adolescents.
Tipping the concierge at the "Plaza," listening to this and this and that, he learnt that the hotel had been buzzing, a while now, with gossip about the shrimp and the seventeen years old girl. He almost died; he did not know how to react, what plans to
conceive to get her from him, until the young one disappeared. A new tip, more recent news. Tina had broken her leg horseback riding, was confined in her suite and, as Livanos was away in London, Onassis kept her company for hours with Arieta's blessings because she wanted him as her son-in-law. When the man from Chios heard about all this, he got mad, shut the door on him [Onassis], but as the proverb says, [if the bride and groom want, the father-in-law wants].
The bomb exploded when the wedding was announced in New York and Greek newspapers and the social column of TIMES commented that two shipping Colossi unite. What Colossus (Livanos got angered)? The groom had not even got one fourth of his fleet. Onassis laughed remarking that the ships he owned were his alone while he would distribute them among his children. Sleep peacefully, the father-in-law would be upset again, giving as a bridal gift to his daughter a ship with half of the purchase installments still unpaid.
The wedding took place in December, 1946, in the Orthodox Cathedral of New York, presided by Archbishop Athenagoras; the best man was shipowner Andreas Embirikos, and, although the rest of the shipping social circles whispered that they would ignore the event, all came accompanied by spouses and children.
The wedding reception was held in the grand room of the hotel; the newlyweds, among the Archbishop, the Patriarch of the Greek shipowners, Stavros Livanos, the bridegroom's father-in-law, and his wife, Arieta, the president of Twentieth Century Fox, Spyros Skouras, and the head of the great-shipowners and of the American Greeks! Niarchos congratulated bride and bridegroom with a fake smile and went to his table, at the back, along with some small time shipowners and skippers. There was lots of food and drink, two orchestras—one foreign, one Greek—toasts and wishes, bride and groom opening up the dancing floor.
Cruel memory, for digging everything up.
Here is Eugenia Livanos, dark and beautiful too, but not like the bride who danced an Argentinean, full of passion tango with the bridegroom. Niarchos got up, and with his agile, nimble walk, in his elegant tuxedo, approached the older daughter of Livanos: "May I have this danser
The daughter of the magnate smiled arrogantly and extended her lace-clad delicate hand to the invitation of the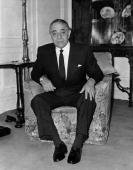 elegant man who led her to the dance floor. At that moment, tango ended and waltz began, a dance in which Onassis was not as good as he was in the South-American rhythm, which was his forte. With self-confidence Niarchos whirled his dance partner in the rhythm of "The Blue Danube" and she had gracefully left herself to his lead, drunk with Johann Strauss. When the music ceased, everyone applauded the couple and only then did Eugenia Livanos noticed that other couples had withdrawn from the dance floor to admire them. She did not meet her partner's eye, however, because he was looking for the bride who, devoted to the bridegroom, happily flirted with him being in love, as she could not hide it. That night Niarchos felt in him his passion, desire for the young daughter of the Chios born man—whom someone else enjoyed—to flood and burn him inside like lava. He was crazed, biting his bed sheets, thinking of the bridegroom delighting in bridal bed…
It was May third, 1970, a horrible date. Early summer and his guests at Spetsopoula were still in their bungalows or at the beach. A maniac with cooking, Eugenia supervised the preparation of one of her special recipes in the kitchen. Spied upon by the host since early morning, Tina examined a photo-album in the living room.
He took the chance and sat next to her, pretending to idly looking at the pictures as well. She turned and smiled at him, her dimples appearing on her cheeks. Seeing them, [his blood hit his head,] he
grabbed her and, before having time to resist him, he began kissing her cheeks passionately. She pushed him off Surprised.
– Stavros, what's wrong with you? Have you gone mad?
– Not now… it's been twenty-four years, since I first saw these dimples and wanted to kiss them. But the Smyrniote got ahead and took you from me, and then … that closet-fairy…. But now, the time has come, my little girl, to have you….
– You've gone mad, truly; you know, I'm not that little girl at the "Plaza" any more, but a forty-one-year-old woman. I've got two kids and you've got four, and you are my sister's husband.
– That female crow, he said, and grabbed her, kissing her clumsily like a schoolboy.
A shriek was heard; it was Jenny, who was bringing them a platter with mezedes. It fell on the floor; she turned, crying, and run up the stairs that led to the bedrooms. And while Tina had remained frozen, as a pillar of salt, Niarchos blasphemed the Divine and run after his wife, but she had already locked herself in her bedroom.
– You silly girl, it was a joke, he shouted from outside the door, but Jenny was breaking everything she found in her front while crying.
– Her husband opened the locked door with a master key and found her, face down on her bed, yelling hysterically.
-1 expected it from you, cheat, but my sister?
– It's not Tina's fault, my darling Jenny. It was me who made the joke.
– What joke, you scoundrel? You think I don't see you salivating all these years? Just wait, I'll tell the whole world, you'll be humiliated.
His wife tried to scratch him with her nails; he avoided her and pushing her, threw her on the bed.
– It's OK, you'll get over it, he said and left slamming the door so strongly that it was heard downstairs.
– In the living, there was neither Tina, nor anyone else, only the shadow of a servant by the window, hesitating to stay or disappear like the rest, who foreseeing a storm, had withdrew in the kitchen.
Niarchos drank, cursed and threw glasses occasionally. What a day that was. In the morning he had the first fight with his wife who did not want to have on the island that "bastard" of Ford, and there it was a while ago, this episode, which of course would continue, because Jenny believed that her husband had an affair with her sister.
Before the recounting of the events continues, of those episodes that followed the night of May 3rd, 1970, to arrive at the tragic death of Eugenia Niarchos, the great revelation must be done; a revelation that few people knew or know. The antecedent that preceded the tragic event (the erotic outburst of the host on his sister-in-law, witnessed by his wife) was not a fabrication of the writer's imagination, but the reporter's exclusive information; he collected it from the sister of Aristotle Onassis herself, when Artemis Garofalidis was still alive.
That tried woman had gone through a lot in her life. She lived through the destruction of Smyrna, the looting of her father's fortune, the flight of the refugees and of her own family. She gave birth to a mentally retarded child, and lived through the successive deaths of the Onassis family members. Even though she was wealthy, thanks mainly to her brother, she left this life disappointed and tormented. That woman got to know of what preceded the events of that night, not only from the shadow-servant, but from Tina herself who recounted everything in detail, with all Ps and Qs, as they said in Smyrna. The only person who did not find the thread [clue] of Ariadne that night at Spetsopoula was Police lieutenant Kotronis, the first to interrogate both Stavros Niarchos and Tina Livanos. Nor could the subsequent interrogators and district attorneys consider, intentionally or unintentionally, the possibility of the magnate's flirtations with his sister-in-law, so the clue, in the labyrinth of Spetsopoula, remained entangled for ever; because this time Theseus did not kill the Minotaur, but the bull drove his horns in and killed his wife, whom wealth sacrificed, without punishment indeed, while Justice shut its eyes.
Words for a melodrama script accompanied by the reader's
suspicions that the writer utters revelations that cannot be verified since Artemis Garofalidis is not in life; however, there are two more sisters of Garofalidis, that is, Meropi Konialidis and Kalliroe Patronikolas, who are not only alive but can, if they would (because they keep their mouths tightly shut for twenty-seven years and are not of the types that appear on the TV "windows"), confirm the event-clue that preceded the tragic death of Eugenia Niarchos.
The old man did not want to remember that moment, the most pathetic moment he had ever experienced with a woman, which moment, however, turned out to be the most moving one. Tina was in his arms, wearing her transparent negligee, certainly prepared for what was to follow. Nonetheless, she had taken her pills, a light dosage of barbiturates. Niarchos realized he held a soulless doll with a voice: "We are not good for such things now, my Stavros, she said and began crying."
Tina was 42 years old, but felt old, much older than her new husband who was twenty years older than she was. Stavros watched the castle he had built crumbling down as if made of a pack of cards. Now or never, he thought; using his lemon-perfumed handkerchief, he wiped off the
tears that streamed down her lovely dimples. She was touched and extended her arms that embraced him like white doves, just before the pills' effect began.
"Tina, my love," Stavros Niarchos whispered and continued as he kissed her passionately: "Whatever I became, I owe it to you, for I wanted your respect and admiration!"
"Tom, Tom…"
In his daze, the old man asked for the support of the shadowy butler because he was the only one he got left.
Meanwhile, the butler was rummaging in his dossiers and clippings to find information about the marriage of Tina and Stavros, but he could not because their matrimonial life did not include outbursts and reveling, highs and lows that attract reporters and paparazzi.
Theirs was the strangest marriage ever to take place; it was neither sexual passion, nor a match-making, but the mingling of an absurd logic based on financial interests and on the wish for a refuge of two people, who after the storm, were searching for peace. Niarchos showed interest in Tina's children, who, however, did not want even to see him. One day he surprised her; he gave her a list with information on the property of Onassis.
– So that you know in detail what exactly Jackie is after, he told her.
The former Mrs. Onassis knew about most of the information, but some of it was unknown to her: a fleet of freighters and tankers that exceeded the seventy vessels. Stocks that accounted for one-third of the capital of Onassis, in oil companies in the USA, the Middle East, and Venezuela. Additional shares that secured his control of ninety-five multinational businesses on the five continents. Gold processing plants in Argentina and Uruguay. A great share in an airline in Latin America and $4 million dollars worth of investments in Brazil. An electronics company in Japan. Also companies like Olympic Maritime and Olympic Tourist; chemical company in Persia; apartments in Paris, London, Monte Carlo, Athens, Acapulco, a castle in South France; Olympic Tower, a fifty-two story high-rise in Manhattan, another building in Sutton Place; Olympic Airways and Air Navigation; islands Scorpios and Sparta; the yacht "Christina"; and finally, deposit accounts and accounts in treasuries in two hundred and seventeen banks in the whole World!
'What can I use this list for?" she asked him.
He looked at her with his cunning, sardonic gaze:
"It isn't only the list, my sweet. I've sent my people out, too. At every opportunity they gather information on any and all changes and transfers of property assets which belong to Aris today, but which tomorrow will go to Alexandras and Christina, provided, of course, the Smyrna man won't lose it in the meantime or that good-for-nothing American woman and her kids don't grab most of it."
"Don't speak nonsense, Stavros, because Aris will leave everything to Alexandros, whom he holds dearer than the crown of his whole kingdom.
1973 (Alexadros Onasis)
Everything fell apart when the Piaggio aircraft of Alexandras crashed during its take off on 23 January 1973. Sitting in his armchair, Niarchos read from the book, The Onassis Dynasty: Tragedy and Riddle:
"We all read in the papers how Alexandros Onassis died, twenty-eight hours after the crash of his Piaggio that was operated by the newly-arrived American pilot Donald McCasker. However, nowhere did we read the name of the man who had misconnected the wires between the control panel and the helm. This is the man that Aristotle Onassis was looking for until the moment he realized the reverse counting that signaled the end of his own life had begun. "Limberopoulos, they killed my boy!" He said the same thing to everyone with whom he had a close acquaintance or friendship during the last months before he died. He added that he had to have Christina married as soon as possible because she was in danger to be killed. Uttering his own words, the spiritually and physically broken father of Alexandras appeared terrified, and would lower his voice. Who? The fearless Onassis, who, since the time he saw Smyrna in flames, never feared anything again in his life; the multibillionaire who never employed body-guards…
…January 23rd, 1973: Phones started ringing all around the world. In New York, shocked and numb, the father stood with phone in hand; then he cried:
"Save my son … save him and I'll give you everything you will want… everything!
Tina, the young man's mother, hears the appalling news while in Germany. Stavros Niarchos, who is with her, accompanies her to Athens.
The sister of Alexandros, Christina, is in Brazil. In the beginning, she thinks this is a tragi-comical farce. Then, she hastens to the airport, looking ten years older. In the plane, she is informed that Alexandros is fighting -without any hope – with death.
The book slides from the old man's hands; he cannot continue reading but he remembers those tragic moments when, supporting Christina, he entered the hospital room where the machine kept Alexandros alive while his brain was already dead. After her son's death, Tina lost all interest in life. She even looked at her daughter with an empty gaze. As for Niarchos -who also mourned for Alexandros, she saw him as someone who took care of her life, who tried to dissuade her from using sedative and hypnotic pills…
The Niarchos couple happened to be in the same hall with Maria Callas during a charity event in Paris. The prima donna lost her composure. She remained petrified. Livanos's daughter, without losing her cool – she may not have seen her -, passed by, but Niarchos paused, made a light bow to his famous compatriot, and went on his way. They say that Callas told Jeffirelli, who was accompanying her, motioning her head towards Tina: "Here's a woman who's much more miserable than I am.".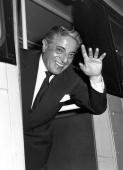 …When she married to Niarchos, Tina was 42 years old, still fresh, beautiful and elegant. Looking at the children, Alexandros was 25 and Christina 23, one could think that they were her siblings, and certainly the mother was much more feminine than the daughter. A psychiatrist could explain the complexes of both children, considering the one lived with a woman much older than he, and the other was married a middle-age man. Since their mother was a beautiful socialite, and their father a businessman, always on the move, Alexandros and Christina had been raised by governesses, nannies, maids, and teachers. The children never felt the consistent family support and warmth, except during Christmas holidays and vacations. But even during those times, their parents took more care of their guests.
Tina Niarchos felt she was a mother only when she lost Alexandros. It was, however, too late to consider her faults, especially her biggest one: her sensitiveness and stubbornness to get a divorce at thirty-one when her children were twelve and ten years old and suffered a psychic trauma that followed them for the rest of their lives. Now, she had lost her son; now, Tina Livanos, former Mrs Onassis, former Bladford, and current Mrs Niarchos felt that her life had no meaning whatsoever. She increased the dosage of sedatives that she already used; consequently, her sexual appetite ceased. She continued to be the wife of Stavros Niarchos only on paper. Once they visited Scorpios, with their yacht, to pay homage to her son's grave; they tied her next to the 'Christina.' On her deck, where she had dined with both her first and last husbands, memories of festive nights with famous guests did not stir in her mind; instead, she felt Alexandros and Christina, as young children, playing and running around her. She began crying, falling in the arms, not of her husband, but of Aris, whom she felt as her own, her only husband in her sinful life. Niarchos understood and retreated a bit, glass in hand, but still able to hear his wife telling his eternal enemy:
My Aris, if I die, do not demand that I be buried here next to my child, for I was not a good mother, and I would disturb his peace. Let them place me next to our Eugenia, in Lausanne.
Tina had grown ten years older that period and so had Aris. They cried in each other's arms and for the first time tears, and many tears also streamed down the face of Niarchos. Tina retreated to sleep, having swallowed her barbiturates for sure, while the two men stayed up all night, drinking and talking. Onassis said he wanted his life to be over, while Niarchos consoled him that they had many years ahead of them.
The guy from Smyrna at some point looked at him in the eye and, suddenly, asked him: "I would like to know two things be­fore I leave this world, Stavros: Whether my son was murdered and how Evgenia died. You are the only person who can answer the second question.
Niarchos, dead drunk – quite the contrary of Onassis, who never got drunk – looked at him with a blank gaze:
"Aris," he said, "I could be wrong in anything that I tell you. Like I said in the interrogation, I don't remember exactly whathappened. So what can I tell you, especially since I'm drunk even now that you're asking me, just like I was that cursed night."
"Come on, let's go to bed," Onassis said and helped his rival in love and in wealth to get up.
When Onassis had taken him to his cabin, he waved at the steward to go away and told him: "I hope you tell me the truth in the next world, Stavros."
However, before closing the door, the guy from Smyrna said: "I'm talking nonsense. If there is another world, souls will be dis­charged of worldly affairs."
Next day, the one yacht passed by the other one and that was the last time the two sons-in-law met, two men whose rivalry created two of the grandest fortunes of this century…
…In January of 1954, the 'Tina Onassis' sails to Jidda, with Aris and his wife who are given hospitality in the
palace of Saud. The Saudi Arabia-Onassis agreement is underway and the powerful oil companies feel as if a dwarf saws their gigantic legs.
Old Niarchos recalls all this, the stir Onassis provoked in the American government and Aramco, the excitement in the newspapers. And behold, lately an FBI agent filled newspapers and TV with his statements that supposedly I "had paid him to destroy Onassis!"
Stolarchos moves in his armchair, mumbles and curses. His nurse wipes off his drool while Hilary and his butler approach. He looks at them through the crack of his half-closed eye:
-They accused me for collaborating with agents to destroy Aris. Lies and vileness of fantasizing journalists and FBI retired cops, who attempt to get out of darkness into the light. Do you know what television means to a nameless and undistinguished man? A great opportunity for self-projection and publicity. I'm not sure but I think someone killed his whole family to get on the first page and be on the accursed television!
As every day so today the aged man remembers haphazardly his life's chapters; the one regarding the American government charges is nailed in his thought. He nods to his secretary to lean over, listen and respond:
-Do you remember what happened finally with the Onassis-FBI
The English woman hesitated to respond, but he insisted:
-Remind me exactly of all that happened even if you think you'll upset me.
Having lived with her boss's outbursts, her own shorthand scribbles, the keys of her typewriter, fax machines and telephones, his titanic struggle for wealth and power, the woman wipes off his sweating brow now and tells him:
-Onassis had become first page news in the American press, which, more or less, portrayed him as a new Luciano. In a few days, however, Onassis launched a counter-attack reminding the press that it was he who saved the American Bethlehem Shipyards from closing down, because he entrusted them with building a super tanker fleet for him; moreover, that during the Korean War, he set his ships -under foreign flag – at the disposal of the American Navy, and they thanked him publicly.
-What happened next? the old man urged, familiar with the answer but wanting to hear it again.
-The mafioso, Greek Luciano, became John Wayne!
The old man started laughing incessantly so that his secretary and nurse worried he might choke from his laughter. Upon calming down, he told them proudly:
-This is how we, the Greeks, are. We fight among ourselves, like weasels and jackals, but when in front of strangers, we become lions. But even lions grow old, he continued in an exhausted voice, and end up like Aris, with their fur and mane fleeced, mangy and pitiful, worthless even to rag-collectors of Seine. Why Seine? Because there, in Paris, died the most ferocious lion I met in this jungle called human antagonism and conceit. Tell me then, my dear Hilary, since you met Aris and me at the apex of our power, what is left of us? My pride is gone since you've got to pamper me like a baby, and I'm left with the mange, already smelling like carrion…
Today the big boss showed that although his mind had been imprisoned for months, it was ready to free itself. He stewed over the fact that his colossal fortune, whichhe had created alone, was being mastered by his sons while the doctors bent over his bed with pills, syringes and intravenoustubes. However, all this was over, finished, he told himself. Heresolved to eat again, to gain his strength, to get up and properlytake care of everyone! "I'm hungry," he yelled, and added:
-Bring me the newspapers, foreign and Greek.
Niarchos attempted to drink his juice but the glass shook in one hand, as did the piece of toast in his other. The juice streamed down his chin and the butler wiped it with a napkin scented with lemon blossom cologne.
"Take it," he said, and then beckoned them to push him, in the wheel chair, to his office. He commanded the secretary and the male-nurse to set him in front of the computer. Then he ordered them to leave him alone. From his pocket he took a small piece of paper with the code number written out, and began to press the keys. He wanted to survey his assets, to determine the current number of his ships, and find out about the last one he had acquired. He leaned over, with the magnifying glass in front of one eye, and saw number "22" and next to it a digital-image of the last tanker that had joined his fleet: OCEAN GUARDIAN: 292,000 tons 333 meters long 22 meters draught Shipbuilders: MITSUBISI, Japan (1993) Value: 88,000,000 USD
His bony fingers remained suspended above the keyboard as he recalled a moving scene three years ago in New York. Before departing for Japan to take delivery of his great tanker, his captain and officers had visited him at the hospital. With pride, he had pointed to Captain Dimitris Karakoulias and said to his son Constantine: "He is from Laconia, the Province of the Peloponnese, and I'm proud he'll lead the world's most modern tanker"
When his two legs still supported him, he flattered no one, but in his later days he found words of sympathy for those who would serve under the command of his children. Therefore he showed compassion for Captain Dimitris in front of his son, and remembered he had expressed his wish to take a trip with the megathere he would govern. "Why not, Captain Stavros?" the Laconian skipper had responded. But already the Stolarchos began to realize that sea travelling was now an impossibility for him, who had so fervently loved the sea.
"I envy you, for I won't be able to come with you," he had said to the officers, and then asked the captain about the number of officers and crew on the tanker. "Only twenty-four persons, ten Greek officers and fourteen Filipinos, to fill the inferior positions. Captain Stavros, this tanker is the most recent creation of modern shipbuilding. All navigational equipment is automated, so it doesn't require night shifts. The computer, from the engine room to the bridge, the helm, and all navigation, loading and unloading controls everything. It is also "double skin," that is, there is one vessel inside another, so if the hull cracks, the sea won't get polluted."
This is the new age of electronic navigation. The old man pressed the keys to find the lists from his golden epoch when he had 3.7 million tons of freighters and tankers. His fleet furrowed seas and oceans carrying
gold-producing cargo: grains, coal, iron ore, timber, heating oil, and petroleum. Niarchos brought all this back to his memory; his tankers World Honor, World Horizon, World Kindness, all of them superior pieces, with turbine engines, built by I. H. I. Shipbuilders in Yokohama. For five or six years, these ships yielded great profits and then were put out of commission, dismantled and sold for scrap metal in Taiwan. He had no use for them since the Suez crisis (1967-1975) was over. The Suez crisis: what a lottery ticket! Of the 160 million tons of petroleum that poured out daily from wells in the Middle East, 100 million were destined for Europe and were transferred to the continent, the tankers having to navigate around Africa. A year before the Suez crisis, as if by sudden Divine illumination, Niarchos had increased the number of his tankers, which were already busy carrying petroleum priced three times above normal price! "A trip equals a ship!" yelled the lucky shipowner, who was not only lucky but forward-thinking as well. While other ship owners scurried around trying to order tankers, he was already channeling his immense profits not into the acquisition of new ships, but to other profitable businesses, this time on the mainland. He had driven all the traditional ship owners crazy, this commercial navigation "parachutist," Who built ships when the others hesitated to do so. And when they tried to emulate him, they failed, because the sea had speculatively dried up, and Niarchos had already gone into mainland businesses.
Onassis had increased his fortune during that time, and was considered wealthier than his rival, because he possessed not only his fleet and his aircraft company Olympic Airways, but mostly through his behavior which made the front pages of most newspapers. He had convinced everyone that he was the biggest Magnate of all.
Initially, Onassis's great notoriety did not matter so much to Niarchos. He knew the man from Smyrna was an exhibitionist, showing off] for public consumption. After all, Onassis only had a metal yacht, a power boat, that is, worthless and tasteless, like his art collections of dissimilar pieces and artistic styles. Niarchos, on the other hand, had a yacht that was a work of art, and a painting collection of the greatest impressionists. Even the most elite of world society bowed to his good taste.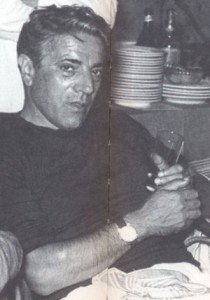 Once, the Olympic gold-medallist and successor to the Greek throne, Constantine, had teased him: "Mr.. Niarchos, Onassis fooled you and adopted the word Olympic, with the five circled emblem, in the names of his ships. Why didn't you think of "Your Highness, I preferred the word World, in naming my ships since I'm not after an Olympic metal every four years. I beat the world record every year!"
On the other hand, the man from* Smyrna criticized that Niarchos used the colors blue, white and red on his steam-boats, along with an enormous "N," which reminded everyone of France and Napoleon Bonaparte.
"And what does that mean?" his closest associate, Costas Gratsos, asked him.
Onassis answered: "Don't you understand what he means by that? He thinks he is the Stolarchos, what am I saying?, the emperor of oceans."
When Niarchos learned of all this he used to get furious. Now in the same way, he recalled it all and stooped over the complete list of all the ships he had ever owned, to ascertain that indeed he had been the Greatest Stolarchos of them all…
…Suddenly, the wretched image of that lunatic Howard Hughes jammed his dream. What a horrible end that handsome man had, who was envied by the most wealthy of the world before losing his mind to drugs. Isolated in his invincible fortress, gripped with a terrible paranoia that someone would poison him; unwashed, unshaven, with his long hair plastered by dirt, naked on his bed; and the monitor in front of him, checking the entrance, the corridors, the stairways, his personnel in their rooms, in the kitchen. He resembled a bone-thin Tarzan, a miserable king of the jungle. The man who once had so many of Hollywood's Janes at his feet. During his prime, they raced to be the first to enter his mansions and the biggest plane in the world that he himself had designed and piloted.
The old man was violently awaken by the nightmare:
"Thank you, my Lord, that I didn't end up like him. Maybe my body got thin and feeble, but my mind preserves its youthful nature especially, since it can still calculate my calculable.
His eyes met the Cephalonian man:
"Õou know what I was dreaming about? That looney, Hughes, who was terrified that his guards and service people would poison him. Do you think maybe I have something to fear from you, too? And do you know what your motive will be? Jealousy and envy; because, with absolutely no help, a man like me managed to climb all the steps of life one-by-one and, after titanic battles, he set his flag on the top of the mountain. I'll tell you so you know Tom … I started with a nutshell of dinghy, which was sunk by gun fire and with the indemnity I got from the insurance agency, I set the initial capital for my fleet …. And I realized my dream of naming all my ships with the prefix WORLD, Universal. It is the word that possessed me since I was a kid, when I was dreaming to become the Alexander the Great of the oceans."
Tom remained silent, completely engrossed in listening to Niarchos.
-Once, my youngest son, Constantine, asked me, 'Dad, why don't we name one of our ships Great Alexander? You know what I answered him? My boy, Alexander was as great as the distance between Macedonia and India is, and his name cannot be contained on the bow or stern of a ship. And now, I'm tired this chattering, bring me a glass of liquor and a cigar.
As he moved to prepare the drink, the butler thought that his boss had been so great that, once, the earth, the seas, the oceans could not contain his magnitude. His name shined on the nameplates of his offices around the world, from "Niarchos London Ltd." to "Niarchos Japan"!
"I wanna piss, but not in the bed pan. Lift me," the old man faintly shouted, and Tom waved to the security man standing by the door. He was afraid to help him alone, lest "sir" fall down.
As the strong guard helped him, Niarchos felt the man's tight arm and got jealous, because, when he was young, he was muscular also, even though he was a slim man. He stood above the toilet bowl, with the security man and the butler ready to catch him if he lost his balance. Summoned by Hilary, the doctor on duty had hastened anxious, because, for the first time in many months, the patient had moved so much, even though he was still confined to his wheel chair. "I have the desire," the old man laughed loudly, "to throw shit him, but I don't want to dirty my hands."
The male-nurse washed him, changed his underwear, and while the doctor advised them to take Niarchos in to sleep, he pointed toward the armchair near the fireplace. "There," he shouted to Hilary, and told her to give a hundred dollar bill to each of the twenty-four-hour shift people. His blurred gaze went to the guard, and he wondered what salary the man got. Niarchos envied him because he was young, strong, healthy …. After his shift, he would eat and drink as much as he wanted, and at night he would make love and he would exercise in the morning …. He could play tennis, swim, run, climb the stairs.
"My Lord, such people exist!"
When he got comfortable next to the fireplace, he again asked how much the guard was paid to serve him, even to endanger his life. He knew that he was armed and trained. A healthy organism, to take care of a dried husk of a man, waiting like a dog does that expects a bone from his master. The old man's brain worked quickly through a thousand curves. Some day, all these gunmen will be dangerous to those they guard, he thought. Just like in the old days, when the cowboys got to be too dangerous for the big cow-ranchers. Was Hughes right;