Overview
The Olive Oil Tasting Experience 5-Hours Tour and Athens Tours Greece offer crafted experiences that immerse our savvy travelers in the local environment to explore the unknown as a source of inspiration.
Let's see now why olive oil is so experiential!
One of the star products of Greek cuisine is olive oil starting from ancient times, which interest has grown in recent years to become one of the most experiential attractions of Greece. It represents a lifestyle that combines culture, nature, and gastronomy. Greece is the country with the most top-quality olive hectares in the world. Oleo tourism is one of the best ways to get to know oil's new culture in that sense. The Olive Oil Tasting Experience offers the opportunity to discover the world of olive oil virtual harvests and high-profile tasting events!
Highlights of The Olive Oil Tasting Experience 5-Hour Tour
Tour of the olive groves in its 3 plantation frameworks, Traditional, Intensive, and Super intensive.
The harvesting of olive trees (from October to November upon request).
The properties of organic extra virgin olive oil.
The production process of organic olive oil inside the olive mill.
The oil quality: what refined olive oils are, what virgin olive oils are, and what the extra virgin olive oil is.
Partake an oil-tasting and learn how to pair them gastronomically.
Virtually participate in every stage of olive oil production.
Description
Start your exceptional private olive oil tasting tour by picking you up from your accommodation in Athens. Travel along the coastal road of the Saronic golf till we will reach the famous Corinth canal. Enjoy the breathtaking views, take pictures and we will continue for our visit to an olive mill. We will give you now some information about Oleotourism in order to be in the mood for your special tour! Oleotourism begins to sprout every day more and more in Greece, and olive mill tours are becoming increasingly common in Greece.
Oleotourism is a movement that is treading more and more strongly in regions such as Argolis where in the region there are other olive groves, surrounding the variety of tourist activities related to the production of olive oil, whose objective is to disseminate the main characteristics and processes of elaboration of this product. It is an alternative to traditional tourism, turning to rural, ecological, or gastronomic settings.
Oleotourism can include guided tours, accommodation with typical architecture within the olive grove, restoration, hiking, relaxation, and shopping, or beauty treatments with this product. The development of the olive sector and the dissemination of the oil culture have been defined as one of its objectives, with a background of rural and ecological tourism.
Visiting an olive oil estate during your holiday in Athens is a great way to learn more about the olive oil production process while surrounding yourself with the magnificent olive trees. At the end of such an olive oil tour, you will sample the different olive oils. During such a tasting, you will learn how to taste the flavors of the different varieties and to distinguish the specific olive oil attributes of fruitiness, bitterness, and pepperiness.
Olive trees have grown on Greek land since ancient times thousands of years ago! Ever since the Greek people rely on its fruits to create their tasty dishes. No wonder olive oil is the heart of Greek cuisine, Argolis – Corinth is the region that produces the best quality olive oil.
We will visit an olive oil producer in the Argolis – Corinth in order to experience an exceptional olive oil tour. This olive oil mill has won international awards for several years in a row. Follow us on a guided tour through the facilities in the olive mill, and taste the extra virgin olive oil through an interactive seminar full of secrets that you have never imagined before!
The olives are picked in autumn. Harvest season starts in October and lasts until the end of November. The olives at that time have the correct temperature in order to be pressed inside a modern and professional olive mill. The olive is then ground to paste in a mill. Subsequently, the olive oil is extracted, filtered, and stored. Modern machines squeeze the olives in such a way that the quality is consistent and meets today's standards.
However, the company does value the environment. Everything is recycled. Moreover, the entire production process of Monterosa leaves zero carbon footprint.
See now the difference between professional olive oil tasting & simple olive oil tasting.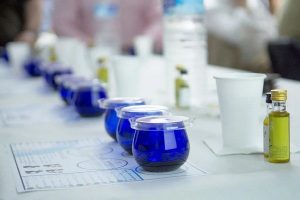 Professional olive oil tasting: Olive oil tasting is carried out in special tasting glasses. The philosophy is similar to wine tasting. When we taste olive oil we seek 3 characteristics: aroma, intensity in its bitter taste & intensity in its spicy taste.
Here is the procedure:
Add olive oil to the special tasting glass.
We hold the glass in our hands and stir to slightly heat the olive oil.
We smell trying to identify each of its aromas.
We drink a sip to perceive the intensity of its bitter & spicy taste.
Simple olive oil tasting: The olive oil tasting of our products is carried out with fresh bread. Each of our guests has in front of him an individual plate with fresh bread, bruschetta with Kalamon olive paste, and a mini salad with seasonal vegetables and pitted Kalamon olives.
Our guests taste 2 different award-winning extra virgin olive oils, olive paste, and pitted Kalamon olives.
It is time to experience now a virtual reality headset to see everything we discussed earlier. You can virtually participate in every stage of olive oil production.
Find below the Olive oil tour & and tasting presentation available in two options:
Option 1 – Duration: 70 min. | Minimum number of people: 2
Visiting the olive mill olive grove.
Guided tour of the facilities and presentation of the production line of extra virgin olive oil.
Virtual reality video presentation. Wearing the virtual reality mask you will have the opportunity to live an unforgettable experience by watching a video with all the stages of cultivation, production & bottling of extra virgin olive oil.
Presentation of Greek extra virgin olive oil (varieties, categories of olive oil, health benefits & useful tips for the proper storage of extra virgin olive oil).
Professional tasting experience in two.
Products (we can add more at a small extra cost).
Simple tasting of the Soligea product line (extra virgin olive oil – Kalamon olives – Kalamon olive paste).
Option 2 – Duration: 40 min. | Minimum number of people: 4
Guided tour of our facilities and presentation of the production line of extra virgin olive oil.
Video presentation of the production of the extra virgin olive oil "From the tree… to the bottle".
Simple olive oil tasting of the Soligea product line (extra virgin olive oil -Pitted Kalamon olives – Kalamon olive paste).
Ending The Olive Oil Tasting Experience 5 Hours Tour by dropping you off at the same spot we have picked you up!
Details
Important notes
Tour Type
Shore Excursion - Private tour
Included in the tour
Car and Driver
A professional English-speaking driver or escort with good knowledge of the history and culture of Greece, to guide you till you enter archaeological sites and museums. Tour drivers are not licensed to companion you inside the archaeological sites and museums. If you'd like to have a licensed state tour guide to escort you inside the sites and museums, we can arrange it for you at an additional cost. Licensed by the state tour guides are freelance and it is subject to availability on bookings day!
Transport by air-conditioned Mercedes-Benz vehicle or similar appropriate for the size of your group
Accommodation is based according to availability (for multiple-day tours only)
Pick-up from and return to your hotel
Pick-up from the Port of Piraeus
Private tour, Road tolls and local taxes
Excluded from the tour
Additional info
Dress: religious and marmoreal sites: shoulders and knee must be covered
Confirmation will be received at the time of booking
A voucher will be emailed to you with our contact numbers and all necessary information for your tour.
This is your ticket and proof of purchase. On the day of the tour please present a paper voucher in order to redeem your tour/activity.
Persons with Disabilities
Due to uneven surfaces, certain sites are not recommended for persons with walking disabilities or using a wheelchair. Such sites are the Acropolis, the Temple of Poseidon at Sounion, Mycenae, Delphi and Meteora
In all cases, we recommend comfortable flat-solid walking shoes, sunglasses, and sunscreen.
Restrictions:
Please note that on this tour, your tour driver is not licensed to accompany you on your climb. If you want this service you may book a licensed by-state tour guide for an extra cost.
In case a group is followed by a licensed tour guide or an English speaking tour-escort the professional driver is not obliged to speak English!
Opening hours & Admission fees
Opening Hours:Summer April 1st to October 31st from 08:00 AM to 07:30 PM
Winter: November 1st to March 31st from 08:30 AM to 03:00 PM
Free admission fees: Children under 18 & Students from E.U.
Reduced admission fees: Citizens of the E.U. aged over 65 & Students from countries outside the E.U.
Free admission days
March 6: In memory of deceased Minister of Tourism & visionary Melina Mercouri
June 5: Environment international day
April 18 : International monuments day
May 18: International museums day
September 27: International tourism day
The last weekend of September annually (European Heritage Days)
National Holidays
Sundays in the period between 1 November and 31 March
The first Sunday of every month, except for July, August, and September
NOTE: If the first Sunday is a holiday then the second is the free admission day
Holidays in Greece
January 1: closed
January 6: 08:30 AM - 03:00 PM
Shrove Monday: 08:30AM - 03:00 PM
March 25: closed
Good Friday: 12:00 PM - 03:00 PM
Holy Saturday: 08:30 AM - 03:00 PM
Easter Sunday: closed
Easter Monday: 08:30 AM - 03:00 PM
May 1: closed
Holy Spirit Day: 08:30 AM - 03:00 PM
15 August 15: 08:30 AM - 03:00 PM
October 28: 08:30 AM- 03:00 PM
December 25 & 26: closed