Overview
As Crete is the biggest island in Greece our aim is to offer you exclusive shore excursions that is exciting, rewarding, and fun. In our Cretan shore-excursion, everything is taken care of, so you can explore sites at a reasonable pace, in comfort and safety modern last technology vehicles. As this shore excursion is private, there is always space for flexibility and spontaneous stops that can make the difference!
Highlights of the Minoan Fascinating 4-H Private Shore-Excursion, Cuisine & Nutrition
+/- 5 hours private shore excursion of Minoan Palace
Visit Heraklion Archaeological Museum, Knossos palace
Combines Crete's Minoan culture with the Minoan Cuisine & Nutrition
Professional English-speaking tour driver
Pickup / drop off at the Venetian lion-guarder port of Heraklion
Description
Description of the Minoan Private Shore-Excursion
The Minoan culture, art, and history come's in combination with the Minoan Cuisine and Nutrition offering the chance to you for a complete taste of Minoan Crete.
The tour is almost the same as the "Best of Heraklion and Knossos Half-Day Private Tour" but with a taste of the Minoan cuisine. Please read below…
….Visit Knossos, the capital of King Minos and the center of the magnificent Minoan civilization is located only a few kilometers south of Heraklion. Searching the keys to the past will travel back in time some 4500 years BC. Knossos Palace is famous around the world for its myths of Europa, the Minotaur, the Labyrinth and Theseus, Daedalus, and Ikarus. In order to understand the future Knossos will open us a window to the most ancient civilization of Europe. Knossos' architectural feats include several store buildings (first in the world) with light wells and bathrooms, impressive pillars and an ingenious drainage system, aqueducts, irrigation systems, paved roads, and magnificent frescoes. This will impress you and show you advanced beautiful jewelry and a way of life you never thought possible in the dawn of history.
Hereaklion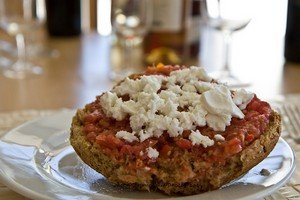 Heraklion, the capital of Crete and the biggest island in Greece. Back in 1204 AD, the city of Heraklion was bought by the Republic of Venice. Then the Venetians improved on the ditch of the city by building enormous fortifications most of which are still in place including a giant wall, in places up to 40 m thick, with 7 bastions, and a fortress in the harbor. Time at leisure in Heraklion to explore the city and to see the impressive Venetian buildings and castle, the Cathedral, the fountains, the open street market or if you wish just taste the Cretan cuisine for lunch.
The Archaeological Museum of Herakleion city is one of the largest and most important museums in Greece and among one of the most important museums in Europe. The museum houses representative artifacts from all the periods of Cretan prehistory and history, covering a chronological span of over 5.500 years from the Neolithic period to Roman times. The singularly important Minoan collection contains unique examples of Minoan art, many of them true masterpieces. It is rightly considered as the museum of Minoan culture par excellence worldwide. The museum, located in the town center, was built between 1937 and 1940 by architect Patroklos Karantinos on a site previously occupied by the Roman Catholic monastery of Saint Francis which was destroyed by an earthquake in 1856.
We are approaching the end of the tour now and it is about time to taste the famous Minoan Menu in a local tavern situated close to Minoan Palace '' Pasiphae''.
The menu is an old Minoan Recipe based on the Cretan Diet.
RESTAURANT – MINOAN MENU:
Appetizers:
Skim – milk cheese pie
"DAKOS" – traditional rusk with tomato, olive oil, goat cheese & oregano
Main Course:
Boiled sheep with rice in soup
Minoan green salad, with fresh vegetables
Minoan recipe with potatoes, pies & meat
Dessert:
Minoan dessert (barley, sesame, honey, almond, dry grapes)
Raki
More shore-excursions in Crete here!
Details
Important notes
Tour Type
Shore Excursion - Private tour
Included in the tour
Car and Driver
A professional English-speaking driver or escort with good knowledge of the history and culture of Greece, to guide you till you enter archaeological sites and museums. Tour drivers are not licensed to companion you inside the archaeological sites and museums. If you'd like to have a licensed state tour guide to escort you inside the sites and museums, we can arrange it for you at an additional cost. Licensed by the state tour guides are freelance and it is subject to availability on bookings day!
Transport by air-conditioned Mercedes-Benz vehicle or similar appropriate for the size of your group
Accommodation is based according to availability (for multiple-day tours only)
Pick-up from and return to your hotel
Pick-up from the Port of Piraeus
Private tour, Road tolls and local taxes
Excluded from the tour
Additional info
Dress: religious and marmoreal sites: shoulders and knee must be covered
Confirmation will be received at the time of booking
A voucher will be emailed to you with our contact numbers and all necessary information for your tour.
This is your ticket and proof of purchase. On the day of the tour please present a paper voucher in order to redeem your tour/activity.
Persons with Disabilities
Due to uneven surfaces, certain sites are not recommended for persons with walking disabilities or using a wheelchair. Such sites are the Acropolis, the Temple of Poseidon at Sounion, Mycenae, Delphi and Meteora
In all cases, we recommend comfortable flat-solid walking shoes, sunglasses, and sunscreen.
Restrictions:
Please note that on this tour, your tour driver is not licensed to accompany you on your climb. If you want this service you may book a licensed by-state tour guide for an extra cost.
In case a group is followed by a licensed tour guide or an English speaking tour-escort the professional driver is not obliged to speak English!
Opening hours & Admission fees
Opening Hours:Summer April 1st to October 31st from 08:00 AM to 07:30 PM
Winter: November 1st to March 31st from 08:30 AM to 03:00 PM
Free admission fees: Children under 18 & Students from E.U.
Reduced admission fees: Citizens of the E.U. aged over 65 & Students from countries outside the E.U.
Free admission days
March 6: In memory of deceased Minister of Tourism & visionary Melina Mercouri
June 5: Environment international day
April 18 : International monuments day
May 18: International museums day
September 27: International tourism day
The last weekend of September annually (European Heritage Days)
National Holidays
Sundays in the period between 1 November and 31 March
The first Sunday of every month, except for July, August, and September
NOTE: If the first Sunday is a holiday then the second is the free admission day
Holidays in Greece
January 1: closed
January 6: 08:30 AM - 03:00 PM
Shrove Monday: 08:30AM - 03:00 PM
March 25: closed
Good Friday: 12:00 PM - 03:00 PM
Holy Saturday: 08:30 AM - 03:00 PM
Easter Sunday: closed
Easter Monday: 08:30 AM - 03:00 PM
May 1: closed
Holy Spirit Day: 08:30 AM - 03:00 PM
15 August 15: 08:30 AM - 03:00 PM
October 28: 08:30 AM- 03:00 PM
December 25 & 26: closed