Overview
The private half-day Christian tour to Corinth Canal and Ancient Corinth is a well-appointed biblical tour in Greece, that gives you the chance to visit one of the most important cities located relatively close to Athens.
It is a private tour that lasts approximately 4 hours and will allow you to spend some time in one of the most unique sites in Greece, that combines the beauty of the scenery with its historical importance for Christianity and Ancient Greece.
Itinerary of our Christian tour in Corinth Canal and Ancient Corinth
Athens – Corinth Canal – Ancient Corinth – the Temple of Apollo – Archaeological Museum of Corinth
Highlights of the Miraculous Corinth 4-Hour Christian Tour to Corinth Canal and Ancient Corinth
A 4 hours private tour to Corinth
The sites where St Paul preached the word of God in South Greece
The ancient agora of Ancient Corinth
The famous Corinth Canal
Α professional English-speaking driver
Description
Description of the Miraculous Corinth 4-Hour Christian Tour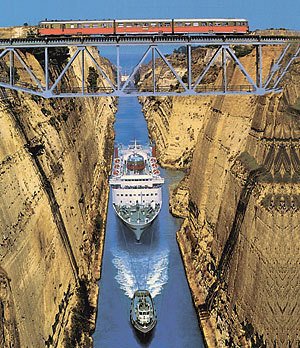 The Miraculous Corinth 4-Hour Christian Tour to Corinth Canal and Ancient Corinth starts from Athens early in the morning. Your professional driver will drive you along the scenic coastal road that leads to the Corinth Canal and Corinth.
After an hour's drive, you will reach the famous Isthmus, one of the most significant strategic locations in Greece and the Mediterranean, because it connects the mainland of Greece with the Peloponnese Peninsula.
The Isthmus is 6,5 km wide and the Corinth Canal is constructed at the narrow point of the Isthmus. This place offers you the chance to take some pictures of the truly breathtaking views, before continuing to Ancient Corinth.
Ancient Corinth was a very important city-state in the ancient years. The main city was spreading below the imposing fortress of Acrocorinth, which offered a significant strategic position for the city because it allowed its people to control the bypassing ships trading goods between Italy and Greece.
Our Christian tour to Corinth will take you to the heart of the city where St Paul lived and preached for 2 years, teaching people the word of the new religion at the time.
Ancient Corinth is much associated with St Paul, who lived in Corinth close to Akillas and Priscilla, a Jewish couple living in the area. St Paul established a Christian church in Corinth and also a church at ancient Kechreai.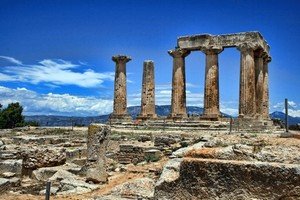 After a 2 years stay in Corinth, Apostle Paul left for Ephesus (Acts 18:18) leaving behind him a great church, which would prove a difficult church with many problems because of the cultural surroundings. He wrote at least 3-4 letters trying to solve these problems and after nearly six years he visited Corinth during the third missionary journey and preached again in the area. St. Paul`s trial by Gallio took place in the agora (Acts 18:12-17). It is from Corinth, also, that St. Paul wrote to the Thessalonians.
After the visit to ancient Corinth, you will also have the chance to see the Cathedral of St Paul.
Once we finish the tour to the castle, we will return to the village of Ancient Corinth, and visit the Archaeological Museum of Corinth with important findings and impressive sculptures that are definitely worth your time.
Your driver will then bring you back to Athens, where you will have time to enjoy your lunch.
Read more about:
Details
Important notes
Tour Type
Shore Excursion - Private tour
Included in the tour
Car and Driver
A professional English-speaking driver or escort with good knowledge of the history and culture of Greece, to guide you till you enter archaeological sites and museums. Tour drivers are not licensed to companion you inside the archaeological sites and museums. If you'd like to have a licensed state tour guide to escort you inside the sites and museums, we can arrange it for you at an additional cost. Licensed by the state tour guides are freelance and it is subject to availability on bookings day!
Transport by air-conditioned Mercedes-Benz vehicle or similar appropriate for the size of your group
Accommodation is based according to availability (for multiple-day tours only)
Pick-up from and return to your hotel
Pick-up from the Port of Piraeus
Private tour, Road tolls and local taxes
Excluded from the tour
Additional info
Dress: religious and marmoreal sites: shoulders and knee must be covered
Confirmation will be received at the time of booking
A voucher will be emailed to you with our contact numbers and all necessary information for your tour.
This is your ticket and proof of purchase. On the day of the tour please present a paper voucher in order to redeem your tour/activity.
Persons with Disabilities
Due to uneven surfaces, certain sites are not recommended for persons with walking disabilities or using a wheelchair. Such sites are the Acropolis, the Temple of Poseidon at Sounion, Mycenae, Delphi and Meteora
In all cases, we recommend comfortable flat-solid walking shoes, sunglasses, and sunscreen.
Restrictions:
Please note that on this tour, your tour driver is not licensed to accompany you on your climb. If you want this service you may book a licensed by-state tour guide for an extra cost.
In case a group is followed by a licensed tour guide or an English speaking tour-escort the professional driver is not obliged to speak English!
Opening hours & Admission fees
Opening Hours:Summer April 1st to October 31st from 08:00 AM to 07:30 PM
Winter: November 1st to March 31st from 08:30 AM to 03:00 PM
Free admission fees: Children under 18 & Students from E.U.
Reduced admission fees: Citizens of the E.U. aged over 65 & Students from countries outside the E.U.
Free admission days
March 6: In memory of deceased Minister of Tourism & visionary Melina Mercouri
June 5: Environment international day
April 18 : International monuments day
May 18: International museums day
September 27: International tourism day
The last weekend of September annually (European Heritage Days)
National Holidays
Sundays in the period between 1 November and 31 March
The first Sunday of every month, except for July, August, and September
NOTE: If the first Sunday is a holiday then the second is the free admission day
Holidays in Greece
January 1: closed
January 6: 08:30 AM - 03:00 PM
Shrove Monday: 08:30AM - 03:00 PM
March 25: closed
Good Friday: 12:00 PM - 03:00 PM
Holy Saturday: 08:30 AM - 03:00 PM
Easter Sunday: closed
Easter Monday: 08:30 AM - 03:00 PM
May 1: closed
Holy Spirit Day: 08:30 AM - 03:00 PM
15 August 15: 08:30 AM - 03:00 PM
October 28: 08:30 AM- 03:00 PM
December 25 & 26: closed