Lake Vouliagmeni, in the heart of the Athenian Riviera, is the hidden treasure of Attica's nature. Situated on an idyllic landscape, this rare geological phenomenon is waiting to be discovered. The lake's brackish waters which are continuously replenished both by the sea and the underground thermal springs offer a natural and unique thermal spa experience.
THE GEOLOGICAL PHENOMENON
The imposing rock, thermal waters, labyrinthine underwater tunnels, and lush vegetation create a unique geological phenomenon. The lake's present form was created after the roof of the cave fell because of erosion caused by the high temperature of the running water. The lake is included in Greece's national NATURA 2000 network and is considered as a Site of Outstanding Natural Beauty by the Ministry of Culture.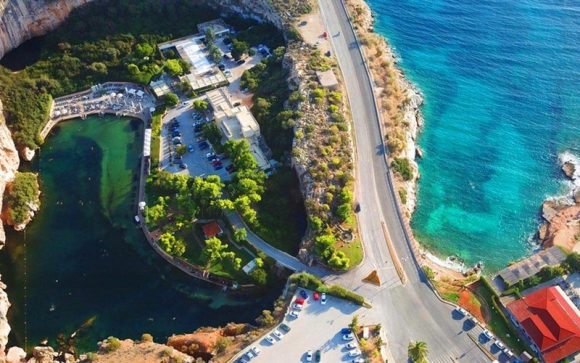 THE LABYRINTHINE CAVE
At the edge of the Lake, near the rocks, a labyrinthine underwater cave with four tunnels begins divided into four independent caves. The largest of them is pure magic. It has been explored up to the length of 700 meters as its end is yet to be discovered. For the exploration were used 3.000 meters of diving string. Its dimension rises up to 2.0000.000 c.m… It is the largest undivided tunnel in Europe and definitively one of the biggest in the world. The discovery of a huge stalagmite in the cave has opened up new theories in the research of the formation of the Mediterranean Sea.
THE LIVING WORLD
The aquatic paradise of Lake Vouliagmeni hosts in its emerald-green waters a variety of unique organisms. Among them, a kind of sea anemone called Paranemonia Vouliagmeniensis stands out, as well as species of sponges and mollusks that portray the perfect balance of the Lake's ecosystem. Its aquatic world also includes the well-known Fish Spa which offers skin exfoliation.