Overview
Explore the city of Rhodes with a half-day tour by Athens Tour Greece!
A well designed and organized sightseeing tour in Rhodes city is the perfect way to get to know the historical capital of Rhodes and its worldwide fame.
Our private half day tour in Rhodes offers to you an excellent opportunity to visit the most important sites and monuments of the city, in a comfortable and hassle-free way.
Highlights of the Half Day Tour in Rhodes city
08:00-13:00 or 13:30-18:30 HRS morning or afternoon, private tour of Rhodes city
Visit to Rhodes city' modern and classical sites with expert drivers
Licensed by the state English-speaking tour driver
Pickup and drop off from your cruise terminal
Description
Description of the Rhodes half-day city tour
Disembark and meet our tour driver to take you to our deluxe vehicle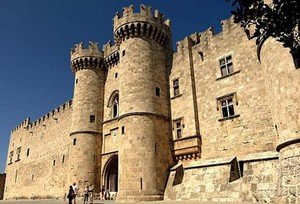 and commences with a Panoramic Drive through the New Town.
We will past the Mandraki Harbour, the Post Office, Town Hall, Evangelismos Orthodox Church and continues to the Monte Smith Hill which offers a magnificent view of the Aegean and the City of Rhodes.
Thereafter our drive continues past the ancient Rhodes Acropolis dedicated to Zeus Polieus, Athena Polias and Pythian Apollo. Four columns of this Acropolis have been reconstructed.
Then our final drive-by is past the 2nd century BC ancient Stadium and Theatre. Both the Stadium and Theatre have been restored.
Continuing the shore excursion we will drive to the D' Amboise Gate of the Medieval City where the guests disembark and on foot visit the Grand Masters Palace, the most imposing building of medieval Rhodes. It was originally built in the 14th Century, but demolished by an explosion in 1856. It was restored in 1939, during the Italian occupation.
Nest the excursion continues down 'The Street of the Knights,' which, in spite of the restoration of its buildings, has remained untouched by the passage of 500 years, since it was originally built in the 14th century. The Gothic order predominate the entire street. The Inns of the various 'Tongues' stand in a row, with impressive arched doorways, their emblems carved above them.
Last of our visits is to the Archaeological Museum, which is housed in the restored building of the 15th century Hospital of the Knights.
Details
Important notes
Tour Type
Shore Excursion - Private tour
Included in the tour
Car and Driver
A professional English-speaking driver or escort with good knowledge of the history and culture of Greece, to guide you till you enter archaeological sites and museums. Tour drivers are not licensed to companion you inside the archaeological sites and museums. If you'd like to have a licensed state tour guide to escort you inside the sites and museums, we can arrange it for you at an additional cost. Licensed by the state tour guides are freelance and it is subject to availability on bookings day!
Transport by air-conditioned Mercedes-Benz vehicle or similar appropriate for the size of your group
Accommodation is based according to availability (for multiple-day tours only)
Pick-up from and return to your hotel
Pick-up from the Port of Piraeus
Private tour, Road tolls and local taxes
Excluded from the tour
Additional info
Dress: religious and marmoreal sites: shoulders and knee must be covered
Confirmation will be received at the time of booking
A voucher will be emailed to you with our contact numbers and all necessary information for your tour.
This is your ticket and proof of purchase. On the day of the tour please present a paper voucher in order to redeem your tour/activity.
Persons with Disabilities
Due to uneven surfaces, certain sites are not recommended for persons with walking disabilities or using a wheelchair. Such sites are the Acropolis, the Temple of Poseidon at Sounion, Mycenae, Delphi and Meteora
In all cases, we recommend comfortable flat-solid walking shoes, sunglasses, and sunscreen.
Restrictions:
Please note that on this tour, your tour driver is not licensed to accompany you on your climb. If you want this service you may book a licensed by-state tour guide for an extra cost.
In case a group is followed by a licensed tour guide or an English speaking tour-escort the professional driver is not obliged to speak English!
Opening hours & Admission fees
Opening Hours:Summer April 1st to October 31st from 08:00 AM to 07:30 PM
Winter: November 1st to March 31st from 08:30 AM to 03:00 PM
Free admission fees: Children under 18 & Students from E.U.
Reduced admission fees: Citizens of the E.U. aged over 65 & Students from countries outside the E.U.
Free admission days
March 6: In memory of deceased Minister of Tourism & visionary Melina Mercouri
June 5: Environment international day
April 18 : International monuments day
May 18: International museums day
September 27: International tourism day
The last weekend of September annually (European Heritage Days)
National Holidays
Sundays in the period between 1 November and 31 March
The first Sunday of every month, except for July, August, and September
NOTE: If the first Sunday is a holiday then the second is the free admission day
Holidays in Greece
January 1: closed
January 6: 08:30 AM - 03:00 PM
Shrove Monday: 08:30AM - 03:00 PM
March 25: closed
Good Friday: 12:00 PM - 03:00 PM
Holy Saturday: 08:30 AM - 03:00 PM
Easter Sunday: closed
Easter Monday: 08:30 AM - 03:00 PM
May 1: closed
Holy Spirit Day: 08:30 AM - 03:00 PM
15 August 15: 08:30 AM - 03:00 PM
October 28: 08:30 AM- 03:00 PM
December 25 & 26: closed