If you had a good time with Athens Tours Greece, then send us your comments and we will add it here. Alternatively you can write your review on TripAdvisor.
---
"I want to say a huge thank you!"
I want to say a huge thank you!
First of all I want to thank the office for all your patience over the last several months as i planned our trip! I know I asked a million questions and you always wrote back with such courtesy and patience!
The trip itself was fabulous! We loved our driver John! He is an excellent and careful driver. he is so smart and knows alot about history and knew all about the Greek sites we visited. Anything we asked, he knew all about it. he was so nice and very fun! He took excellent care of us! Very eager to help us with everything we wanted! We just loved having John as our driver and friend. He is so personable, always smiling! He is a very interesting guy so we loved talking to him!
Please accept our many many thanks for making our 3 day trip from athens to delphi and meteora so PERFECT!!!
I am about to include all this on trip adviser and see you next time we come to greece! John had alot of good ideas for next time!
sincerely carol russell
---
"I would recommend your services most promptly!"
Good afternoon!
Would like to take this opportunity to say thanks to you for arranging this tour. Additionally, thanks sincerely to John is our driver for the day. He was most informative of the history of the sites and some places along the way.
Congratulations to the team very professional.
Ps the new car was a pleasure as well. Thanks John!
I would recommend your services most promptly. If returning to Greece in the future will take up private tours instead of group.
Kind regards and thanks.
Joe Natoli
Sent from my Samsung Galaxy S6 edge smartphone.
---
"I would like to congratulate and thank most sincerely our driver for this tour!"
Good afternoon!
Just a note to say thank you for providing this to ur for my brother and myself.
I would like to congratulate and thank most sincerely our driver Vagelis for this tour. He was very well mannered and had a wide and professional knowledge of the history.
Please pass our thanks for a job well done.
Would recommend this to all.
Will have more private tours with you if and when I return to Greece.
Thanks
Joe Natoli
Sent from my Samsung Galaxy S6 edge smartphone.
---
"We really appreciated the services rendered by both George and John!"
Everything scheduled for us by your company was on time and met all of our expectations.
We really appreciated the services rendered by both George and John. Both were very professional and did their best on our behalf.
Again, Thank you very much.
Merle Crabb
Sent from my iPhone
---
"THANK YOU so much for your hospitality!"
Good morning,
Hope you are doing well,
I want to say THANK YOU so much for your hospitality my family and I deeply appreciate all that Athens Tours did for us, from our drive who is an outstanding person, very nice, respectful and I can go on and on, on how well he did for us, then you at the office very nice, you work well on getting our payment and last but not least John who walked me and help me so much on organizing my entire trip, we are very pleased with everything, world cannot express how we feel with all your hospitality, once again THANK YOU SO MUCH, Greece has very wonderful people.
Sincerely
Zulma Montano
Sent from my iPhone
---
"Kostas is truly an ambassador of good will!"
On September 2nd, 2016 we had the pleasure of having Kostas as our driver for a day trip to Delphi from Athens. Kostas was absolutely wonderful!! The drive was a delight. Not only did he share his passion and in depth information about Greece as we traveled through the beautiful countryside, but he had a video about Delphi which we also watched during the drive. This was amazing and created a remarkable awareness of and appreciation for Delphi, its history, culture and traditions.
Kostas is truly an ambassador of good will. He had a special talent for making us feel very important and very welcome. He graciously accommodated our every request ….stopping for photos and shopping ….to name a few! Our tour of Delphi & the Museum lasted a bit longer than originally planned, but it was no problem for Kostas. He continued with the 'itinerary', and even took us to a favorite restaurant, so we could enjoy delicious Greek cuisine and panoramic views of the beautiful landscape, even though, in doing so, we were later in returning to Athens.
We highly recommend him ….and your office. We feel so fortunate to have contacted you regarding our interest in travel to Delphi and are so grateful to you for scheduling Kostas. Needless to say, this tour created many wonderful and lasting memories. Please share our gratitude with him.
When we first inquired about our trip, we expressed some concerns about various policy details, but you assured us that you were a very reliable company and we would not have any problems. This reassurance was certainly true. Thanks to you, we had a wonderful experience and look forward to returning to Greece. If you would like to forward our comments to any agency which oversees your business, please feel free to do so.
We are late in writing this review, since our stay in Greece was just the start of our travel. When returning home, we needed to get back to work, and didn't have any free time to write. But the Christmas Holiday has created the opportunity to be in touch and writing now allows us to wish you, Kostas and your staff a Wonderful, Prosperous and Happy New Year! Thanks again!!
All best regards,
Dee Nemeth & Don Beasley
---
"Thank you for the wonderful tour!"
Dear Danae and team,
It's my pleasure to write this email, to thank you for the wonderful tour we have had with your company.
Our driver, Kosta, proved to be both knowledgeable and kind, and was always one step (at least) ahead of us, and thus exceeded our expectations. The car was very comfortable, the historical videos added a lot, the restaurants chosen met our taste, and even when it was raining – Kosta was prepared with umbrellas for us… So, our impression was that all details were carefully pre-considered to make our tour excellent. Such professionalism is much appreciated, and moreover – we really enjoyed Kosta's company.
I'd like to mention also the hiking tour on Meteora. – I'm aware that this was not a regular request, however you assisted me and was flexible to allow it, and I appreciate it. Eventually it was a great tour, and I highly recommend it to others – should you have such requests in the future.
Please send our warmest thanks and regards to Kosta!
Thank you again and best regards,
The Konforty family.
---
"I never dreamed that Greece was so full of… "
Hi
We made it back home Nov 28th. We enjoyed our 14 day cruise. We
experienced many nice things and places. I can't believe how much money
was spent building the buildings in Abu Dhabi and Dubai. We toured the
Mosque in Abu Dhabi that 40,000 people can worship at one time. We also
went to the top of the world's tallest building in Dubai.
We really enjoyed our private tour with Notis. I never dreamed that
Greece was so full of beautiful vistas and historical sites.
We arrived home to the first snow storm this year. It has been quite
chilly and hard for us to adjust after being warm on our trip.
Notis, we are happy we got to meet you and spend time with you. We loved
the tour.
Connie & Larry Wade
---
"Thanks for taking such good care of us!"
Thanks for taking such good care of us during our Athens visit last month. Kostas was a superb guide and did just what we asked him to do including picking a "beyond outstanding" restaurant for us to experience Greek cusine.
Bravo!!!!!!
Larry Wallenstein
---
"A fantastic experience!"
Dear Danae,
Just completed a trip advisor comment on our recent tour with Yanni.
It was a fantastic experience and thanks again Yanni for making this a special occasion to remember.
Best wishes
Ray Olivier
Head of Professional Referee Development
---
"You should be proud to have him with your company!"
Hi Anthony
Firstly let me tell you how wonderful our tour with Costas has been. We are so impressed with his interest, humour and professionalism. You should be proud to have him with your company.
Secondly, can you give me a price for a mini van from Amalias 44 to Alimos for 5 people on Saturday at 11.30am?
Kind regards
Wendy Daniels
Sent from my iPhone
---
"This tour it was truly amazing!"
Hello, we wanted to say a huge 'Thank you' for all of your help in setting up this tour it was truly amazing. We docked in Athens on the 18th July, 2016 from our Cruise ship the Carnival Vista.
I have never written a review prior to this but this time we felt it the right thing to do.
We came out of our Cruise terminal to find the wonderful Apostolis waiting for us. What a wonderful tour guide and driver. He was so wonderful and caring with my husband who has mobility issues. Nothing was too much trouble for him.
He really knew his wonderful city and as a consequence we now do too! He conveyed the information in a way that enthused us both and answered each & every question we threw at him!
He took photo's of us together and we thoroughly enjoyed ourselves.
Thank you once again, you will be our first 'port of call' in the future for tours around Greece!
Elaine Brittan
---
"Thank you for a great day!"
Thank you for a great day. All bits were fascinating – the places we visited, the things we saw on the way and all the things we talked about. We felt well cared for. Here is a picture for Vassilis.
Vicki Bee and Joel Jones-Bee
---
"THANK YOU for making our visit to Athens very special!"
We just wanted to say THANK YOU for making our visit to Athens very special!
We booked a private tour with Alex, and the day we spent with him was very informational and not like a normal tour at all.
By the end of the day, we felt as if we were riding around with a friend, not a tour guide. We would certainly recommend your company to any of our friends who go to Athens.
Ef haristo!
Kyle and Terri Mathis
---
"Wonderful Tours!"
Hello,
I just wanted to thank you for the wonderful tours we experienced with your company last week.
Antony is an amazing tour guide who made us feel welcome as he shared his vast knowledge with us.
We will definitely recommend your company and him to anyone who is travelling to Greece and I have written a review on Tripadviser.
Thank you again for the amazing service you provided.
Have a great day!
Lynda Guckenberger
---
"Thank you for turning our visit in Hellas to a beautiful dream!"
Γεια σας καί καλή σας ημέρα
Dear Ιoannidis family
At the eve of the new Jewish year,we wish you a very good year and thank you for turning our visit in Hellas to a beautiful dream.
σας ευχαριστώ πολύ
We shall meet again be sure.
Christine & Eitan
We bought the red wine you have recommended
---
"We all loved!"
Dear Danae,
I am writing this email to thank you for the arrangements made for our family visit in Athens. We all loved! Zoe, our guide was extremely good on the subject, kind and had the group focused while there. The driver, Alexander was also a great guy!! Just like me…he is into photography and if you could provide me with his email address would be great.
I wish to go back one day…
If you have a TripAdvisor link so I can place a review, I would do it with a great joy!
Best regards,
Marcio
---
"The best organisation we found"
It was a wonderful tour with a nice guide. We thank him a lot. Of course we will write on Tripadvisor that athenstourgreece it is the best organisation we found.
Hope you will have a lot of success.
Best regard
Eva Papa
---
"Really enjoyed our tour in Athens"
Anthony. We really enjoyed our tour in Athens. Alex was excellent and we enjoyed his company as much as the tour . I will ask my wife to comment on Trip advisor.
Regards Robert
---
"Οι καλύτερες εντυπώσεις"
Feedback συνεργασίας με RACE Consulting Engineers
Αγαπητέ κε Ιωαννίδη,
Χθες ολοκληρώθηκε η συνεργασία μας με την ολοκλήρωση της εταιρικής μας εκδήλωσης. Ο κος Αλέξανδρος μας πήγε στον προορισμό μας και μας επέστρεψε στο ξενοδοχείο μετά από αναμονή μίας ώρας.
Θα ήθελα να σας ευχαριστήσω για τον επαγγελματισμό που έδειξαν οι οδηγοί σας τόσο ο κος Αλέξανδρος όσο και ο κος Ηλίας.
Οι πελάτες μας αναχωρούν σήμερα έχοντας τις καλύτερες εντυπώσεις και στέλνοντάς μας ευχαριστίες για την επιπλέον προσπάθεια που κατέβαλλαν οι οδηγοί σας ώστε να κάνουν όσο το δυνατό πιο άνετο το πρόγραμμά μας.
Και πάλι σας συγχαίρω για τους συνεργάτες σας.
Με εκτίμηση,
Χριστίνα Αβραμίδου.
---
"The greatest tour"
We had the greatest tour yesterday in Athens. Our driver was not called Alex but he was wonderful! Knowledgeable, helpful, good guide and driver.
Thanks again and we will be sure to recommend your services!
Louise FauteuxEnvoyé de mon iPad
---
"We loved our tour in Athens"
We loved our tour in Athens and highly recommend it. Thank you to a very good driver and guide (Yanni).
Mary Beth Harper and Vijay Rastogi.
---
"We enjoyed both tours"
Iain and I wanted to let you know how much we enjoyed both tours.
We would also like to pass on our warmest regards to Alex. We thoroughly enjoyed our time with him and he was an excellent host and guide. We found him very informative and friendly, and it was a pleasure to be in his company. Please thank him for the authentic Greek sweets and pastries. They were very good and it was a lovely gesture. The small doughnut things were the best!
When we return to Glasgow we'll certainly be posting a great review on your Trip Advisor page and the next time we're in Athens we'll be sure to get in touch to organize another tour.
Many thanks and best regards,
Sharon & Iain
---
"We thoroughly enjoyed our tour"
I just posted our review on TripAdvisor. We thoroughly enjoyed our tour with Yanni. He is a great guy with an incredible wealth of knowledge!
Thank you!
---
"Wonderful half-day tour of Athens"
Anthony.
This is a thank you for providing us with a wonderful half-day tour of Athens on October 24, 2013.
The driver you provided was Alex and he was friendly, helpful with the walker for one person in our group, and very professional.
Thank you again for providing us with a great visit to Athens.
Dottie
---
"Many thanks for the return of payment"
Hi,
Many thanks for the return of payment of Athens tour.
We were very sorry not to have come to  Athens as we were looking forward to it.
We do not know either why we did not dock. We could only go on the announcement and information given out by the Captain. He must have been wrongly advised.
Again many thanks for your patience.
Regards
Ann Maguire
---
"A true gentleman in every respect"
On September 23rd. 2013 my wife and I had the pleasure of taking the Golden Age of Athens tour with your company and we would just like to comment on how much we enjoyed it, and our driver Spiros.
We were met at the dock by Spiros at the arranged time who introduced himself and immediately made us feel welcome.
A true gentleman in every respect, always opening and closing the door for my wife, and extremely polite, Spiros provided us with an informative and wonderful tour of Athens we will never forget. He was even thoughtful enough to stop and buy us a tour book of Athens at the start of the tour that he signed for us. A really nice touch and a special keepsake.
Thank you Spiros for helping make our short visit to Athens a memorable one.
Best wishes. Mike and Marilyn
---
"Amazing honeymoon"
Anthony,
I just wanted to thank you for planning an amazing honeymoon for us. Sarah and I had a great time in Greece. All of the drivers were excellent and very professional. Please thank every single of them for us.
I will absolutely recommend you agency to anyone who is interested in going to Greece.
Again, thank you so much for all the time and help you provided over the past few month !!!!
Carlos and Sarah
---
"Really enjoyed ourselves"
Thanks so much for taking such good care of us.
We really enjoyed ourselves and look forward to our next opportunity to use your service.
I have already written a great review which you replied to on TripAdvisor.
Laureen Allan
---
"Our happy visit in Athens"
This is message for Mr Dimitrius,
I just returned to Toronto after another extensive Asian trip. Sorry for the delay in sending you the photo in which you were the focal point. Due to unstably taken, the print didn't work. To keep my promise to you of May 27, I made light touch on the image. Hope you like it, as a memory of our happy visit in Athens. Thank you for your service and friendship.
All the best to you and your company.
Mary Yuen, in Toronto
---
"Excellent!"
Hi Anthony,
A thank you for the tour I have just completed. I appreciated the extra work you did with the collection and drop off which worked well and the high standard from driver Antonos and guide Martina – they were excellent.
Regards,
Peter
---
"A great day in Athens!"
Hi,
 Just wanted to say we had a great day in Athens and Corinth on 2nd July. Thank you Stratos for all the info and the free time we had to do what we wanted. We really appreciated it.
Surprise! We had heat wave in Ireland when we returned last week. Most unusual to have 29/30 degrees here.
Thanking you again and will recommend this company to anyone going to Greece.
Regards,
Joan Patterson.
---
"Professional tour service!"
Just a note to thank you for your professional tour service. We booked our tour while at sea on the Regent Mariner cruise ship. Regent was not familiar with your agency but the web site was very intuitive and the concierge walked through the process while I sat at his desk. We were very pleased with our guide – John, his knowledge, enthusiasm and professional manner. The car was in outstanding condition and made the trip very comfortable. We give the tour an A+ rating and will also recommend directly to Regent.
Thanks so much,
Fred and Susan Caldwell
---
"The trip to Delphi and Corinth were great"
Brad Jordan
"The trip to Delphi and Corinth were great and the guides were really good.  The driver we had was fantastic.  His name is Tasos and I'd like for you to give his employer and anyone else know how great he was. I am glad we cancelled that last day of driving up to the monasteries – we were toured out by then and tired of driving.  Tasos dropped us by another monastery on the drive back to Athens and it was breathtaking – my favorite thing in Greece."
I'd love to know what monastery Tasos took them to  – sounds like it's worth incorporating into future trips.
---
"It was a day to remember"
Janice and Mark, Monte Carlo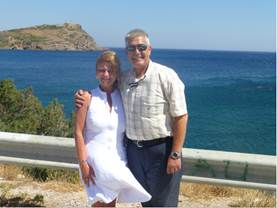 Just a quick note to thank you and particularly Stratos for our wonderful day in Athens (19 June) post our cruise.
Stratos was charming, knowledgeable, unobtrusive but still very attentive during our day with him.
We will be posting our comments on TripAdvisor but wanted to personally say thank you, despite the initial concern that our booking didn't go through correctly. Mainly my fault no doubt.
Could we ask that our photos be passed on to Stratos and our personal thanks?
It was a day to remember and we hope to return to Athens one day soon.
Kindest regards,
Janice and Mark (Stratos!) Pearne
---
"Unforgettable experience"
Maria, Sydney
Dear John
Thank you for the unforgettable experience I had on our Meteora/Delphi trip in early January 2013.
I have posted a review on TripAdvisor.
I look forward to joining your company on many more tours in the near future.
All the best.
Kind Regards
Maria

Greekalicious
---
"Highly recommend your agency"
Cheri and Kent Yauc
We were unable to post the attached review on Trip Advisor without joining, which we elected not to do.  And we do not have a Facebook account.  However, we wanted you to know that we had a great experience on our October 1 Golden Age of Athens 6-hour private tour with Petros, and would highly recommend your agency to our travel agent and acquaintances.
Cheri and Kent Yauc
"Our six hour private tour, Golden Age of Athens, included everything we wanted to see
in a limited time, thanks to the efficiency of our knowledgeable driver and guide. Our
fellow cruise passengers were jealous after comparing their shore excursion tours. We
learned interesting history and current facts from a proud citizen who spoke good
English. Our busy day in Athens was definitely a good value and a highlight of our
Mediterranean cruise."
---
"Wonderful"
Gary Goldhammer
Thank you! John is wonderful, I will definitely do a TripAdvisor review for him and continue to recommend your service to my friends.
LA, USA
---
A wonderful time doing the Athens & Corinth Private Tour
Kirsten Australia
Hello Anthony,
I have just had a nice chat to my client Mary Felstead who arrived home from her trip to Athens this week. It sounds like she had a wonderful time doing the Athens & Corinth Private Tour and I'd like to thank you and your team for looking after her so well. Her driver was very friendly, professional and courteous and took her to lots of interesting places which she thoroughly enjoyed. Please will you pass on our thanks to him and I would be happy to recommend your company for future bookings.
Thanks again and look forward to hearing from you.
Best regards,
KIRSTEN WISE
Boutique Voyage & Cruise Specialis
---
"Excellent Day Tour to Thermopylae & Delphi"
Andrew, USA
My husband and I took the "Delphi Thermopylae Tours In A Full Day Private Tour From Athens" tour. We loved it! Yanni was our driver and tour guide. He was wonderful! He was friendly, cheerful, informative, and very attentive to our needs. We spent hours in the car on this tour traveling from site to site, but we were very comfortable. The car seats were comfortable, and the noise level from the air flow of the car on the highway was minimal. Yanni adjusted the temperature for us without us asking so that we were always comfortable, never too hot or too cold. The highlight of the car portion was that Yanni played two videos for us – an engaging Dephi documentary and the movie 300. Both videos psyched us up for the sites we were to see.
Dephi was a lovely site with a medium-sized museum and fantastic ruins built up the mountain. The Temple of Athena down the road was amazing to see. The memorial statue to the Spartans was simple and moving, and the memorial plaque above the burial site was wonderful to see. We saw the hot gates from a distance although I would have liked to have gone closer to them. We even drove down the road that was paved over the original road that the Spartans took to the Hot Gates. We had lunch in Delphi at a restaurant overlooking the valley and the Ionian Sea. The view was gorgeous, and the Greek food was delicious!
Overall we very much enjoyed this trip and considered it well worth the money.
Best Regards,
Andrew
---
Wine Private Tour Athens Greece
Mrs Piper, USA
John,
I just sent this off to Trip Advisor. I have three photos of Yanni to email to him. What address?
If you are planning a stop over in Athens take my advice and email John at athenstourgreece.com and start planning your trip. I was intrigued by their posting for a full day wine tour in Greece and wow, was it wonderful. I first needed transfers from the airport to my hotel on a Saturday late afternoon and a transfer to the ship on Monday. Yanni met me at the airport with my name plaque and his wide smile and off we went to my hotel seeing historical places along the way.
The next day Yanni picked me up for an eight hour private tour of Athens, the major archaeological sites and museums and a leisurely trip to the wine country. John had arranged a private tour and wine tasting at one of the best Greek wineries Katogi-Strofilia in Anavissos, Attika. The owner of the winery, Yiannis Maltezos, opened the tasting room just for me as it was a Sunday and normally closed. What a treat! I bought a few bottles to take home and off we went to the next adventure. Yanni knew of a charming restaurant overlooking the Adriatic Sea where I dined on lobster and enjoyed the white wine blend I had just purchased.
The next morning Yanni picked me up and drove me to see the Changing of the Guard at the Parliament Building with the synchronized movements of the 6'3" costumed guards with their white and red pom-pom footwear. Just another special moment organized by John and Yanni to make sure my trip to Athens would become a life time memory. After a hug at the dock I waived good bye to my new Athens friend. I never once had to pick up any of my luggage or worry about anything. As a single female traveling alone it was the best way to explore a town and feel safe and secure. Athens Tour Greece is a must for your next visit to Greece.
Mrs Piper
---
Cancellation of Athens Private Tour
Stan Hinkley, USA
Dear John,
We received word this morning that, indeed, the ship has cancelled their stop in Athens. I came to the computer area to inform you of the same, and here was your message plus notification of the return of our prepayment. What a great service you provide. We couldn't have asked for better.
We will not hesitate to recommend your tour company to our friends who are world travellers. We were so looking forward to using your services, but perhaps in the future we would return again, and like I said I'll be glad to recommend your company.
Thank you so much!!!
Stan Hinkley
---
Full Day Delphi
Susan and Graham, UK 
Dear John,
Just wanted to say thank you for setting up our trip to Delphi with Janis (or is it Yanni?). He was terrific – very flexible and helpful.
You may have heard that we found out our flight home was cancelled while we were in Delphi and he went through all kinds of possibilities with us to get home. Then he arranged for Graham's credit card to be expressed to us at our hotel in Athens when it was left behind at the restaurant in Delphi and even called us the next day at the hotel to make sure we had received it.
Anyway, I have left a favourable review on Trip Advisor but wanted to let you know that he helped us certainly make the best of a couple of bad situations.
Please let him know that we made it home OK (although the 4 hour flight took 12 hours door to door, we'd much rather have been in Delphi with him….).
Anyway, all the best and thanks again to you both,
Susan and Graham
---
9/17 one day private tour to Meteora
Sato Kunio, Japan
Dear sir/madame,
We enjoyed your arrangements for one day private tour to Meteora on the 17th September 2011.
We appreciated very much for Peter's good driving over a long distance and his information and guidance on Meteora and other things. Despite our arrival at the airport one hour earlier than scheduled, he was there to welcome us.
Thank you and looking forward to receiving again your excellent services soon.
佐藤國雄 Sato Kunio
---
Piraeus Port Pick Up & Half Day Athens Private Tour
Mary
My daughter & I took your 1/2 day tour in Athens, Greece on 9-16-11.
We were met promptly at the ship dock & escorted around Athens. His name was Yanni & was terrific. Wish to give him a recommendation.
Would have taken a 1 day tour if knew how great it was going to be.
Best Regards,
Mary
---
Athens Sightseeing In A Full Day Private Tour
Faith, Leon & Siena Vincent, New Jersey, USA
Dear John,
John, our driver in Athens and your company made our visit to Athens memorable and we highly recommend him. John was friendly, knowledgeable on history and local customs and very flexible in catering to our schedule.
The Mercedes taxi was impeccably clean. John speaks fluent English and we enjoyed the conversation. We were met at the port and driven to the Acropolis followed by the new Acropolis museum. We were keen on visiting the Archaeological museum too and John worked that into the schedule.
The Greek home style food at the restaurant recommended by John was delicious and we are very thankful to have this opportunity to find a restaurant off the beaten touristy track. A first for us was the drive and up to Lycabettos hill, with the breathtaking views of Athens.
Efcharisto!
Faith, Leon & Siena Vincent
New Jersey, USA
---
Athens sightseeing private tour
Linda party of 4, USA
We were in Athens June 3, 2011. We booked a tour for 1/2 day and our driver was John. He was sooo good and really showed us around Athens. He took us to a very good local restaurant and we had a wonderful lunch and tried a lot of great local food.
We were having such a great tour that we decided to keep him for the rest of the day. Our day was great and we felt like we really got a great overall picture of Athens. If we ever get to go back to Greece we would definitely use this tour company and I would request John to be our guide!!
Linda
Visited June 2011
---
Full Day Athens Jewish Private Tour
Margfor, USA
I docked in Athens on 19 May and was met by Jack (Zak) Soussis for my Jewish Tour of Athens. What an experience! Zak was a terrific guide in a city that he feels so deeply about. We started the tour with the traditional sites which was a fantastic experience.
Then we moved on to the Jewish sites. We saw the two Synogogues which were beautiful and had such a history about them. Next we moved on to a Holocaust memorial, that was so moving.
My highlight of the tour was when we arrived at the Jewish Museum. I was given a private tour by Zak's wife who works there. For such a small museum, it has a wonderful, large history. I enjoyed this tour so much, especially my purchase at the gift shop at the end lol!
Zak was a wonderful and profession guide. I highly recommend this tour to anyone who would enjoy the Jewish history of Athens.
Thank you very much.
_______________________________________________________________________
Half Day Athens Sightseeing Private Tour
Chuck Hillis, USA
John,
thank you for the incredible tour of Athens.
Chuck Hillis
---
Athens Tours Half Day Athens Sightseeing, Athens Greece Private Tour
Marcella Pesiri (group of 8), Calgary, CA
Dear John/ Dimitri:
Thank you so much for a wonderful tour. All eight of us really enjoyed your hospitality, friendliness and all the knowledge about your culture that you shared with us. Thank you!
Efharisto!!!
Marcella
---
Following the foot steps of St. Paul in Athens & Corinth
Mr. & Mrs Pratt, USA
Message Thank you. Our guide Ioannis Ioannidis was a gentleman and a scholar. He did exactly what we had hoped for and our visit was a great success.
Christine and Fred Pratt
---
Half Day Athens Sightseeing & Athens One Day Cruise To The 3 Islands
Hammad Shah, USA
Hello Anthony,
Thank you for refunding the funds. You and your company have been great to deal with. I will make sure to write a glowing testimonial.
John our driver was also very accommodating. He is a great asset to your company with impeccable business work ethic. His dedication to your company and regard for ethical business practice is unmatched by anyone I have ever come across.
Please make sure he is commended for his hard work and great customer service.
Regards,
Hammad Shah
---
Cape Sounion with pick up at Athens airport private tour
Simone Haberstock, USA
Anthony
The tour to Sounion was wonderful. My family loved John and we appreciated his efforts to acquaint us with the city and Greece in general. He took us to a lovely restaurant on the coast with the best food we had during our trip.
Since this was our first visit to Greece, John was truly a warm and friendly ambassador for the country as a whole. Our visit this time was short, but my family is already talking about returning. Our lovely experience arriving at the airport and on the trip to the Poseidon's temple really helped us to fall in love with Greece.
Thanks again!
Simone Haberstock
---
Full day Athens Sightseeing, Corinth and Corinth Canal Private Tour
Bret Simpkins, USA
John,
Just wanted to say thanks for another great tour and hope to return to Greece soon. My wife and I just got home last night. We had the best vacation ever. By the way, I gave your card to a gentleman who worked on my cruise ship. His name is Rudy. He coordinates on shore tours for his shipmates (Mariner of the Seas) and recommends tours to passengers. His ship will be in Athens many times this season. He should be a good customer for you.
Best regards,
Bret
---
Three days private tour Delphi, Olympia, Meteora & Airport Transfer
Khine, London, UK
Dear Anthony
We would like to thank you for providing us an excellent service and for making our journey very enjoyable, comfortable and safe while we were in Greece. We would like to say Thank you to John who is very knowledgeable about local areas, restaurants and also for looking after us during our trip.
Thank you
Khine
---
4 days classical private tour in Greece
Josepa Blanch, Spain
Dear Antony,
We have just arrived from our vacation in Greece.
Our driver Stelios has been excellent, he is kind, attentive and very helpful and obliged. The tour with him has been a charming tour and we have enjoyed
very much our stay in Greece.
Thank you very much for all your cooperation.
HAPPY NEW YEAR !!!
Best regards,
Josepa Blanch
---
Full day Delphi & Thermopylae private tour
Kevin Kleber, Texas USA
Antony,
I want to say that John was an outstanding guide. His knowledge, consideration, and patience with me were exemplary.
I have toured through Germany and France several times, and he was by far the very best! Please extend my thanks to him for his time and service. I could not have asked for a better guide.
Respectfully,
Kevin Kleber
---
Delphi & Meteora private tour
Lois Burton & friends, Canada
Hi John,
We have had an absolutely wonderful time and were amazed at the rock formations and monasteries of Meteora. Thank you again for everything. Our time in Greece was remarkable.
Lois Burton
---
If you had a good time with Athens Tour Greece, then send us your comment and we will add it here. Alternatively you can write your review on TripAdvisor.