Join us in a romantic memorable cruise with our traditional boat (Kaiki). Discover the unique deep blue color of the islands sea navigating towards the caldera, the volcano, Thirasia island and famous Oia.
Daily departures: 11:30 AM – 17:30 PM
Highlights of the Santorini Caldera 6 hours cruise
Navigate to volcano and Thirasia island
Cruise with a traditional boat (Kaiki)
Swim in the clear crystal dark blue waters of the Aegean sea
Enjoy the beautiful village of Oia
Start your Santorini cruise from the port with our traditional boat (Kaiki) and have our firt stop on the little dock of the famous Volcano. Disembark and we'll walk towards the top of it. While walking, our experienced guide gives all important information  about the intense volcanic activity of the last 3000 years! The crater still seems active, as hot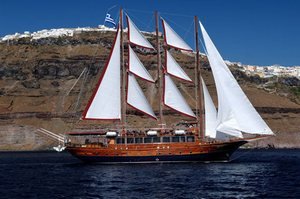 fumes are released in many points!
Next, we'll be heading to the Hot Springs with a 50-minute stop to swimm in the sulfur springs of the volcano. This is another major proof of the strong volcanic activity still today. The santorini volcanic hot springs have beneficial effects against rheumatism, arthritis and other diseases.
Thirasia island is our final destination. We will stay on the island for 2 hours to swimming, to wander around and for lunch. Lunch will be served in the little port of Korfos or in the traditional village Manolas.
On the way back, the boat stops just for a few minutes in the port of Armeni in Oia. If you wish, you can leave the group here and visit the village of Oia , famous for its breathtaking sunset. The red stones of lava along with caves, numerous churches and multi-colored houses are the ultimate challenge for every single photographer. At night time you can return to your hotel by the public transportation or by taxi.
In case you continue your trip to the Old Port of Fira or to the Athinios Port, you will have a great way back, as the boat sails very close to the coast of the Caldera!