Port of Call: Santorini
Santorini is a unique destination; an island you will never forget. This 4-hour shore excursion to Oia, the Caldera and Fira promises you exactly this.
The geological characteristics of the past, the imposing scenery of the ancient legends of Atlantis, make Santorini a unique island in the Aegean. Its dramatic cliffs overlooking the sea, thetraditional villages on the edge of the caldera, the romantic itineraries along the towns of Fira and Firostefani, and its intense nightlife are some of the main characteristics of the island. The white domed houses that cling to the sides of the cliffs of the caldera are formed by the eruption in 1500 BC and offer an incredible view sto Aegean Sea.
It is said that the sunset in Santorini is the most beautiful in the world, especially from Imerovigli and Oia and has inspired many artists from different eras. Fact is, that the island surpasses the expectations of every tourist card you may have seen before, and that the landscape of Santorini opens eyes to one of the most beautiful landscapes in the world. All Greek islands have something unique, but Santorini is perhaps the most impressive of all.
Highlights of the 4-hour private shore excursion to Oia, the Caldera and Fira
A four hours private tour in Fira and Oia
Admire the Caldera with its breathtaking views, the trademark of Santorini
Visit Oia, the most famous village in Santorini
Highly recommended for cruise passengers visiting Santorini for a whole day or for several hours
Description of the 4-hour private shore excursion to Oia, Caldera and Fira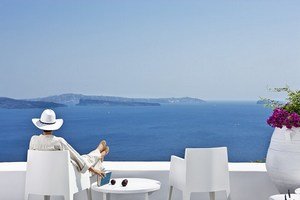 Some believe the island to be part of the legendary lost continent of Atlantis. Could Santorini be "Atlantis"?
Start your private tour after our meeting at the cable car at Fira.
We will take you to Firostefani to visit the highest point of Fira, with its famous blue-domed churches. Enjoy the magnificent panoramic view, the traditional architecture, the art galleries, the romantic coffee shops, and take as many picturesque photos as possible.
Continuing your cruise shore excursion we will travel north-west to Oia, the scenic village in the edge of Santorini island. Visit the most famous of all villages of Santorini, known throughout the world for its quiet life and fantastic sunset.

Oia is certainly the most beautiful and picturesque village of the island, situated on top of an impressive cliff and offers a spectacular view over the volcano of Palia, the Nea Kameni and the island of Thirassia. Oia has inspired many artists, which is evident, since the area hosts an impressive number of galleries.
Discover this traditional village with the charming houses in narrow streets, the blue domed churches, and the sun-bathed verandas. Its famous cobblestone streets feature plenty of tourist shops, taverns, cafes, and other shops.
We will take the same route back, to end our private tour at the cable car terminal in Fira.